This year's INACH annual conference is about antisemitism.  It is not the first time INACH has covered this subject. In 2016, INACH organized the first conference on online antisemitism in Jerusalem, Israel. That conference was a great success. 130 participants from 21 countries, among them politicians, ambassadors, and representatives of NGOs attended. The conference generated a list of 17 excellent recommendations for all actors. The 2016 Conference report can be found here: Conference Report.
This year, INACH covers antisemitism, on ZOOM, due to the Corona situation. Sadly, like online hate in general, antisemitism only grew since 2016 and now really comes from all sectors of society, activism, and ethnicity and religion. No longer is the main protagonist of hate against Jews white and extreme right. The conference will look at left -and right wing antisemitism, Holocaust Denial, the history of BDS and the use of law to combat antisemitism and Holocaust denial. It will also look at perspectives on antisemitism from Feminist, Religious, Youth and Black viewpoints. Lastly, we will talk about empowering educators to prevent antisemitism, antigypsyism and other types of hate online (Project Re-ACT) and the use of technology to curb anti-Semitism (OpCode project). Her excellency Ms. Hana Jalloul, Spanish minister of minorities, will speak words of welcome.
Here if the full Conference Report. 
Have a look at the program here. 
Here are some of the presentations that took place during the conference and videos that were shared;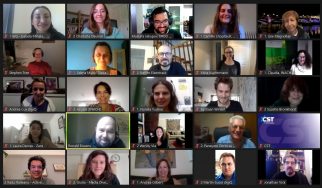 The Holocaust as a figure of speech – Ionuț Codreanu, Active Watch Romania 
The use of law to combat antisemitism and Holocaust denial – Karoline Fernandez de la Hoz, director of OBERAXE, Spanish monitoring center for racism and xenophobia 
Witness: Mina Kupfermann and her whole presentation here
Empowering educators to prevent antisemitism, antigypsyism and other types of hate online – Project ReACT – first results and next steps:
-Key findings antisemitism – Camille Lhopitault from LICRA
-Key findings antigypsyism – SelmaMuhicDizdarevic from ROMEA 
-Moderator slides – Claudia Schäfer from INACH 
-Results needs analysis & hub concept – Niklas Hamann from SYNYO