Our story and our mission
We promote online respect, responsibility and citizenship through countering cyber hate, extremism and violence incitement and by raising awareness about online discrimination. We actively reinforce human rights and mutual respect for the rights and reputations of all internet users, securing a safer internet.
Activities and achievement
At INACH, we achieve our goals through different means, but always with the help of our network. Below is a short summary of the ways in which we will continue to make a difference, and steps taken to make the internet a better place. 
Monitoring: INACH is the default watchdog of the EU when it comes to the Commission's monitoring exercises. Those hold the biggest social media companies to their word in implementing the Code of Conduct on Countering Illegal Hate Speech. Since 2016, INACH has monitored the signatories of the Code, and have participated in their development. Our experts collected and reported thousands of cases in the past 6 years on the largest platforms and recorded their response times, feedback quality and removal rates. These monitoring efforts helped enhance the moderation capabilities of these platforms and already drastically lowered the levels of hate speech on them. We aim to remain the EC's backbone for this monitoring for the coming years. 
Cyber hate Neutralisation Hub: INACH aims to harness the power of cutting-edge technology in our fight against cyber hate. We will build this Hub to help internet users navigate through the barrage of hate and disinformation that they are bombarded with on a daily basis. We will develop algorithms with the help of leading AI companies that will map the workings of bots spreading hate and fake news and unearth the originators of online hate and conspiracy theories to create an early warning system. This Hub will take INACH truly into the future of the fight against cyber hate. 
Advocacy: INACH has been nurturing an enhanced cooperation between social media and the NGO sphere. The relationship between the two sides can be quite contentious, yet they need to work together to fight online hate and discrimination more effectively. Together with the EU, our network established a working relationship with the biggest companies, enabling the exchange of best practices and know-how. This relationship has been essential in enhancing the efficacy of the Code of Conduct. We aim to deepen this cooperation even further within the coming years, to combat cyber hate even more efficiently. 
Awareness raising and campaigns: Raising awareness about the dangers of cyber hate is paramount. Most people do not really know what hate speech is exactly, how to recognise it and why it is important to counter it. It is our job to educate the public, differentiate between bullying and hate speech, or between hate speech and free speech, and elucidate why it is pivotal for a democratic society to combat hate speech as best as they can. That is why we run campaigns on a regular basis, highlighting topics related to the issue, advertising our reports, trainings, etc., because we cannot tackle this issue without the knowledge and support of the public. 
Education: INACH developed a novel online training space for counter speech in the past years. This training allows participants to take the course in their own time and own pace. The training provides in-depth knowledge about media literacy, fake news, cyber hate and its dangers and counter speech methods. We also developed an AI driven panel together with a Polish AI company that links our users to real-life instances of hate speech, which they can counter anonymously with the knowledge they gained during the training. Hundreds of participants have gone through this training already and we aim to provide this training opportunity to hundreds more for free in the coming years. 
Cyber hate database and complaints handling system: INACH developed its very own, and first in the world, international cyber hate database and complaints handling system in 2016. This database now holds thousands of recorded instances of cyber hate from a plethora of countries. It is also used by some of our members as their default complaints handling system. This database, which we will keep maintaining in the coming years, is an unparalleled tool in combating online hate speech that is tailored to the needs of complaints handling officers. It is also a treasure trove for data mining on the phenomenon.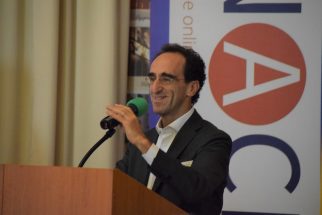 Conferences and webinars: INACH holds a major conference every year which address issues connected to online hate speech and all other forms of dscrimination. In the past years we examined the detrimental effects of cyber hate on democracy, antigypsyism, antisemitism from a cross sectional point of view and many other topics. We aim to continue providing a platform to NGOs, experts, journalists and the general public to share and exchange knowledge and address all forms of intolerance more effectively. Furthermore, we also organise biyearly webinars, where our members can examine a topic in-depth, showcase their work and their expertise, further contributing to our fight against all forms of intolerance.