International Network Against Cyber Hate
INACH is the leading network within the EU and globally that combats cyber hate using a holistic approach that combines monitoring, content removal, educational methods, international cooperation, advocacy and cutting-edge technology. With our 34 members from 27 countries, we are at the forefront in addressing the issue of online hate speech and bringing the online in line with human rights. 
The organization was founded on October 4, 2002 by jugendschutz.net and Magenta Foundation, Complaints Bureau for Discrimination on the Internet. INACH is a foundation under Dutch law, and has its office/secretariat in Amsterdam. It has the following board as governing unit;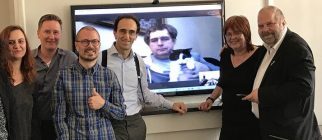 Board
Philippe Schmidt, chairman
Jonathan Vick, treasurer
Steffen Eisentraut, member
Selma Muhič Dizdarevič, member
Secretariat
Tamas Berecz, general manager

Charlotte Devinat, operational manager
Adinde Schoorl, office manager
Jan Bruin, financial management
Remuneration policy: the members of the board do not receive any remuneration for their work. The remuneration for members of the staff is based upon the employment conditions set by the organization. We received the ANBI status from the Dutch government which means your donation is fully or partially tax deductible from your taxable income. Please find our financial information here:
https://www.anbi-portaal.nl/international-network-against-cyber-hate
Tax number: 813437271
If you wish to contact us send us an e mail at info@inach.net.
And don't forget to follow us on Facebook and Twitter to stay updated!