news archives >>
Headlines July 2015
Headlines June 2015
Headlines May 2015
Headlines July 2015
USA: Recruitment now is through websites not hate groups
Angela King became a neo-Nazi skinhead the old-fashioned way. She was raised in a prejudiced and homophobic household. As a child she was bullied, and later members of the hate group offered her acceptance.

23/7/2015- "One day I decided to fight back," King said. "From that point on I decided that I would never be humiliated again and that I would be the one to instigate. ... I actually became violent even before I found the far right." King hasn't been affiliated with the hate group for decades. Now, she works for a nonprofit that helps extremists recover from a life driven by radicalism, but she still recalls how the indoctrination process began when she was in high school. King tried becoming friends with many different groups before she was accepted by the skinheads. "Through them I met older skinheads who had indoctrinated the younger ones," King said. "When I started hanging out with them was when I started receiving the propaganda that goes around. It has stereotypes about every other race and religion that wasn't like us."

Pete Simi, a criminology professor at the University of Nebraska who has studied and embedded white supremacist groups for 18 years, said that propaganda becomes a powerful mechanism for getting people more committed to the cause. "Part of this indoctrination is the idea that (members) are one of the select few," Simi said. "They have special insight about how the world really operates, but most of us are blinded to it. You know something that most others don't know. And so that becomes very seductive." But as technology has changed since King was a skinhead, so has the process of indoctrination. As far as anyone knows, Dylann Roof, the alleged Charleston, South Carolina, shooter, had no direct contact with organized hate groups.

Hate groups are in decline, but influence new terrorists
"He encountered this whole world of white nationalism through the Internet entirely," said Mark Potok, a senior fellow at the Southern Poverty Law Center and one of the nation's leading experts on extremism. Potok said more and more extremists are leaving organized hate groups for the Internet. "Of course someone could have made that argument 15 years ago," Potok said. "The Internet was already a big thing by the late '90s, but it's become much more pervasive today. For a guy like Dylann Roof who's 21 years old, that's the language he speaks. He gets all this information from the Internet and social media." Another reason extremists have left organized groups is that the cost of being outed as a member of one has risen, causing people to lose their jobs or sometimes spouses. "So more and more people are going off into the anonymity and safety of the Internet and that world is increasingly producing lone wolves like Dylann Roof," Potok said.

And though the means of indoctrination may have evolved, the force behind it has remained the same. "Most of these groups are propelled by fear," King said. "As human beings, we learn to fear the things that we don't know. That fear can morph into hate, and in that there is a continuous struggle."
© Montgomery Advertizer
On last day as ADL chief, Foxman says Internet biggest factor in rising anti-Semitism
After 50 years with the ADL, Abraham Foxman talks to 'The Jerusalem Post' about what's next for world Jewry and for himself.

21/7/2015- On Monday, Abraham Foxman ended his 28-year tenure as national director of the Anti-Defamation League and spoke with The Jerusalem Post about the future of world Jewry, the rise of anti-Semitism and what's next for the man who has been part of the organization in various capacities for the past 50 years. When asked about the state of world Jewry, Foxman said simply that "it's not the best of times," taking into account the dramatic rise of anti-Semitism and the Iran deal that just garnered approval in the United Nations on Monday. "If the world left us alone, we'd be fine," he said. Foxman said that the biggest factor contributing to the dramatic rise in anti-Semitism in the past 15 years has been the Internet, where it has had a rebirth. On this new platform, he said, people have the ability to quickly and anonymously voice their opinion without having to back it up with any facts.

He says that despite all the good that the Internet does, it is also used as a "superhighway for bigotry." He says another huge factor is that "we never developed an antidote" to anti-Semitism. "Many of us believed that after Auschwitz was laid bare to the world to see what hatred, bigotry, prejudice, racism and anti-Semitism could do ... [we] Jews thought the world would come together ." Foxman said that "anti-Semitism has not been taken out of the bloodstream of society," which has caused the Jews around the world and especially in Europe to question if they should leave their homes." He also sharply criticized the fact that "Israel is still being treated as a Jew amongst the nations." He gave the example that most countries in the world do not recognize Jerusalem as the capital of Israel.

"Every country in the world decides what their capital is and 200 countries respect it. Israel is still the only country in the world where you've decided Jerusalem, Yerushalayim, is the capital and yet most, if not almost all the countries in the world don't respect that." Foxman said that after he ends his position with the ADL, he will not retire, but rather "rewire" following a bit of vacation. He is looking to stay involved with the Jewish community and Jewish issues. "I hope to continue to have a voice ... not as director but as director emeritus. Unfortunately, there will be a lot of issues that need perspective and voice."
© The Jerusalem Post
Italian judge indicts 25 far-right suspects
20/7/2015- An Italian judge has indicted 25 suspected members of the extreme-right movement Stormfront on charges of racial hatred and making threats following posts on the group's website against migrants, Jews and officials. The news agency ANSA reported Monday that the indictment stems from posts on the group's website in 2011 and 2012. A judge in Rome set the opening date of the trial for Dec. 15. Among those targeted by the group were the anti-Mafia writer Roberto Saviano and Mayor Giusi Nicolini of the southern Sicilian island of Lampedusa, where thousands of migrants fleeing conflict, persecution and poverty in Africa have arrived in recent years seeking a new life in Europe.
© The Associated Press
Germany: Far-right extremists turn to social media to spread their ideas
20/7/2015- Neo-Nazis and far-right groups are rebranding themselves to appeal to a digital generation of potential sympathizers. @dwnews explores how extreme ideas are being shared via memes, hashtags and even online cooking shows.

Large online presence
Right-wing extremists in Germany are increasingly using social media to spread their ideas. In fact, according to a German youth protection agency, there are some 5,507 websites controlled by right-wing groups. About 70 percent of them are on social media platforms like Facebook, YouTube, Twitter and Tumblr.


Social media messaging
Social media is becoming the most popular way for Germany's far right to reach out to potential new sympathizers. But the content shared on many of these accounts isn't what you might expect. There are no pictures of Adolf Hitler, no Swastikas and no overt violence. Instead, many of these accounts are taking a more subtle approach, camouflaging extreme ideas with sexy pictures, memes or funny videos.

Extreme memes
Social media gives anyone - even neo-Nazi organizations - the opportunity to share their message far and wide. But it can be dificult to make outwardly hateful content go viral. So how do these groups spread their extreme views to the general public? One way is by masking them in memes. Nationalistic, anti-immigrant and anti-Islamic ideas are being repackaged into memes (images that have made their way into popular culture) and distributed on social media. The toned-down messages and familiar images make these "extreme memes" more acceptable for an average social media user to share.

Hijacking hashtags
Social media is no stranger to discussions of controversial topics with strong opinions on both left and right. And often these discussions take the form of a Twitter hashtag, a way of organizing many different tweets related to the same topic. Well, it seems far-right groups have begun hijacking hashtags and overwhelming the discussion with far-right views. Take the anti-racism hashtag #schauhin for example. "Schau hin" essentially means "look closely." The hashtag and the Twitter account above are meant to raise awareness about everyday racism in Germany. But a far right group created their own Twitter account with a similar name and logo. They then encouraged their followers to use that same #schauhin hashtag to discuss the "overwhelming infiltration of immigrants" into Germany.

Targeting young people
Social media is an effective way to spread extreme messages and it's also a great way to target young people. Platforms like Snapchat, Instagram and Twitter tend to have plenty of young users. And now with the rise of smartphones, kids can easily access social media without adult supervision. Germany's extreme right-wing groups have figured this out and are now directing their messages directly at young people. One group even created a Twitter account featuring the Sesame Street character "Cookie Monster" (Krümelmonster in Germany) to attract young people to the right-wing scene. The account is linked to various extreme right-wing groups and tweets in support of right-wing activities. For exam-ple, praising PEGIDA (Patriotic Europeans Against the Islamisation of the West), a group that at its peak earlier this year marched every Monday against the perceived "Islamization of Germany."

The "Cookie Monster" even took his recruitment efforts offline. A man who was later identified as a neo-Nazi was arrested at a school in eastern Germany last year after being caught handing out flyers to kids wearing a cookie monster outfit. The flyers contained far-right material. Pictures of the "right-wing muppet" pamphleting another school were posted on the account last month. And there are similar online videos too. This comes from the Krümelmonster Twitter account and shows the "Cookie Monster" mocking news reports, warning the public about it. Germany's far-right political parties have big online followings. Despite their lack of success in Germany's parliament, the country's two most popular right-wing parties have huge online followings. The AfD (Alternative for Germany) party, which advocates for Germany's exit from the European Union, and the NPD (National Democratic Party of Germany) currently have no seats in the German Bundestag. However, the two parties have far and away more Facebook followers than any other German political party.




"Nipsters"
By now most of us have heard of "hipsters." But what's a "nipster?" It's a combination between a Nazi and a hipster and these young and "cool" neo-Nazis have a prominent online presence. This photo comes from a far-right group called Balaclava Küche (küche means kitchen and a balaclava is the black face mask) Images like these combine elements that are popular with Germany's youth. Club Mate is an energy drink that hipsters in Berlin love to drink. And veganism is a calling card of many young German activists. So seeing young people with far-right ideas but who eat, drink and dress in a cool way can send a powerful message. Balaclava Küche even has its own vegan cooking program on YouTube. In this episope the cooks are mocking FEMEN, a radical feminist group.

Experts weigh-in
Christina Dinar is an expert on Germany's extreme right. Her work with no-nazi.net helps educate young people about the far right's online activities. Dinar says the extreme right wing in Germany uses many of the same social media techniques as everyone else to get their message out.

Sex Appeal
As the saying goes, "sex sells." And it seems Germany's far-right extremist groups have figured that out too. Rather than sharing frightening or intimidating images on social media (think Swastikas or Adolf Hitler tributes) now they are frequently using sex appeal. Anti-immigrant and pro-Europe messages have been repackaged. At first glance, they resemble shampoo advertisements.




Does online activity have offline consequences?
Memes, tweets and Facebook pages might help recruit new people to far-right circles but it's hard to link them to any offline violence. However, a Google map that surfaced last week suggests that extreme groups might be using the Internet to encourage action against asylum seekers in Germany. The map, which has since been taken down, showed the locations of hundreds of shelters for asylum seekers in Germany. The map's title? "No refugee center in my backyard." It appeared to have been created by a German neo-Nazi group called "The Third Way." There were no explicit calls for violence but the map gave exact addresses of many of the asylum centers, which could be used to plan attacks.

Attacks on refugee housing
There has been a string of arson attacks on refugee housing in Germany this year - at least 13 so far - an average of nearly two per month. The fires were mostly set to empty buildings being prepared to house refugees but the attacks have taken place all over the country. In the first half of this year nearly 180,000 people applied for asylum in Germany while anti-immigration sentiments are on the rise.

Finding and reporting extreme content
So what should you do if you find extreme content on social media? Well, the first challenge is correctly identifying it, which can be difficult given how skilled far right groups have become at disguising their messages. If you do encounter racist, violent or offensive content, our experts say: report it. Christina Dinar from no-nazi.net told us there are established methods for asking Twitter or Facebook for removing content.
© The Deutsche Welle.
UK: Twitter unveils new 'safety centre' to help report anti-Semitism online
21/7/2015- Twitter has unveiled a new 'safety centre' to help users report anti-Semitic tweets on the social media platform. Tuesday's announcement comes just hours after Prime Minister David Cameron criticised internet giants for not doing enough to stop the spread of extremism and hatred online. The new service will help users keep accounts secure, control what others can see and report tweets that violate Twitter's rules. It follows consultation with Jewish group Community Security Trust (CST), which reported a 118 percent rise in anti-Semitism online last year. Twitter's Head of Safety, Patricia Cartes, said: "What is really important for us is to continue to engage with CST to really understand what is happening in the offline world and make sure that our mechanisms are prepared to cope with the increase of reports. "It's the insight that groups like CST have that empowers us to make changes and take action."
© Jewish News UK
UK: Islamic Network charity website called for the slaughter of gay people
Islamic Network, a Muslim charity, leant its name to articles calling for the murder of homosexuals and encouraging the killing of Muslims, an inquiry has found.

20/7/2015- An investigation by the Charity Commission has found posts on the Islamic Network's website "encouraged violence and denigrated particular faiths". The Charity Commission has said in a statement on its findings:"The charity's website had hosted historic material from 2004 that legitimised the killing of gay people and encouraged the killing of Muslims in certain circumstances." The investigation concluded it was inappropriate for the charity to host the information in its name on the website, although Islamic Network's current trustees had "acted quickly to take the website offline when the material in question came to their attention". The current heads of the charity were not in place when the information was published. The domain name which hosted the articles was inherited by the charity. The inquiry focused on two articles, one called "The prohibition of the blood of a Muslim and the reasons for shedding it" and the other "Homosexuality".

The former made reference to the circumstances when under an interpretation of Islamic law it was permissible to "spill the blood of a Muslim". The instances included adultery, murder and apostacy. The article "Homosexuality" claimed that homosexuality was a "perverted sexual behaviour", a "sick disease" and an "evil and filthy practice". It advocated that gay people should be "destroyed by fire", "executed by being thrown from a great height" and "stoned to death". Michelle Russell, director of investigations, monitoring and enforcement at the Charity Commission, said: "Trustees carry ultimate responsibility for the operation and activities of the charity, including for the content of their charity's website and social media. "Trustees are responsible for ensuring steps are taken to remove clearly inappropriate content posted on their website straight away. In cases of illegality such as hate crime or terrorist-related material, they must report the matter to the police," she added.

Islamic Network's aims include increasing awareness of the tenets of the Islamic faith among Muslims and non-Muslims through educational media and seminars. The charity has said in a statement to IBTimes UK that "As previously stated this was an historical website we had inherited over a decade ago with thousands of articles which, like the ones in question, had been posted by unknown third parties overseas without our knowledge. "We accept we had not completed the process of reviewing the articles as quickly as we should have done. However as soon as we were made aware of the existence of those articles the trustees removed the website with immediate effect. "The trustees recognized these articles were offensive and hateful, and did not reflect our views and were against our own anti-extremism policies."
© The International Business Times - UK
UK: Police face racism probe after secret online FB page is discovered
Britain's largest police force has launched an investigation into allegations that its officers used a "secret" Facebook group to air racist views about ethnic minorities.

19/7/2015- The Metropolitan Police is examining allegations that serving officers used a closed group on the social network to post racist comments about Gypsies and Travellers. Both groups are officially recognised as ethnic minorities, and discriminating against them is illegal. Police officers could be prosecuted if they are found to have broken the law, and will also face professional misconduct inquiries, Scotland Yard said. But the force was urged to launch a wider review amid claims that racism against both groups has become "endemic" and "part of police culture". The Met was first alerted to the Facebook group in April after concerns were raised by one of its members. Named "I've Met the Met", it has around 3,000 participants, and serves as an unofficial online forum for serving and retired officers, but is managed on an invite-only basis and cannot be viewed by the public.

Some of the comments were made during a discussion in March about the BBC Trust's decision to clear Jeremy Clarkson and other Top Gear presenters of wrongdoing for their use of the word "pikey", a derogatory term for Travellers. Others dated back further. "I never knew a pikey could be offended," read one comment. "I thought they were devoid of all normal feelings and thoughts … just my opinion based on many years of dealing with these despicable people." Another said: "There is not a small minority of criminals from the GT [Gypsy and Traveller] community – to all intents and purposes they all depend on crime." The comments suggest that a "canteen culture of racism towards Gypsies and Travellers" exists within the Met, according to a formal complaint sent to Commissioner Sir Bernard Hogan-Howe by the Traveller Movement charity at the end of last month.

It also claimed that some police forces "categorise Gypsies and Travellers as criminals", and that entire operations were sometimes conducted based purely on "ethnic and family name profiling". The allegations will come as a blow for the Met, which has been working to repair its reputation since Sir William Macpherson's 1999 report into the murder of black teenager Stephen Lawrence found that it was institutionally racist. In a statement, the force confirmed that officials at its internal watchdog, the Directorate of Professional Standards (DPS), had been investigating comments made on the Facebook group for three months. It urged members of the public to come forward if they had concerns about the online behaviour of any officers. "We can confirm that concerns were raised in April 2015 with the DPS regarding comments made by some members of a group on Facebook," it said. "The group administrators have set the privacy settings as 'secret' but we understand it to include former and serving MPS officers among its members.

"DPS is assessing the information to determine whether any serving MPS officer or staff may have committed any acts of misconduct and will also look to see if any criminal offences may have been committed. Should either be disclosed they will be fully investigated." A spokesman for the Equality and Human Rights Commission, the Government's human rights watchdog, said it had received a similar complaint about the Facebook group and was "in discussion" with the Met over what action to take. If it believes there is enough evidence of wrongdoing, it has the power to order a full investigation into racism within the British police service.

Yvonne MacNamara, CEO of the Traveller Movement, said the Facebook comments were "shocking". She added: "The fact that they are potentially made by serving and retired police officers gives us no confidence at all in the Metropolitan Police's ability to both police these communities and to attract and protect its own staff who are from Gypsy and Traveller backgrounds. "We believe that the Met must set up an internal review to look into the all too common assumptions that all Gypsies and Travellers are criminals, and they do not deserve the same quality of service and policing as any other member of our society." Jim Davies, chair of the Gypsy Roma Traveller Police Association (GRTPA), said the allegations were a "sad indictment of the police service", adding that racism against both groups was prevalent in forces across the country, not just in London.

"Racism towards Gypsies and Travellers is endemic and is part of police culture," he said. "It has been allowed to fester and spread unchallenged for years and the effect on the lives of Gypsies and Travellers in the police service is disastrous. "Members of the GRTPA report having to endure this sort of behaviour on a regular basis, and in order to survive such a hostile environment develop coping mechanisms which include hiding their ethnicity to all but their most trusted friends."

What the posts say:
# "I never knew a pikey could be offended. I thought they were devoid of all normal feelings and thoughts … just my opinion based on many years of dealing with these despicable people."
# "I fucking hate Pikeys."
# "The Policing Diversity book reliably informed us we should 'remove your footwear when entering a travellers caravan …'
[Reply]: "Ha ha ha that's only so they can nick them easier."
# "Pikey is just a word used by many to refer to the low life gypsies in this world. Using it does not mean that you hate all gypsies. Same applies to the 'n' word, Paki etc etc"
# "If you don't live in a caravan, claim dole, have four aliases, convictions for theft of scrap metal, and are an artisan driveway landscaper then sorry chap, you're not proper Pikey no matter how many teas you've had from a baked bean can."
© The Independent
Dutch police phone taps now automatically include internet
16/7/2015- Dutch police now automatically intercept internet traffic when setting up a telephone tap, online magazine Computerworld reports on Thursday. The news was buried in the justice ministry's annual report which was published in May and has only now been made public, the website states. In the report, the ministry says officials placed more than 25,181 taps last year, down around 1,000 on 2013. However, the ministry says in a report footnote that it no longer gives separate figures for internet taps because they are now 'technically and procedurally standard'. In 2013, investigators placed 17,800 taps on IP addresses. Privacy group Bits of Freedom (BoF) said the change breaks government pledges to improve transparency. In addition, tapping internet connections is much more privacy-sensitive than a phone, spokesman Rejo Zenger told the website. The Netherlands is said to carry out more phone taps than any other country in the world. Last year, home affairs minister Ronald Plasterk refused to reveal how many taps are placed by the Dutch security services AIVD and MIVD.
© The Dutch News
South Korea: Samsung Removes Online Cartoons After Anti-Semitism Row
15/7/2015- A Samsung company on Wednesday removed online cartoons attacking a U.S. hedge fund's founder as a ravenous, big-beaked vulture after Jewish organiza-tions protested similar smears in South Korea's media. The hedge fund, Elliott, is opposing a takeover deal between two Samsung companies that critics say will ensure the current generation of Samsung's founding family retains control over South Korea's biggest conglomerate. Samsung C&T, one of the Samsung firms involved in the takeover, posted cartoons online that depicted Elliott's founder Paul Singer as a vulture-like figure. In one scene, Singer is depicted hiding an axe behind his back while taking money from a man in ragged clothes.

The cartoons were displayed for several weeks on a website set up by Samsung C&T to argue the merits of the takeover deal. Samsung C&T said the cartoons were a sensitive issue and asked The Associated Press not to publish a story before a crucial shareholder meeting. It later issued a statement saying offense was unintentional. "We categorically denounce anti-Semitism in all its forms, and we are committed to respect for all individuals," the statement said. Jewish organizations last week called on Samsung and South Korea's government to denounce anti-Semitic stereotypes in local media. A local business news website withdrew a column in which it called Elliott "Jewish money" and "ruthless and merciless."

The takeover will be put to a shareholder vote on Friday. Samsung needs support from at least two third of shareholders. The vote is likely to be a close contest. Elliott, the third-largest shareholder in Samsung C&T, is not alone in criticizing the deal as unfair to minority shareholders. Pension funds in the Netherlands and Canada as well as thousands of minority shareholders in South Korea said they will oppose the takeover. Samsung says the deal is crucial for the future of the two companies. Meanwhile, South Korea's national pension fund, which is the largest shareholder in C&T, has reportedly decided to side with Samsung.
© The Associated Press
UK: How is this Not Inflammatory? Posts on Britain First's Facebook Page
12/7/2015- How many times has the extremist group Britain First skirted right to the edge of the legal limit? How many times have its 'supporters' and those anti-Muslim bigots gone over the line and made assertions of violence against Islamic institutions. The link between extremist propaganda and violent 'calls for action' can be best summarised here:




Extremist group, Britain First post this article on their Facebook page. The resultant responses are akin to incitement and will be reported to the relevant police authority:
Roger Dyer
: "
Never mind the noise,can you imagine the stench coming from it? the obvious solution is a bonfire."
Jason Bailey, from Well, Somerset:
"
It's made of wood. Petrol + matches = no more noise."
Graham Martin
: "Napalm it."
Cain Pinnock
, (from London): "
petrol station near by is there"
Grant Hawley, from Milton, Cambridgeshire: "50p on a box of matches. A sound investment."
John and Vicky McNeil, who works in Senior Sales in Debenhams: "Torch it."
Mark Whale said: "About time it was blown up (and lists lots of flames)."
Roy Holmes from Walthamstow: "Set it alight while they are all inside praying. B.b.q muslim!"
©
Tell Mama
Brazil: Christians set up a 'sin-free' version of Facebook: no gays allowed
Brazilian Evangelicals have launched their own "sin-free" version of Facebook, which is founded on love and acceptance – unless you're gay.

6/7/2015- 'FaceGloria' has launched in Brazil, and, according to its founders, attracted more than 100,000 users in its first month of existance. FaceGloria holds its members accountable for their actions, and bans those who break the rules. In place of 'likes', as on Facebook, there are 'Amens', swearing is banned, and any violent or erotic content is banned. In addition any photos or videos of anything related to homosexuality is strictly prohibited. Each user is also forced to upload a profile picture on signing up, although photos of topless women were immediately visible when PinkNews signed up. Intended to be like Facebook but without "violence and pornography", the site allows Christians to talk about God and "spread his word", says founder Atilla Barros, speaking to AFP.

The site was launched with financial support from the mayor of Ferraz de Vasconcelos, after the founders worked in his office. "We want to be morally and technically better than Facebook. We want all Brazilian Evangelicals to shift to Facegloria," said Mr Barros. The rules are enforced by volunteers such as Daiane Santos, who sacrifices 6 hours a day working for FaceGloria. The site's founders expect it to become Brazil's number one social networking site, and has said they will take on Twitter and Facebook around the world, having bought the English domains for the brand.
© The Pink News
Google unit sorry for including concentration camps in game
Ingress, the augmented reality game from Google, has come under fire for having Nazi concentration camps as points of interest.

5/7/2015- Ingress is an AR MMO RPG released for Android smartphones, players submit a location of historic value and once the location is approved, they battle over its control. The game called "Ingress" was created by Niantic Labs, a Google-owned start-up. Approved locations are typically historical landmarks; something a Nazi concentration camp is, but they're not suitable for inclusion in a game. Ingress, the science-fiction game, was developed by Niantic Labs, a start-up company owned by the search-engine giant. "All of us here are completely appalled", Günter Morsch, the head of the Sachsenhausen Memorial that stands on the site of a camp where 30,000 people died, told Die Zeit. And while it apologi-zed for including the death camps and concentration camps, it reportedly did not answer questions posed to it about that process. "We apologise that this has happened", he said, according to the AP. It's sad, it is very sad. Foxman, the retiring national director of the Anti-Defamation League who is a Holocaust survivor himself reportedly said.

Rabbi Avraham Cooper of the Simon Wiesenthal Center drew attention to the games, saying they were neo-Nazi propaganda being used to influence young people. In a phone interview from Warsaw, Poland, he said it was "disturbing" that Google would include these sites in a mobile game. "FILE – In this March 5, 2015 file picture the writing ' Arbeit macht frei" (work sets you free ) is photographed at the entrance of the memorial of former Nazi concentration camp Sachsenhausen, near Oranienburg, eastern Germany. "They could spend the week in Europe at Auschwitz and Dachau and see what they actually represented", he said.
© Thrasherbacker
USA: White Supremacists Extend Their Reach Through Websites
5/7/2015- In late June, as much of the nation mourned the killing of nine parishioners in a Charleston, S.C., church, The Daily Stormer, a white supremacist website, was busy posting articles on a different issue: black crime against white people. "Adolescent Ape Jailed for Murdering White Man Out of Boredom," one headline blared. And after Dylann Roof, a white 21-year-old high school dropout and the apparent author of a vitriolic anti-black diatribe, was arrested and charged with the killings, commenters on another white supremacist site, Stormfront.org, lamented something else: the possibility of the massacre's leading to gun control. "Jews want the white man's guns. End of story," one person wrote from Utah. In the wake of the church massacre, many white supremacist groups have rushed to disavow any link to Mr. Roof and any role in the murders. And while Mr. Roof appears to have been in contact with some white supremacists online, investigators say it does not appear that those people encouraged or assisted in the deadly shootings.

Still, the authorities say, Mr. Roof had clearly embraced their worldview. As investigators comb through the data streams of Mr. Roof's electronic equipment, a four-page manifesto apparently written by him before the killings offers a virtual road map to modern-day white supremacy. It contains bitter complaints about black crime and immigration, espousing the virtues of segregation and debating the viability of an all-white enclave in the Pacific Northwest. That manifesto has refocused attention on a shadowy movement that, for all its ideological connections to the white racists of the past, is more regionally diverse and sophisticated than its predecessors, experts say. They say it is capable, through its robust online presence, of reaching an audience far wider than the small number of actual members attributed to it. "There's really not a lot out there as far as membership organizations," said Don Black, who runs Stormfront.org. "But there is a huge number, I think more than ever, as far as people actively working in some way to promote our cause. Because they don't have to join an organization now that we have this newfangled Internet."

Experts dispute the number of movement supporters but agree about its efforts to modernize. While the virulent racism of old can still be found online, the movement today also includes more button-down websites run by white nationalism think tanks with vanity publishing units. Most of the best-known organizations also claim to have disavowed the violence of groups like the Ku Klux Klan. Richard B. Spencer, the 37-year-old president of the white nationalist National Policy Institute in Whitefish, Mont., embodies this new generation. He holds a master's degree from the University of Chicago and studied for a doctorate in history at Duke University. Now he runs an organization that produces papers on issues like racial differences in intelligence and the crime rate among Hispanic immigrants. "America as it is currently constituted — and I don't just mean the government; I mean America as constituted spiritually and ideologically — is the fundamental problem," he said in an interview. "I don't support and agree with much of anything America is doing in the world."

But precisely because the movement is more atomized and has been rendered more anonymous by the Internet, law enforcement officials say it has become harder to track potentially violent lone-wolf terrorists who might draw inspiration from white supremacist sites without being actively involved in the organizations. "White supremacist lone wolves pose the most significant domestic terrorist threat because of their low profile and autonomy — separate from any formalized group — which hampers warning efforts," said a Department of Homeland Security report issued in 2009. The report came under fierce criticism from conservatives, who said it unfairly painted them as terrorists.

If the movement has a leading edge, it is Stormfront.org, an online discussion forum. With about 40,000 visitors a day, it is perhaps the most popular supremacist site in the world based on page views, with more than a million a month (a figure that includes repeat visitors). Mr. Black, its 61-year-old proprietor, straddles the movement's generational divide: a grand dragon of the Ku Klux Klan in Alabama decades ago, he later ushered in the movement's Internet era with Stormfront.org in 1995, and followed up with a two-hour weekday Internet radio show. Stormfront's website, operated by Mr. Black out of his home in West Palm Beach, Fla., features the slogan "White Pride World Wide." It is primarily a chat room, with discussion threads that range from innocuous cooking tips to diatribes against gays, immigrants, Jews and blacks. Mr. Black said he had broken from the Klan because it had a history of "random and senseless violence." But he also said he could not rule out violent conflict as white people tried to promote what he called "our heritage, our values," and attempted to realize the dream of a separate all-white enclave.

"I personally would like to see it play out peacefully," he said. "Unfortunately I took too many history classes, and history is not filled with a lot of peace. America is becoming balkanized just like the Balkans; we are breaking apart because of Hispanics — particularly in the Southwest — and other races." Mr. Black was visited last week by F.B.I. agents seeking information about Mr. Roof's online associates, though he said there was no evidence that anybody had encouraged Mr. Roof to commit murder. "This could obviously become overly broad and become a First Amendment issue," Mr. Black said, adding that such inquiries could have a chilling effect on free expression in online posts. He would not comment when asked if he had been served with a subpoena but said lawyers were involved.

A young challenger to Stormfront.org's influence is The Daily Stormer, a neo-Nazi mixture of message boards and sarcastic commentary begun by 30-year-old Andrew Anglin in 2013. He started it amid a national uproar over the killing in Florida of Trayvon Martin, an unarmed 17-year-old black youth, by a neighborhood watch monitor, George Zimmerman. Mr. Anglin was born in 1984. Like Mr. Black, he has a podcast. The Daily Stormer offers frequently updated content, much of it provocatively raw and written by Mr. Anglin, who declined to be interviewed for this article but is believed to run the site out of suburban Columbus, Ohio. In a post on Friday headlined "Spineless Jewpublicans Respond to the Donald," Mr. Anglin took to task virtually the entire Republican presidential field for criticizing Donald Trump's statements on Mexican immigrants.

Several organizations — the National Policy Institute, American Renaissance, the Charles Martel Society and its website The Occidental Observer — try to take a more highbrow approach, couching white nationalist arguments as academic commentary on black inferiority, the immigration threat to whites and other racial issues. There are also two prominent groups with deep ties to the South: the Council of Conservative Citizens, which evolved from the pro-segregationist White Citizens Councils, and the League of the South, a sparsely trafficked site for hard-core secessionists. The manifesto attributed to Mr. Roof cited the council's website as a source of information about black-on-white crime. Many groups are said to be financially challenged. For instance, Stormfront.org struggles to raise $7,500 a month from about 800 "sustaining members" to cover expenses, Mr. Black said.

The exceptions are found among the highbrow organizations: The National Policy Institute and the Martel Society were founded and have been aided by William H. Regnery II, heir to a far-right publishing empire who also oversees a brace of anti-immigration lobbying groups. The Pioneer Fund, a 78-year-old nonprofit foundation that has stoked controversy with its interest in eugenics, also has aided the policy institute and American Renaissance. In 2004, leaders of the movement met in New Orleans, ostensibly to celebrate the release of David Duke, the former grand wizard of the Ku Klux Klan, who had been imprisoned for fraudulent fund-raising. There, eight major organizations signed an agreement intended to define the modern supremacist movement according to three unifying principles: honorable behavior among all signatories, a high tone in public presentations and zero tolerance for violence. The degree to which followers of those groups have maintained the nonviolence pledge remains in dispute.

But the manifesto attributed to Mr. Roof included a chilling complaint about the movement's disavowal of violence. "We have no skinheads, no real KKK, no one doing anything but talking on the Internet," the paper read. "Well, someone has to have the bravery to take it to the real world, and I guess that has to be me." Supremacist groups remain divided by rivalries and philosophical disputes. Those differences sometimes obscure a common goal: to re-establish exclusive white control of the United States or, should that prove impossible as many groups now concede, to build an all-white enclave with its own government and an army to defend it. The League of the South seeks a second Southern secession. The Daily Stormer's Mr. Anglin last month proposed building a white city, possibly in a foreign venue.

Mr. Spencer, who runs the National Policy Institute, said in an interview that he fantasized about an Aryan revival in the style of the Roman Empire. Others have proposed a white enclave in the Pacific Northwest, or "little Europe" towns across America. Stormfront's Mr. Black does not just talk about such aspirations: He spent two years in federal prison for an ill-fated attempt in 1981 to seize the Caribbean island of Dominica for conversion into an all-white paradise, financed by brothels and casinos. The authorities stopped him and his group as they were boarding a yacht with plans to stage a Dominica coup. Where the masses will be found to establish such audacious and widely condemned ventures is not clear, even to their proponents. But Mr. Spencer noted that Karl Marx had founded communism with no adherents and a simple manifesto. Mr. Black said he believed the online supremacist movement was not merely large but growing.

The Anti-Defamation League has identified some 10,000 white supremacists on websites and on social media like Facebook. But many more are said to be more like Mr. Roof, invisible and surfacing online only to make anonymous comments. Stormfront claims 300,000 registered members, although Mr. Black said only a small fraction were active on the site. Some 95 percent of the site's visitors, he said, are anonymous outsiders. Among the dozen or so main white supremacist websites, daily page views range from fewer than 1,000 to as many as 40,000, although that figure includes repeat page views. An analysis of traffic to several major supremacist websites shows that many attracted spikes in interest late last year, around the time that anger over the shooting of Michael Brown, an unarmed black teenager, by a white police officer in Ferguson, Mo., was touching off protests in cities and towns across the nation. But it remains far from clear whether it translated into a larger following for any of the groups.

Estimating the size of the white supremacy movement is "a murky guessing game," said Donald P. Green, a Columbia University professor and expert on hate crimes, because many racists are unwilling to declare a belief that mainstream Americans find abhorrent. Gauging its impact on the Charleston murders, he said, is even harder. "The idea that you could reaffirm someone's ideology and maybe even sharpen or focus it on a particular target is something these sites are capable of doing," Mr. Green said. As for the church shooting suspect, Mr. Roof, "We don't know whether that was a marker for his violent predispositions or might be the cause of them," Mr. Green said. "It might be both."
© The New York Times
Who polices Facebook? (editorial)
6/7/2015- Ultra far-right group Britain First is dangerous. Its agenda is notionally an anti-Islamist one. Born from roots in the British National Party, it is more sinister than that.
In these days of terror attacks by extremists, war atrocities in Syria, the Tunisian beach massacre and the attacks on the Charlie Ebdo offices, there is surely nothing wrong in criticising such events. No, there is not, but such criticism should be founded on a bedrock of respect for those members of a religion that do not support extremism. Make no mistake, the vast majority of British Muslims are peaceful and hardworking, something not exactly publicised by Britain First. Instead they look at terror attacks as a heaven-sent opportunity to cynically push their own racist agenda. In its latest social media stunt, it has hijacked the Euro Weekly News' masthead to publish a 'front page' on Facebook saying Britain First is going to wage war on Muslims extremists.

By putting the EWN masthead on the mock-up, it implies we endorse Britain First and report on their activities. In no way do we do so. The editorial policy of the EWN has always been to remain neutral. We are not political, we are not racist, we are neutral on the matter of immigration. Members of our staff are a multinational bunch. They are decent, hardworking people. There is no discrimination here. We do, however, agree with freedom of speech, and for that reason give columnists of various political hues the space to express their personal views. The EWN does not necessarily endorse or agree with those views. But this fake front page, which due to the 'magic' of the internet will have been posted all around the world and been seen by many, many people, is not about free speech. It is propaganda using the Euro Weekly News' good name in an attempt to legitimise some far-right views of hate.

The events at the Charlie Hebdo offices proved journalists are seen as a prime target for the sort of people – yes, terrorists – who might take this sort of childish stunt seriously. We have 10 offices around Spain, offices which are highly vulnerable to attack. For that reason we asked Britain First to take the page down. They refused. They do not seem at all bothered that they may have made some totally innocent people targets for extremist terrorists. We asked Facebook to take the post down. Nothing has happened. We reported the matter to the Spanish authorities and the British Metropolitan Police. Again, no joy. This is a matter of deep concern. It is well known that Islamist extremists have been using social media sites to spread their agenda, and far-right groups as well. But it would appear that there is nothing – no plan, no power, no desire - to stop them.
The question is, who polices Facebook? It cannot be right that this sort of misinformation and propaganda as well as downright lies can be so easily disseminated, often to naïve and impressionable youngsters, without any way of having information corrected and removed.

That stands in contrast to the latest EU regulation on press sites. People who have been found guilty by a court can have the story purged from a news site at their request if some faceless operator on Google decides it is no longer 'relevant.' But it would appear Facebook stands above the law. In cases like this, as well as on the sites of countless terror group apologists, Facebook seems to have a blind spot. Freedom of speech is one thing, but there is also the concept of common decency. You know, it maybe a little old-fashioned now, but most people have a deep down feeling for what is right and what is wrong. Call it common sense if you will, but Facebook should ensure that is something that is used on its site. The editor of a newspaper is ultimately responsible for what is printed in his or her publication. Indeed he can go to jail for it.

Who at Facebook is responsible for what is published on its site? No one it seems. It is not good enough for the suits at Facebook to throw their hands up in the air, cite freedom of speech, and ignore the most heinous sorts of posts that incite violence and hatred. They should take responsibility for policing their own site. And if they won't, then it is the duty of lawmakers to make them take responsibility, or give the police the power to stop the extremists of whatever side from using Facebook and other social media to spread their messages of hatred. Facebook is without doubt guilty of not only being apathetic but also of putting innocent people at risk.
Shame on you Facebook. Shame on you!

Comments:
+3 # Michel Euesden 2015-07-06 20:49
Well as the working day of a news desk draws to a close - I would personally like to thank Facebook for the fear that we have all worked with today. We have been sitting targets for extremist groups as a retaliation to the racial hatred being incited by Britain First - who have ilegally hijacked our masthead. No one should have to have worked as the loyal dedicated EWN team have today and I hope that those responsible one day feel as we have today.
IMPOTENT and AFRAID.
You are nothing more than a set of gutless bastards who instigate terror by hiding behind the smokescreen of the internet. You are no better than those you chose to abhor.
IGNORANT AND SENSELESS MORONS.
© Euro Weekly News
Finland's deputy state prosecutor to investigate Sadmies' Facebook post on sterilizing Africans
Helsinki substitute councilman Olli Sademies' post on Facebook at the end of May, where he wrote that Africans should be sterilized after three children, is going to be investigated by the deputy state prosecutor, according to Tampere-based daily Aamulehti, citing Finnish News Agency (STT).

2/7/2015- Using such violent language against any minority by anyone never mind a politician belonging to Finland's second-largest party is unacceptable. Sadmies' claim on Facebook is, in our opinion, tantamount to inciting ethnic agitation and violence against black people in this country. Apart from his political credentials, Sademies is a retired policeman. I wonder what that says about the Finnish police service. No action was taken by the PS against Sademies. When confronted last month by YLE's Swedish language service, Seppo Kanerva, who is head of the Helsinki PS city council group, said that they hadn't had time to discuss what Sademies wrote on Facebook. "We had so much to talk about that we didn't have time for such nonsense," he said. Kanerva did say, however, that if Sademies continues to write similar posts he could be sacked from the party.

Sadmies' Facebook page was taken down Tuesday after he posted a "business idea" about an aerosol that would spray pig's blood on Muslims. The substitute councilman claims that he was taken down because of an identity check but we know that Migrant Tales' associate editor Marshall Niles filed a complaint to Facebook about his racist and disgraceful posting.
© Migrant Tales
OSCE-wide Counter-Terrorism Expert Conference Intervention by INACH
Third session: Good Practices and Lessons Learned to Empower Young People to Counter Violent Extremism and Radicalization that Lead to Terrorism
Intervention on behalf of INACH co-signed by ENAR

1/7/2015- We like to make some recommendations focussing on de-radicalization of Muslim youth. As jihad bound youth usually distrust government it's important to have civil society play a big role in trying to de-radicalize youth. Remember that no measure will work 100%, a diverse approach therefore is preferred. From our expertise this is what we suggest:

• Develop at national, European level, a network of returnees willing to share their experience in the field with IS. Voices from within are certainly one of the best arguments to cool down expectations of teenagers or young adults looking for a cause, in particular young women who are promised romanticized jobs in hospitals, when actually they are being forced to marry fighters one after the other, which can basically amount to submissive sexual relations, even rape. (this network will also have returning youth and young adults be part of society, rather than outcasts)

• Develop a network of community leaders at European level: it would aim to create a safe space for them, where they could exchange views and challenges, build a network of peers and feel empowered to speak out. Progressive community leaders are indeed faced by massive negative responses on social media. This pressure is difficult to manage, if on top, one feels lonely in front of an immense community pressure. Such progressive community leaders - we not speaking about religious leaders such as imams - exist in every country of the EU, but are not connected enough. The emergence of such a community need to be supported. A good practice in the area is the global program "Muslim Leaders of Tomorrow" run by the Cordoba House in NYC a few years back.

• Start a specialised counter speech project aimed at radicalised youth. (with that develop a database with facts & figures to be used as counter arguments)

• Develop a campaign for and with social media.
© INACH
Germany: Would you report a social media page if it contains extremist views or content?(Poll)
29/6/2015- Many extremist groups such as the Islamic State (IS) have swarmed over social media - using these platforms to spread their message and recruit people. How do you react when you see extremist content on social media?

47% Yes, it is our moral obligation
36% Yes, I have already done that
8% No, I haven't done it yet but think of doing so in the future
8% No, that is the duty of the site operator


© The Deutsche Welle.
UK: UKIP official forced to delete racists FB posts after sharing them
Gordon Parkin said he shared the posts by accident and has now removed them from his Facebook timeline

28/6/2015- A senior UKIP official has been forced to delete racists Facebook posts after claiming he accidentally shared them to his followers. Mr Parkin, who is assistant to North East Euro MP Jonathan Arnott and who has himself stood for Parliament, shared a series of images by the far-right groups Britain First and The New Daily Patriot on Facebook. One post depicts Enoch Powell - the politician who made the notoriously racist "rivers of blood" speech in 1968 - next to the House of Commons alongside the words "I told you so...". He also shared an image of women wearing the niqab which said "share if you find this offensive". Another from Britain First, a group which opposes what it calls the "Islamifica-tion of the UK" and was founded by a member of the BNP, claims schools who choose to stock halal meat are "wrong". Mr Parkin, who is a powerful official in the regional party and sits on panels that assess UKIP's potential General Election candidates, told the Sunday Sun he accidentally shared them on the social networking site and has now deleted them.

When told about the posts Mr Arnott confirmed he had met with Mr Parkin about the matter but said no disciplinary proceedings were under way. Mr Arnott said: "Thank you for bringing this matter to my attention. I am now looking in to this, and will be consulting with the party authorities before any decisions are taken." Mr Parkin is a long-standing member of the party and his high-ranking role means he helps members to form and shut down branches. He also stood to represent the North East in the European Parliament in 2009 for the party and ran for a Westminster seat in the Stockton North constituency in 2010. He said: "Anyone who knows me knows that I do not hold the views expressed in those pictures. It's so easy on Facebook to accidentally click 'share' and a post appears on your timeline. If only I'd noticed these were on my timeline by mistake, I'd have deleted them straightaway. Look at these posts, you'll see there is no engagement or comment from me.

"As a gay man, I know all about discrimination and prejudice, and would never intentionally upset anyone. I've visited local mosques in my UKIP role, I work to drive down division not stir it up, and have nothing but respect for my colleagues of all ethnic backgrounds. "Sadly, modern politics is a dirty game: someone motivated by hatred has trawled back over two and a half years on my Facebook and found three errors. Let he who has mis-clicked 'share' throw the first stone." The news will be a blow for Mr Arnott, who is a close ally of Mr Parkin's and who played a key role in attempting to clean up the party, even helping to write a rule book which specifically bans members from having links to organisa-tions like the BNP.

Labour says the posts expose UKIP as a "really nasty party" that is "built on a bedrock of racism and xenophobia". MEP for the North East Jude Kirton-Darling said: "It is disappointing to hear that a UKIP member of staff has been sharing racist and unpleasant messages on Facebook. "UKIP are trying to paint themselves as a more respectable party but it's just paper thin. You only have to scratch beneath the surface to reveal a really nasty party. We've seen things like this time and again with UKIP claiming gay marriage caused flooding. It's too easy to dismiss UKIP as a joke when you hear things like that but their core values are based on creating division between people and that's no laughing matter. "I spoke to a broad range of people on the doorstep who were going to vote UKIP at this election for a whole range of reasons but what people have to know is they're voting for a party built on a bedrock of racism and xenophobia, no matter how respectable UKIP pretend to be."
© The Chronicle Live
Headlines June 2015
UK: Plea for Scotland Yard unit to tackle trolls as police forces face rising tide of online hate crime
25/6/2015- Scotland Yard is failing to tackle internet trolls and should become the centre for a new national specialist unit to stop other forces being "overwhelmed", a report today warns. It says police in England and Wales lack the specialist skills needed to deal with online hate crime as reported offences soar. The report says that in London online hate crime is "not specifically budgeted or resourced" for, while police methods vary greatly across boroughs and are "insufficient". The failure of all forces to tackle the issue is allowing trolls to "act online with impunity and has fostered a breeding ground for hate crime". The report, due to be published today but seen in advance by the Standard, also calls for the Government to introduce a "stand-alone offence" for online attacks, making it easier to prosecute offenders. It points to figures showing that last year the Met received 1,207 crime reports in which Facebook was mentioned, a 21 per cent rise in two years, while the number involving Twitter increased by 19 per cent.

The report, which surveyed hundreds of alleged victims, suggests that only nine per cent of alleged online hate crimes nationwide are investigated. London Assembly member Andrew Boff, author of the report, said: "Victims are left feeling isolated by online hate attacks and often feel like there is nobody to turn to. "They feel police can't be turned to because they are overwhelmed by the number of cases and are unable to provide the level of support somebody would expect. If the police can't help, who do they go to? That's why this unit is needed. We're talking about pretty appalling hate crimes." Although it is a problem for all forces in England and Wales, the report says that the unit of IT specialists should be housed within Scotland Yard and coordinate a nationwide response. It would act as a "point of liaison" with internet service and social media providers, with each force contributing funding.

The report, #ReportHate: Combating Online Hatred, says: "With online hate crime on the rise and draining police force resources, the proposed unit is necessary to alleviate the burden currently faced by police officers. Additionally, it would create a better service to victims of hate crime online." It says existing legislation is "muddled" and "obsolete", and calls for new laws to create specific offences relating to online hate crime. It adds that reported abuses are "just the tip of an ever-growing iceberg", with only 16 per cent of alleged victims in London surveyed by researchers saying they reported it to police. A Met spokesman said: "The Metropolitan Police Service is committed to tackling hate crime in all its forms, and has long since recognised the impact of hate crime on communities and the hidden nature of this crime, which remains largely under-reported. "We take positive action to investigate all hate crime allegations, support victims and their families and bring perpetrators to justice. We are always seeking ways to further improve our response to hate crime and increase reporting, and are willing to consider alternative ways of enhancing our investigative response and victim support, working closely with our partners.

"The Met's recently formed hate crime senior partnership group focuses on creating and delivering an effective hate crime operational strategy for London. This is being developed in partnership with strategic and community partners, demonstrating our ongoing commitment to reducing the harm caused by hate crime and increase the confidence of victims. "In addition, the Met's online hate crime working group has been set up to respond specifically to online hate crime and explore ways to tackle the issue. As part of this work, the group will consider the publication of the London Assembly report and the suggestions made. "If anyone feels that they are the victim of hate crime, we would urge all victims to come forward and report any incident or crime as soon as possible. "All 32 London boroughs have a dedicated Community Safety Unit (CSU) with more than 500 specially trained officers across the Met who investigate hate crime and domestic abuse."

'I believe they are out of their depth'
Suzanne Fernandes, a youth worker from west London, was sent racially offensive material on Twitter, including photographs, pornography and death threats. The troll, who cannot be named for legal reasons, also obtained a picture of her young son through Facebook and used it to create a fake account sending lurid tweets. She told the Standard: "I'm not the same person. I felt completely panic-stricken, and when they used my son's picture it was the breaking point. I had to get counselling. "I decided to report the matter to the police and in the early days of the investigation was given the impression I was wasting the police's time. They are out of their depth. I feel there should be a dedicated unit for victims."
© The London Evening Standard
Google calls for anti-Isis push and makes YouTube propaganda pledge
Executives vow video site will not be used as a platform for 'brutally violent propaganda produced by terrorists', but argue against blanket censorship

24/6/2015- Google has issued a call to arms against Isis, arguing that the terror group has engineered a "viral moment" on social networks with propaganda and beheading videos that needs to be challenged. Two of Google's top executives – legal chief David Drummond and policy director Victoria Grand – used the Cannes Lions advertising festival to launch an attack, and appeal, against terrorist propaganda on Google-owned YouTube. "Isis is having a viral moment on social media and the countervailing viewpoints are nowhere near strong enough to oppose them," said Grand. "Isis, in particular, has been putting up footage that is inhuman and atrocious. We are still seeing about two or three of these beheadings each week. They are heeding advice from a decade before from Osama bin Laden and they are taking it to another level using social media."

Drummond, a lead figure in the internet company's battles with regulators globally, told the thousands of media executives in attendance that the Isis movement has been strategically astute in using social media for propaganda and recruitment purposes. "The power of community is not lost on Isis and they are using it to great effect. Right now the voice of that community is a lot larger than ours, a lot louder, there's more out there on the web. When I say ours, I mean all of us, all of us in the room today." While an element of Google's presentation was undeniably an anti-regulation plug about the virtues of Google's global operations, the Silicon Valley firm made a case for an anti-Isis push. "The challenge for us is to strike this balance between allowing people to be educated about the dangers and the violence of this group," said Grand. "But not allowing ourselves to become a distribution channel for this horrible, but very newsworthy, terrorist propaganda."

Google's talk covered a wide range of topics that the company is forced to make decisions on about censoring, from Robin Thicke's misogynistic Blurred Lines video and a sexually explicit trailer for Lars von Trier's film Nymphomaniac, to "prank" videos of teenagers inhaling deodorant spray cans, "how-to" euthanasia videos and police shootings in the USA.
However, arguably the most striking debate, which included the audience voting with red and green paddles about whether they would ban or approve material, involved Google's discussion on terrorist propaganda. Google explained its justification for allowing graphic videos of the death of Neda Agha-Soltan, caught by an amateur in the aftermath of Iran's elections in 2009, and the decision not to block the film of terrorists killing a policeman in the Charlie Hebdo massacre.

"At about 4:30am on the day [the Charlie Hebdo attack] happened, we got a call from our French colleagues asking what to do," said Drummond. "As with other moment-of-death footage, we had to consider the dignity of the victim as well as the video's news and commentary value. We decided to leave it up, and leave it up globally, [but not France where it is legally banned]. "It's important to recognise here that the filming was done by a bystander who recorded the event. It wasn't filmed by the perpetrators, wasn't intended to terrorise anyone. Even though it is shaky footage, it became a critical part of piecing this event together, helping us to understand an event that happened far out of the media spotlight." Google said this kind of footage – Grand described some of the films from repressed regimes as "shining a light in places that can be pitch black" with media blackouts – was justified but that Isis's use of YouTube was not.

The company criticised outlets, including Fox News, for deciding to run full footage of the death of a Jordanian fighter pilot, which Google blocked. "Like the others, the purpose of this Isis execution of a Jordanian fighter pilot is to showcase in full high definition the most brutal way to die," said Grand. "But a handful of mainstream broadcast outlets, including many outlets in the Middle East, as well as Fox News, made the decision to show this even though they wouldn't show the beheading [of James Foley]." Grand said it was a "tough call" to ban the news organisations' reports of the death that used the full graphic footage. "Yes, it was technically news but we decided that for some types of content, including Isis staged executions, the frame or news context put around it just can't transform the original," said Grand. "It was brutally violent propaganda produced by terrorists and we just don't want YouTube to be a distribution channel for it."

However, despite raising the calculated strategy of the Isis digital onslaught, Google argued that straight blanket censorship was not the answer. "Most of us, we want to see less violence in the world," said Drummond. "We want alternatives. For many, the answer seems to be censorship. Although we take down the worst content from our sites, at Google, given the proliferation of content online we don't believe that censoring the existence of Isis on Google, YouTube or social media will dampen their impact really. We think there is a better way to combat the hateful rhetoric of Isis, by countering it with reason. Understand it. Standing up to it. Enforced silence is not the answer. Drowning out the harmful ideology with better messages, with reasonable messages, is the better way."

Google put forward a challenge to the advertising and marketing executives to help populate YouTube with more content that combats Isis propaganda. "We used to think of terrorists as people who are hiding out in caves But now would-be terrorists are hanging out online. Technology is one of the greatest tools we have to reach at-risk youth all over the world and divert them from hate and radicalisation. We can only do that if we offer them alternatives. Only on open and diverse sites like YouTube… that we can find these countervailing points of view".
© The Guardian
On Web, white supremacists stir up a growing and angry audience
On July 14, 2013, a white supremacist named Andrew Anglin, bewildered by black Americans' outrage over the shooting death of Trayvon Martin, began typing out thoughts on what he saw as a distorted world.

24/6/2015- "The whole George Zimmerman media psycho-drama has been completely insane from the beginning," Anglin wrote on the Daily Stormer, the neo-Nazi website he had started, after a jury acquitted Zimmerman in the shooting death of Martin the year before. Anglin called Martin, an unarmed, black 17-year-old, a "crazed, savage attacker" and warned of a conspiracy by "blacks and the Jewish media" to cast the justice system as biased against blacks. Born amid a backlash against the post-Trayvon Martin movement drawing attention to racial bias, the site has exploded to prominence among white supremacists as #BlackLivesMatter protests stretched coast to coast. According to the website traffic tracking site SimilarWeb, by the end of 2013 Daily Stormer had more visitors than the rival Vanguard News Network, which has been around since 2003.

The Southern Poverty Law Center, which monitors hate groups, said in a March report that during the previous six months Daily Stormer's Web traffic on some days even surpassed that of Stormfront.org, the oldest and largest hate site. Anglin, in an interview Tuesday with The Times, attributed his website's popularity to his approach, which avoids long, online essays in favor of short, catchy posts. "I wanted something punchy and funny and enjoyable to read," Anglin said. "My ideology is very simple. I believe white people deserve their own country.... There's not really anything that can happen that can affect my ideology because it's so simple and straightforward." The website also may have been one of the go-to places for Dylann Roof, the suspected shooter in last week's church massacre in Charleston, S.C. An analysis by the Southern Poverty Law Center showed comments on the site appear similar to passages from a manifesto on Roof's website. Asked about that analysis, Anglin said the Daily Stormer user account cited by the center — "AryanBlood1488" — had commented maybe 21 or 22 times, not enough to be considered much of a regular.

If there is one thing Anglin, 30, and the law center can agree on, it is that websites such as his offer highly clickable destinations for hate group advocates. On some days since the Charleston shooting, hundreds of thousands of people have been drawn to these sites, which are crammed with material packaged beneath headlines geared to their angry audien-ces. "Obama shamelessly uses atrocity to call for gun ban," a headline on the website read on June 18, the day Roof was arrested. Stormfront.org was created in January 1995. In the first quarter of this year, it had more than 1.9 million U.S. visitors, a drop from its peak of 3.5 million in the first quarter of last year, according to SimilarWeb. Daily Stormer has grown steadily, from 127,343 U.S. visitors in the third quarter of 2013, when it was launched, to 949,170 in the first quarter of 2015.

Roof, who has been charged with murder in the deaths of nine black worshipers at Charleston's Emanuel African Methodist Episcopal Church, is believed to have posted a mani-festo indicating he was inspired by material on the website of the Council of Conservative Citizens, a group formed in 1985 and whose website was created in 1996. Jared Taylor, a spokesman, said the group could not be blamed for Roof's rampage. "The impact on Roof obviously was terrible and unfortunate, and we completely, unequivocally condemn any kind of violence and illegality," Taylor said in a telephone interview. "But does that mean the council's website has some sort of responsibility for its actions? The answer is unequivocally no. We put forward information. What he did with this information is his responsibility."

Therein lies the danger of such sites, said Heidi Beirich, who heads the Southern Poverty Law Center's Intelligence Project. Most make a point of condemning overt acts of violence, even as they post reams of material aimed at fueling white rage and paranoia, she said. "They're smart enough not to make open calls for violence," she said. "It's all 1st Amendment-protected speech." But, Beirich added, "people are reading this stuff, they're sucking it in, and they're getting enraged, and we're having lone-wolf violence." On Tuesday, Anglin too disavowed responsibility for the Charleston shooting and condemned violence in general. "This is a news site. We report the news," Anglin wrote on the Daily Stormer. "We have an angle, just as everyone has an angle, but we are no more responsible for the actions of our readers than the Daily Beast is responsible for the actions of their readers."

FBI officials said they routinely monitor the websites to determine whether any are calling for a particular act of violence, which could lead to a criminal charge. The arrest and conviction of self-proclaimed white supremacist William A. White, they said, is a case in point. He was sentenced in federal court in Chicago to 42 months in prison in February 2013 for "soliciting violence" against the jury foreman in a case involving another white supremacist, Matthew Hale, who was convicted of soliciting the murder of a federal judge. White had used his site, Overthrow.com, to solicit "anyone" to kill the foreman, and he posted the foreman's home address and telephone number. The motto of Overthrow.com, which was affiliated with the National Socialist Workers Party, was to "fight for white working people." Since then, FBI officials said, most hate websites have been careful not to directly suggest violence.

On Friday, the day Roof was arraigned, Anglin had this to say:
"I don't support what Roof did, in any way, but there is now no going back from it," he wrote on his site. "We are in the middle of a race war. The random murders of Whites are going to begin any minute now, across the country. The media will try to cover it up, but there will be too many murders to hide."
© The Los Angeles Times
Czech-language FB page of non-existent group falsifies photo of banner carried by Romani people
23/6/2015- The fake Czech-language Facebook group "Roma against Islam" (Romové proti Islámu) has published an altered version of a photo taken of a Romani demonstration in September 2013 in front of the Office of the Czech Government. On one the banners, instead of the Romani flag which was actually being held, the photo has been doctored to show a text that attacks refugees. If the administrators of the page do not remove the photo, representatives of the Romani Democratic Party (RDS) plan to file criminal charges. The altered photo was posted on Sunday, 21 June and immediately became very popular, being shared more than 2 600 times and receiving more than 1 500 "likes" as of noon yesterday.

Instead of the Romani flag and the inscription "Romani Democratic Party of the Czech Republic" (Romská demokratická strana ČR), those who doctored the photo inserted the following text between the hands of the two Romani people in the photograph: "STOP REFUGEE RECEPTION. Bohemia belongs to us and our white brothers. Smokes back to Africa! Your educated Roma." Representatives of the RDS have already objected to the falsified collage. "If the administrators do not remove those photographs, we will file criminal charges. This discredits the RDS and is an abuse of our political party," Miroslav Rusenko, political secretary of the RDS Central Committee, told news server Romea.cz.

In January, Romea.cz was the first to report on the existence of this false Facebook group. The authors of its material demagogically attack Islam per se and have falsely claimed to be supported by the Dživipen association and the Terne čhave music group. Both Romani initiatives have distanced themselves from the page. In February 2015, photographs were posted to the page of the non-existent group's alleged administrator and secretary, a certain "Ján Balko". It took just a couple of minutes for news server Romea.cz to search online and determine that the photograph was actually of a Nobel Prize winner for chemistry, Venkatraman Ramakrishnan. Many photos of him exist online.

The fraudsters did their best to make it as difficult as possible to identify the man in the photograph, for example, by reproducing it as a mirror image so it could not be found using Google's instruments for photo searches, but Romea.cz discovered its origins nonetheless. It is evident from the materials posted to the Facebook page of this non-existent group that its purpose has been to attract Romani people to demonstrations by the anti-Islamic group "We Don't Want Islam in the Czech Republic" (Islám v ČR nechceme) that were held at the beginning of the year. Those same people are behind another false Facebook page called Educated Roma (Vzdělaní Romové), which insults Romani people with would-be jokes. Facebook has so far ignored requests that these false groups be removed.
© Romea.
EU ruling holds website responsible for offensive user comments
The European Court of Human Rights (ECHR) has ruled that an Estonian court was right to fine a news website for anonymous comments posted under one of its stories

16/6/2015- MEPs and anti-censorship groups say the judgement sets a "dangerous precedent" which could pave the way for similar cases. In the ruling, the Strasbourg-based ECHR upheld a court decision against the respected Estonian news organisation, Delfi, which had run an online article about a ferry company making controversial changes to its routes. The changes attracted widespread criticism from bloggers who posted 185 comments on the Delfi website, 20 of which contained personal threats and offensive language toward the ferry company's majority shareholder. He took offence at the comments and the website agreed to remove them immediately but the owner decided to sue the site. In April 2006 the company was awarded 5,000 Estonian kroon.

Delfi, one of Estonia's most popular news sites, appealed against the decision but, in a ruling, the ECHR has upheld the original decision by the Estonian courts. The unanimous ruling from the seven ECHR judges suggested that if a commercial site allowed anonymous comments, "it is both practical and reasonable for the site owner to be held responsible for them." It said, "The applicant company [Delfi], by publishing the article in question, could have realized that it might cause negative reactions against the shipping company."
Delfi is believed to be considering an appeal to the Luxembourg-based European Court of Justice but UK Independence Party leader Nigel Farage said the ruling set a "dangerous precedent" for freedom of expression and may dissuade websites from hosting anonymous comments. He said, "This ECHR judgement makes life incredibly difficult for the growing number of local news websites and blogs which provide a varied and valuable public space.

"These websites do not have the financial or human resources to fight malicious threats to their existence from either politicians or litigants. It is especially harsh as in this case the website owner had taken down the offensive comments as soon as possible. "The hard lesson to learn is that while the UK is a member of the EU, we must be subservient to the European Court of Human Rights in Strasbourg. I believe it is the British Supreme Court which should have the final say, not the ECHR." Anti-censorship groups fear that news sites and blogs could now be held legally responsible for all the comments put up on their site even if they take them down after a complaint. Jim Killock, Executive Director of the UK-based organisaton, Open Rights Group, who described it as a "troubling ruling", adding, "We all rely on defined 'notice and takedown' procedures. If courts don't respect the need for notice before takedown, then websites are going to find themselves in deep trouble."

His concerns are shared by Joe McNamee, Executive Director for European Digital Rights, who called the judgement "reckless" saying, "This baffling logic now appears to render it effectively impossible for an online publication to allow comments without positive identification of the end users. "Worse still, we know already that many publications already protect themselves by requiring people to log in to almost always American social networks to identify themselves. So much for the human right to privacy in the Convention. This will directly undermine individuals' rights to free speech and indirectly undermine their right to privacy." However, a spokesman for the ECHR stressed that the ruling was only in relation to the particulars of Estonian law and was not applicable to other cases, except by way of case law. "All this tells us is about Estonian law," said the spokesman. "It is not applicable to other countries."
© The Telegraph
Belgian privacy watchdog sues Facebook
15/6/2015- Belgium's national privacy watchdog is taking US internet company Facebook to court, arguing that the way the social network website tracks the behaviour of both members and non-members is illegal under Belgian and European law. "Facebook's behaviour is unacceptable", Willem Debeuckelaere, president of Belgium's Commission for the protection of privacy, said. It is the first time a national privacy watchdog in Europe sues Facebook for not complying to privacy law. The basis for the case is research requested by the privacy commission and published in March, which noted that Facebook tracks user behaviour on non-Facebook websites by default until they opt-out, instead of after seeking permission.

"As emphasised by the [European data protection body] Article 29 Working Party, an opt-out mechanism "is not an adequate mechanism to obtain average users informed consent", particularly with regard to behavioural advertising. This means that Facebook's current opt-out approach does not satisfy the requirements for legally valid consent", the researchers concluded. It also noted that Facebook tracks the behaviour of people who are not members of Facebook, which also violates the EU's e-Privacy directive. "Even people who explicitly state that they do not want to be tracked, are tracked anyway", Debeuckelaere told Belgian newspaper De Morgen, which broke the story on Monday (15 June).

Last month, the Belgian privacy commission presented its findings and recommendations to Facebook, whose European office is registered in Ireland. "They answered that they do not accept Belgian law or the authoritiy of the Belgian privacy commission, and that it is all a misunderstanding", said Debeuckelaere. A Facebook spokesperson told this website in an e-mail the company is "confident that there is no merit" in the case by the privacy watchdog, known in Belgium by its acronym CBPL. "We were surprised and disappointed that, after the CBPL had already agreed to meet with us on the 19th June to discuss their recommendations, they took the theatrical action of bringing Facebook Belgium to court on the day beforehand."

A court in Brussels will hear the case on Thursday (18 June). Willem Debeuckelaere told this website in an e-mail the date for the hearing, one day before another CBPL-Facebook meeting, is a coincidence. It is not the first time Facebook has come under fire over privacy in Europe. Austrian Facebook user Max Schrems has taken his case against Facebook all the way to the EU's Court of Justice. He announced last week an opinion by adocate general Yves Bot, which was scheduled for 24 June, has been delayed. EU ministers, for their part, will Monday discuss setting up a European privacy watchdog.
© The EUobserver
Group Says Only One Third of Antisemitic Material Removed From YouTube, Facebook
13/6/2015- Social networking giants Facebook and YouTube removed only one-third of antisemitic and anti-Israel uploads that were posted this past year, the watchdog group Israeli Students Combating Antisemitism (ISCA) reported. ISCA intends to present the data it has collected on antisemitism on social media to the fifth annual conference of the International Forum to Combat Antisemitism, which is being held over Tuesday, Wednesday and Thursday in Jerusalem. According to the data collec-ted by the ISCA, 15,965 complaints sent to YouTube, Twitter and Instagram led to the closure of only approximately 5,000 pages with antisemitic content. Many of the pages that remained active featured Holocaust denial – prohibited by law in some European countries – in addition to well-known antisemitic tropes about Jewish money controlling the world or that Jews "control Washington DC," among other offensive stereotypes, Israeli news portal NRG reported on Tuesday. In many of the cases, antisemitism on these pages masqueraded as pro-Palestinian activism.

Ido Daniel, the ISCA's director, said, "The main problem is that Facebook until this day does not know what antisemitism is." He added that, "it and other social networks find it difficult to identify antisemitism when we raise the problem with them. Sometimes many days go by before the complaint is received, if at all." He continued, "my staff and I have trouble finding pro-Palestinian or anti-Israel pages that do not contain antisemitism. They themselves cannot separate legitimate criticism of Israel from conspiracy theories of the worst kind." Gideon Behar, the director of the Israeli Foreign Ministry's Department for Combating Antisemitism said he agrees with Daniel that the social networks are not doing enough regarding this issue. He said that, "internet companies and site operators do not understand that virtual antisemitism can become real antisemitism."

He noted that these major internet companies only sent junior representatives to the International Forum to Combat Antisemitism. He called on the tech giants to "be part of the solution to combat antisemitism and to protect their users from this phenomenon." Behar added that, "we look forward to participation from more senior staff. Even in everyday life, we do not see them taking any real action. They must internalize that hatred on the networks translates into actions against Jews in real life. Antisemitism is not virtual." He asserted that the flooding of social networks with hatred of Jews and the growing antisemitism in Western Europe are the central issues facing Israel and the Jewish people. "Nine Jews were killed in three separate attacks this past year in Western Europe. This is unprecedented," Behar said, accusing the EU and Western European countries of taking insufficient steps to stop the wave of hatred against their Jewish citizens. "Over the past two years, the two centers where we have identified a significant growth in antisemitism are in Western Europe and online social networks."
© The Algemeiner
A Canadian Muslim Group Has Launched a Hate Tracking Website
A Canadian Muslim advocacy group has launched a website to track Islamophobic vandalism, hijab pulling and similar forms of bigotry, as recent statistics show an uptick in hate crimes against Muslims between 2012 and 2013.

9/6/2015- Released Tuesday by Statistics Canada, the data revealed a 17 percent overall plunge in hate crimes reported to police during the one year period. But concerns remain for a number of groups who are still disproportionately targeted, including Muslims, blacks, and Jews, and for sexual minorities, who are more likely to face violence. The total number of reported hate crimes in Canada was 1,167 in 2013, down from 1,414 in 2012. About half of those were motivated by racial prejudice, while 28 percent stemmed from bias against a religion, followed by 16 percent based on sexual orientation. Overall, both religiously motivated and racial crimes were down. At 181 crimes, Jews still made up more than half of victims targeted for their religion, while black people made up the bulk of the race category with 255 incidents. Muslims, however, saw an increase from 45 incidents in 2012 to 65 in 2013.

Canada's hate crime rate is far lower than some other countries. UK statistics show over 44,000 hate crimes for England and Wales alone. Given the population differences, that's about six and a half times the Canadian rate, though Statistics Canada only includes cases "substantiated by police" while the UK data cover those "recorded by police." A US survey published by the Bureau of Justice Statistics found 293,000 cases, though the number proven by police is far lower. These differences highlight an obvious problem with the Canadian data. Statistics Canada notes that hate crimes are notoriously underreported, and estimates that just over one third of victims come forward, based on a past study.

The National Council of Canadian Muslims is looking to close that gap by giving victims a platform for reporting incidents online, even when they're afraid to go to police. When confronted with hate, users are asked to submit an account with as much detail as possible, including the time, date, photos, and a description of what happened, all of which is plotted on an interactive map. Amira Elghawaby, the group's human rights coordinator, told VICE News that their data shows a further doubling of anti-Muslim incidents between 2013 to 2014, suggesting the trend is continuing. She said that vandalism is the most common problem, but that assault and harassment are frequent enough, especially for women wearing headscarves.

"The majority of individual assaults target women who are visibly Muslim," she said. "Women who are wearing the hijab are, by far, most frequently the victims of hate crimes." Elghawaby says she saw spikes in hate crimes immediately after the Charlie Hebdo killings and the Parliament Hill shooting. Stigmatization and a sense of futility often discourage people from reporting hate to police, she said, telling the story of two Muslim girls who had their hijabs pulled off by a substitute teacher during class, but were reticent to speak up and report the incident to police. "They didn't want to go public or press charges because they didn't want to bring negative attention to themselves, or to the school," she said. "It was difficult for the two girls. They're young, and they didn't want to testify in a courtroom."

For this reason, the site will allow users to remain anonymous in their posts, though the group will keep their name on file so they can verify the incident. Elghawaby said that the posts will not reveal the identity of perpetrators, however, for fear of endangering people with unproven allegations, although they may link to media reports. "Our aim in launching a national hate crime awareness project is to urge Canadian Muslims, as well as fellow Canadians, to report hate wherever and whenever it happens so that we can find ways to combat it," she said. Apart from anti-Muslim hate, the Statistics Canada data weren't all rosy of course. Hate crimes based on sexual orientation stayed pretty stable between 2012 and 2013, and were particularly likely to include acts of violence. While about half of the abuse directed against other groups were acts of "mischief," like graffiti or property damage, two thirds of crimes against sexual minorities were violent in nature, with threats and assault remaining quite frequent.

Though the anti-hate website will not specifically address homophobic or transphobic incidents, a spokesperson for an LGBTQ rights organization joined Elghawaby at a press conference to support the initiative. "Unless we address the root of the problem — the hateful idea that one group of people can be set above the rest; that one set of charac-teristics is 'normal' and therefore superior to all others—we will never be successful in addressing any one of its symptoms," said Ryan Dyck of Egale Canada. The statistics showed that Thunder Bay and Hamilton had the highest rates of reported hate crime across the country, with both surpassing five times the national average. Urban areas were the site of almost three quarters of reported hate crimes, with half in Toronto, Montreal and Vancouver alone, although the National Council of Canadian Muslims noted that victims might be even less likely to go to police in rural areas.
© Vice News
We will see more antisemitism, violence and terrorism. We should act now! (interview)
Mr. Ronald Eissens is the General Director and Co-Founder of the Dutch NGO Magenta Foundation, which focuses on international human rights and anti-racism. He also founded The 'International Network Against Cyber Hate' which fights discrimination and other forms of cyber hate. We discussed how to fight hate speech, online antisemitism and we talked about the consequences of the rise of antisemitism in Europe as well as the situation of Turkish Jews.
By Karel Valansi

10/6/2015- The Global Forum for Combating Anti-Semitism ended recently in Israel. Do you consider it successful? Is there an action plan?
In my view it was more successful than the previous ones, since it was very much geared towards action. For now there is a summary of recommendations. Some of these are quite important like these three:
# Adopting a formal, legal definition of anti-Semitism. This definition will include attacks against the legitimacy of the State of Israel and the denial of the Holocaust.
# Strengthening legislation against anti-Semitism and the training of police in better enforcing existing laws.
# Education ministries in Europe must promote education to religious tolerance and preserving the memory of the Holocaust.
Summary of the recommendations

How do you describe hate speech? Words are powerful and have consequences. They can be used as a tool of propaganda but at the end they can create a new mindset…
Hate speech is any speech that sets out to dehumanize, discriminate, defame, vilify or insult a group of people on the basis of gender, ethnicity, religion, sexual orientation, skin color, or any speech that incites to violence and murder against said groups. Of course speech like this in the end polarizes society, poisons it even, so that an atmosphere is created in which negative action can be taken against certain groups, e.g. Jews.

Social media distributes hate easily, just by a like, a fav or a retweet. What can be done to fight online anti-Semitism?
A lot. Removal of antisemitic content. When necessary, legal action. In countries where there is no hate speech law, lobby should be started to introduce this law. Counter-speech by directly engaging those who do hate speech. Education; training children in anti-bias, training them media literacy (how to handle the internet, what is hate speech, how to distinguish between valid and false information, how to debunk conspiracy theories and Holocaust denial, where to find tools and information for this.

What do you mean by counter-speech?
This is a pilot project which our Dutch Bureau has been doing. Counter Speech is engaging online discrimination, racism and prejudice through various methods, including countering 'bad speech' with 'good speech', arguing on blogs, discussion groups and web forums and in the social media, dispelling myths using hard facts and information, debunking stereotypes and assertions and doing positive campaigns.

How does the International Network Against Cyber Hate fight cyber hate?
INACH, The International Network Against Cyber Hate, fights cyber hate by exchanging information, by doing joint actions against hate sites and other expressions online, by working with the social media and by lots of other things. Have a look here, you will get an impression.

Is there a contradiction with freedom of expression?
No, not really. Freedom comes with responsibility to protect all citizens. In a few countries, like the Netherlands, the freedom of speech is curbed by anti-hate speech legislation. The rationale for this is quite simple. History has shown that if we let hate speech run rampant, eventually this will lead to a take-over by the haters. In other words, democracy would be abolished and a dictatorship would be ruling. What is the first thing dictators do? The abolishment of free speech. So, hate speech legislation is there for a very good reason: the protection of democracy and the prevention of (ultimately) genocide.

A record number of French Jews made Aliyah. There were clear signs of anti-Semitism in Europe already. On the other hand Islamophobia is also rising and we see that the far right parties are gaining popularity. Where is Europe heading to?
As it looks now, Europe is heading for major problems with regard to both Right-wing extremism and Muslim-extremism. The first directed at Muslims and Jews, the second directed at Jews and 'the West' and basically anybody non-Muslim. For the longest time, Europe has neglected to take hard action against the extreme right and has failed to see in time that antisemitic sentiments run high in Muslim migrants and parts of the European Muslim communities have become breeding grounds for violence and terrorism directed at Jews and the countries itself. Since the Muslim population of Europe is by now quite large, politicians have also started pandering to the Muslim vote and are avoiding measures that could aggravate these voters. We will see more antisemitism and violence and terrorism. We will see more Aliyah. This can only be stopped if European politicians realize that they should act now.

Anti-Semitism has always been an issue in Europe. Can we say that there is a renaissance in anti-Semitism or it has a new form; in the form of anti-Israel and Holocaust denial?
'Old wine in new skins', as my panel at the Global Forum was called, is I think very apt. Anti-Zionism and anti-Israelism is just another obfuscation of anti-Semitism, in a way a very convenient way to hide that people are in fact antisemitic.

You have been to Turkey before, what do you think about the situation in Turkey? Approximately 17,000 Jews live in Turkey, where 69 % of the general population was revealed to hold antisemitic views according to ADL Global 100 Index.
I think Jews in Turkey are, like Jews in too many other countries, very much under threat. How long people stay, is a matter of how much communities and individual feel under threat. I do not think Turkey is worse than, for example France or The Netherlands. The difference is that in Turkey antisemitic outbursts are more visible, also by politicians. While in the Netherlands and France and other European countries the anti-Semitism is mainly 'under water' but is increasingly coming above water, also in the mainstream, and these days mainly coming out of the Muslim communities, the left-wing, and the mainstream.
© Salom Turkey
Headlines May 2015
USA: Half of Democrats support a ban on hate speech
Most Americans support expanded federal hate crime laws, but are divided on banning hate speech.

20/5/2015- Since 1994 people convicted of federal crimes motivated by the 'actual or perceived' identity of victims have faced tougher sentences. Many other states had passed 'hate crime' statutes in earlier years, and in recent years many states have been adopting laws which make crimes motivated by the victim's sexual orientation of gender identity hate crimes which face tougher sentences, something the federal government did in 2009. Unlike much of the rest of the developed world, however, the United States does not make it a criminal offense for people to make statements which encourage hatred of particular groups. For example a prominent British columnist, Katie Hopkins, is being investigated by the police for referring to African migrants crossing the Mediterranean as 'cockroaches'.

YouGov's latest research shows that many Americans support making it a criminal offense to make public statements which would stir up hatred against particular groups of people. Americans narrowly support (41%) rather than oppose (37%) criminalizing hate speech, but this conceals a partisan divide. Most Democrats (51%) support criminalizing hate speech, with only 26% opposed. Independents (41% to 35%) and Republicans (47% to 37%) tend to oppose making it illegal to stir up hatred against particular groups.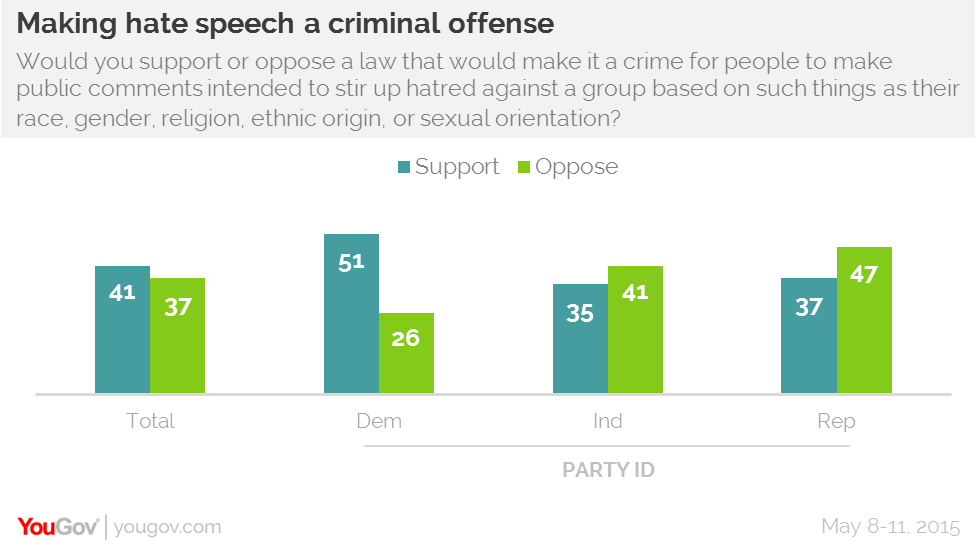 Support for banning hate speech is also particularly strong among racial minorities. 62% of black Americans, and 50% of Hispanics support criminalizing comments which would stir up hatred. White Americans oppose a ban on hate speech 43% to 36%.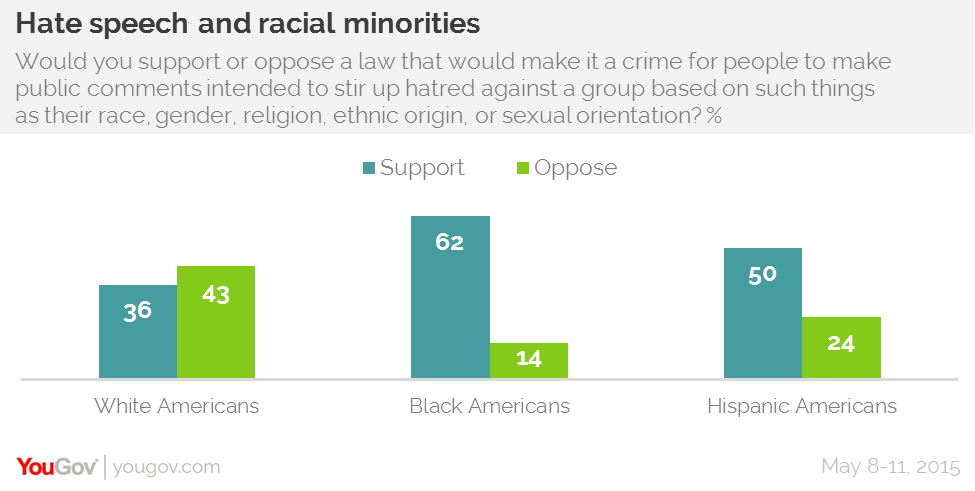 When it comes to crimes motivated by hatred, most Americans do back the current federal hate crime laws, including the expanded definition of hate crime passed in 2009. 56% of Americans back the federal law mandating tougher penalties for cimes motivated by race, religion or gender, and 51% support expanding that to include sexual orientation, gender identity and disability. Democrats (68%) tend to be much more supportive of the law than either independents and Republicans. Republicans (38% to 39%) are split over the expanded definition of hate crime, while independent tend to support (46%) rather than oppose (28%) it.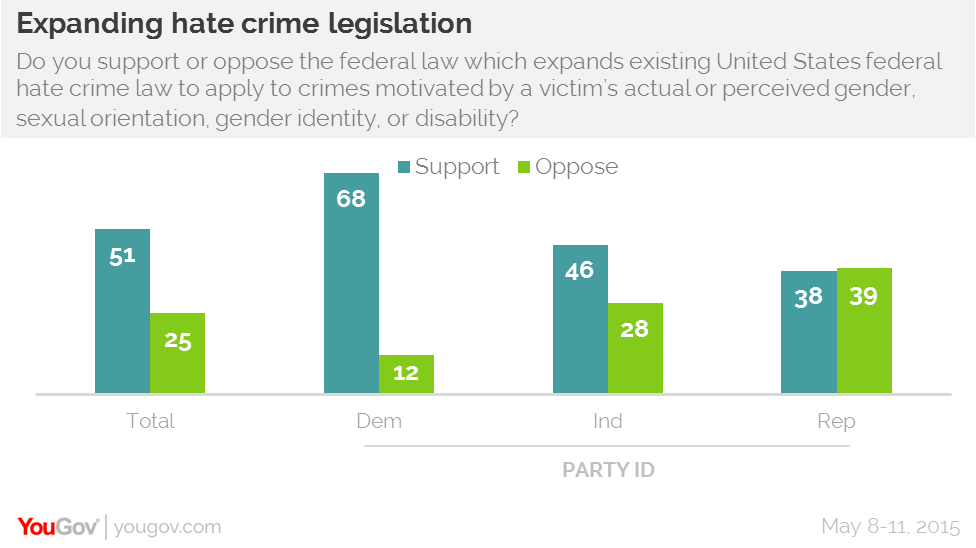 Full poll results can be found here and topline results and margin of error here.
© YouGov
Google Maps' cyber-racism hack locates White House after 'N***a house' search (opinion)
Cyber racism is nothing new, and the purveyors of online hate are at it again. If you don't believe it, just go to Google Maps on your smartphone or computer and type in the words "ni**a house Washington" or "ni**er king" or even "ni**er house." And what do you get? Google takes you to 1600 Pennsylvania Avenue. That's right, the White House, where the black folks live.
by David A. Love

20/5/2015- To its credit, Google apologized for the mishap, without explaining why this is all happening in the first place. "Some inappropriate results are surfacing in Google Maps that should not be, and we apologize for any offense this may have caused. Our teams are working to fix this issue quickly," said a Google spokesperson, as reported in The Guardian. This is not the first time Google has found itself in such a predicament. The company has had issues in the past, and they have to be more diligent. Back in 2010, Google's auto-complete search engine suggested racist queries after the user typed in "why." Moreover, its ad system was 25 percent more likely to display ads for criminal background checks after typing in black sounding names.

Contrary to the belief that racism is going away, in many ways, it has become more recalcitrant. And with online technology, that racism has become more sophisticated, with cyber racists digging in their heels and lashing out anonymously. Just ask black writers what they face on a daily basis with online racist threats and harassment on social media, as Juan Thompson perfectly lays out in The Intercept. All of this puts in perspective the comments that first lady Michelle Obama made recently at Tuskegee University on the indigni-ties black people, including the Obamas, face on a daily basis. Everyone knows the stories of the racist email messages sent by Ferguson city employees, or emails that have circu-lated among Republican politicians depicting the Obamas as monkeys, President Obama as Ronald Reagan's pet chimp and the White House lawn as a watermelon patch.

Even the Obama daughters are not immune to E-lynching. When a photo surfaced of Malia wearing a Pro Era t-shirt, for the Brooklyn-based hip hop collective, the right wing took to social media with racist attacks on her, calling her the N-word and accusing her and her father of being and anti-cop and anti-white. And when a GOP aide from the Tea Party lashed out at the Obama daughters Sasha and Malia by calling them classless dressers, #blacktwitter, which wasn't having it, decided to call her out on her racism and shut her down. Meanwhile, I just typed in "Ni**er University" on Google Maps, and Howard University popped up. Still not fixed. If we didn't live in that post-racial America some folks claim we're now in — now that we have a black president, who apparently is called the N-word often — it would be enough to make you really angry. Google, you need to tighten up those algorithms, or whatever you do in situations like this.
© The Grio
Russia threatens to ban Google, Twitter and Facebook over extremist content
Russia's communications watchdog has threatened to fine Facebook, Google and Twitter and block their services under a controversial law on blogging.

20/5/2015- In a letter to executives on on Monday, the director of the communications oversight agency warned that the three US companies could face sanctions if they continued alleged illegal activities in Russia, Izvestia newspaper reported on Wednesday. Any action could affect a number of social media sites: besides its eponymous social network, Face-book also owns the photo-sharing service Instagram, while Google owns YouTube, BlogSpot and Google+. Facebook and Twitter, in particular, have been instrumental to organisers of opposition protests in Russia, where the major television news channels are controlled by the state. A spokesman told the state news agency RIA Novosti that the watchdog's com-plaints related mainly to deleting pages with extremist materials and receiving information under what is known as the "bloggers law". This 2014 legislation requires popular bloggers to register their real identities with the authorities, a measure that prominent bloggers say is designed to have a curb free speech and criticism of the regime.

The agency's deputy director, Maksim Ksenzov, had issued a warning to the three companies on 6 May, telling them they were in violation of the bloggers law because they had not provided requested data on the number of daily visitors to several users' pages, as well as information allowing the authorities to identify the owners of accounts with more than 3,000 daily visitors. According to the law, the agency can fine a violating organisation up to 300,000 roubles (£3,850); a second infringement can incur a fine of up to 500,000 roubles or a suspension of its operations for up to 30 days. If the companies did not take steps to delete from their sites "information containing calls to participate in mass rioting, extremist activities" or unsanctioned public events, the watchdog would "limit access to the information resource where that information is posted", Ksenzov warned.

Although Russia's four major internet providers are reportedly able to block the URL of specific pages on social networks and other websites, regional providers with less exact technologies have in the past been forced to block entire services due to one offending page. According to the communications oversight agency's data, 70% of registered internet providers are able to block separate URLs, Izvestia reported. Since the start of President Vladimir Putin's third term in 2012, the government has launched a crackdown on the internet in Russia, passing laws that give state supervisory bodies wide-ranging powers to to regulate and block websites. Several news sites critical of the Kremlin have been blocked in Russia, including Grani.ru, EJ.ru and Kasparov.ru, which was founded by self-exiled chess grandmaster and activist Garry Kasparov. Facebook blocked 55 pages at the communication oversight agency's request in the second half of 2014, including one inviting people to a rally in support of opposition leader Alexei Navalny. Google was forced to move some servers to Russia this year under a law requiring Russians' personal data to be stored on its territory.
© The Guardian
Canada: Police investigation into racist Facebook pages continues
A police investigation launched nearly two months ago into racist social media pages continues.

20/5/2015- Thunder Bay Police Service spokesman Chris Adams on Tuesday confirmed officers are still looking into a series of Facebook pages which have popped up, which police previously labelled as "extreme racism" and said appeared to target the city's Aboriginal community "That investigation is still ongoing. Anything that involves an Internet based organization such as Facebook is going to take time," he said. "It's still on the radar for us." While he did not want to speculate on the outcome, possible charges could include harassment or even hate crime.

It's not a cut and dry case.
"In general, these are tough investigations because of the layers and the fact you're dealing with organizations that are very much international in scope and you have to weight that against the right of free speech and the ability to be photographed when you're out and about," Adams said. "There are a lot of issues that are tied to it and the laws that are in place don't always address those. Let's face it, technology outstrips everything we're used to right now and we're still coming to grips on how to keep up with it."
© TB News Watch
UK: Police's '24-hour window' to halt cyber-hate after terrorist event
Intervention by police within the first 24 hours of a terrorist event could be key to halting the spread of cyber-hate, a new study has found.

22/5/2015- Cardiff University researchers found online hate in the aftermath of the murder of Lee Rigby peaked in the first 24 hours then declined sharply. They found tweets from police and media were about five times more likely to be retweeted compared with tweets from other users following the attack. The fusilier was killed on 22 May 2013. The research is being published in the British Journal of Criminology on the second anniversary of his murder near Woolwich Barracks in London. Michael Adebolajo and Michael Adebowale drove into the 25-year-old before hacking him to death. During the study, social and computer scientists at the university focused on the production and spread of racial and religious cyberhate and the Twitter battle between police and far-right political groups in the first 36 hours following the attack.
© BBC News
UK: Kids 30 times more likely to be victim of hate crimes over internet
Manchester's school kids are more than thirty times more likely to become the victims of hate crimes over social media than in person.

17/5/2015- A Freedom of Information request submitted to Greater Manchester Police produced some harrowing statistics on reported hate crimes relating to social media throughout the region's schools. It is a well-documented development that sites and apps like Facebook and Snapchat are the new battleground for young people, but in a society of increased inclusion and tolerance, these figures indicate a worrying trend. The findings showed that across the last 12 months, 45 direct hate crimes had been reported across Greater Manchester's primary and secondary schools. In contrast, a staggering 1391 cases were reported which related to social media, including Facebook, Twitter, Snapchat, eBay, Instagram and even Tinder.

Andrew Bolland, from Stop Hate UK, told MM: "Our service has seen a growth in the use of social media as a means to direct hostility and abuse. "The underlying issue is that perpetrators believe that they are invisible and would be impossible to trace, not realising that it is regarded as seriously as direct abuse from a criminal justice perspective." A hate crime is defined as any criminal offence which is perceived by the victim or any other person to be motivated by hostility or prejudice based on characteristics or perceived characteristics defined within five monitored groups, also known as 'hate motivations'. These five groups are disability, race, religion, sexual orientation and transgender identity, but GMP also records crimes motivated by someone's perceived or actual alternative subculture identity. One of the concerns that naturally accompany hate crimes via social media as opposed to direct cases is the potential ripple effect of prejudicial messages to an almost infinite network.

Mr Bolland explained: "A big problem is the 'mushroom of media'. If someone has a hundred friends, the abusive message spreads through a vast network of people. "It only takes a small number of people to see that message without a proper understanding of the issue, and suddenly it increases and escalates." He suggested that those convicted of such crimes could be brought together with victims, so as to create a mutual understanding and to make perpetrators aware of the impact their behaviour has on people's lives. But first and foremost, tackling the issue starts with preventative action and ironing out misguided prejudices through education. He added: "Action needs to be taken to educate younger people early on the issue of discrimination, particularly with regards to social media, and prevent these situations arising in the first place. "We need to try to reach them through schools, youth groups and so on."
© Mancunian Matters
UK: Portsmouth City Council criticised over racism investigation into Facebook posts
A council has come under fire for its handling of an investigation into racist messages which appeared on a taxi boss' Facebook page.

15/5/2015- Viv Young, who has a share in Portsmouth cab firm City Wide Taxis, has been allowed to hold on to his hackney licence despite Portsmouth City Council being made aware of a stream of abusive messages which surfaced on his account:
I have no grievance with anyone. I have sponsored a little girl in Africa for years.
Taxi trade official and City Wide Taxis shareholder Viv Young

The News reported the shocking online posts to the authority, which included: 'I was driving me cab today and picked up a tribe of, shall we say (not typically English coloured people). 'I was wondering by having them in my cab, am I leaving myself open to catch malaria, cholera, dengi fever, and of course tics??????' Another post of a man wearing a burkha while holding a can of lager was uploaded – with each getting likes from Facebook users – while another message called Muslim 'nonces'. The council's licensing team looked over the evidence presented to it, before a committee at a meeting decided no action would be taken against Mr Young, saying the Facebook messages were private and that no complaints had been made by members of the public.

At the hearing, Mr Young insisted his Facebook profile had been set to private – which The News knows not to be true as the messages were viewed by reporters before Mr Young deleted his account. Questions have now been raised as to why the council did not look further into whether the posts were public – and why it needed further complaints to take action. Jabeer Butt, deputy chief executive of The Race Equality Foundation said: 'I don't know a great deal about how the taxi trade is regulated, but part of those regulations states the safety of customers is paramount. 'It seems odd Portsmouth City Council has managed to carry out an investigation where someone has repeatedly posted such state-ments about these customers, and concluded no action should be taken. 'Clearly, there are some terrible things said on the internet and it's become a haven for people to make very abusive comments.'

Lib Dem Councillor Gerald Vernon- Jackson said: 'This is not acceptable. 'It's pushing the onus on to the victim to put in a complaint. 'It's not right people can be putting out racial abuse – then doing this is saying "it's all right".' Mr Young, who received the support of other taxi drivers at the meeting, many of whom were from ethnic minority backgrounds, said some of the posts on his Facebook wall appeared as they had been shared by other users and had not directly been written by him. And Mr Young defended himself by making references to Nazi leader Adolf Hitler's book Mein Kampf. He said: 'Have you read Mein Kampf? If you don't want to read it then don't –it's not compulsory. My Facebook (page) was personal – if you don't like it then don't look or delete me.'

In his statement at the meeting, overseen by Cllrs Hannah Hockaday, Lee Mason and Sandra Stockdale, Mr Young said: 'This is a News witchhunt. 'Some parts of the postings may have been taken out of context. 'There were no poppy burnings or pig beheadings. I have no grievance with anyone. I have sponsored a little girl in Africa for years. 'Portsmouth City Council councillors and officers come under the political umbrella and speak as such – I use industrial language. 'I'm surprised and disappointed by reactions, this should never have got this far. 'There have been no complaints from the public. I am one of the best drivers in Portsmouth. In my opinion there's no case to answer.'

Cllr Hockaday, committee chairwoman said: 'The comments made were private. Mr Young has friends from a diverse range of background. 'We will renew his licence but will make it clear that if there's any recurrence of this then we will revoke it in the future.' She also said the comments were 'disappointing' and can be seen as disrespectful by members of the wider community.' 'You don't have to wait for someone to complain to take action on this,' she added. Cllr Hockaday was unavailable for comment following the hearing to explain the decision further.
© The Portsmouth News
Germany: Dangers that lurk on the Internet
Suicide pacts, dates to hunt down homosexuals or to torture homeless people: For children and teenagers, danger lurks not in the streets, but on the Internet, a German child welfare organization says.

13/5/2015- The Internet plays a huge role in most children's lives - also here in Germany. Young people these days are increasingly online with their smart phones, and often enough, they end up on websites that weren't necessarily designed for them. The German youth protection website "jugendschutz.net" has documented what youngsters are likely to come across on the Internet. The organization, which is linked to the Commission for Youth Media Protection (KJM), monitors the Internet for content harmful to minors. "Jugendschutz.net" gives parents and teachers guidance; for instance, in a newly updated booklet entitled "A net for children – Surfing without risk", commissioned by the Family Ministry in Berlin (BMFSFJ). The organization's 2014 annual report takes a close look at mobile communication, and points out the most problematic issues:

1. Risk of self-inflicted harm. Always on the lookout for cool things to do, even elementary schoolchildren get together to collectively swallow a mix of baking-powder and vinegar - trivialized as a dare, it's a lethal, explosive cocktail in the children's stomachs. Glamorizing anorexia is another fad, even to the point of virtual hunger Olympics: Who weighs even less?

2. Announcing suicide. In 13 cases, life-threatening situations forced "jugendschutz.net" to call the police. Sometimes, people seek partners for a suicide pact via the Internet; the young people also discuss procedure: whether it's better to jump from a tall building or in front of a train.

3. Sexual posturing. Photos and videos of teenagers in sexualized poses are particularly frequent. Such content is almost always generated through foreign servers, mainly Dutch, US and Russian. Often these pages can be deleted, but usually only after five days.

4. Sexualized violence via download. In 2014 alone, "jugendschutz.net" took action 1,168 times against cases of portrayals of sexual abuse in the net - significantly more than the previous year.

5. The lure of jihad. Political extremism also has a toehold on the Internet, and has long since discovered children as a target audience. Islamist videos do a brisk business: they use music and quick cuts, which comes across as professional and caters to what adolescents are used to seeing. In "Flames of War", the jihad is portrayed as an adventure for teenagers - this film and others are widely distributed via YouTube and Facebook.

6. Hunting down "the other". Videos that show violent attacks on gay or homeless people, or drug addicts, can easily get more than 100,000 clicks. Some show systematic torture. Clips by the neo-Nazi Okkupay-Pedofilyay movement, founded in Russia, are particularly notorious. The videos are circulated at a furious pace on Facebook, YouTube and via the Russian VK network.

7. Rightwing Muslim-bashing. Social media are a key platform for the far right, where they ridicule mainly Muslims, and where they liken them to athlete's foot and trash. The bashing follows a pattern: the more provocative the insult, the more clicks it gets. It's a snowball effect.
© The Deutsche Welle.
Google Says You Can Do What It Can't: Beat Online Anti-Semitism
At Jerusalem Global Forum for Combating Anti-Semitism, Google policy chief explains how users are key in the fight against online hate.

13/5/2015- Internet giant Google is making strides to combat online anti-Semitism, but executives insist the most effective way to counter hate online is by activists creating an effective counter-narrative. Speaking in Jerusalem at the 5th Global Forum for Combating Anti-Semitism, Juniper Downs, the Senior Policy Council for Google US, said her company has teams working "24 hours a day" to locate and remove hate content on platforms such as YouTube. Offending items - including anti-Semitic propaganda - are regularly removed, and users responsible for "particularly egregious" posts are often banned altogether, she said. The sophisticated systems Google employs include a "turbo-charge flagging" system, which allows developers to identify "trusted flaggers" - users with a good track record of flagging-up inappropriate material.

That system is a crucial tool in ensuring the system can't be abused, as users will often simply flag items they just don't like; for example, Downs noted that the most-flagged YouTube video is a fairly innocuous music video by pop singer Justin Bieber, whose off-stage antics have made him a deeply unpopular figure, despite the video itself being totally inoffensive. Context is also key, she added. In the past, some media watchdogs and anti-hate groups - including the Middle East Media Research Institute (MEMRI), which monitors Arab and other Middle Eastern media - have found themselves subjected to temporary bans, after users flagged "hate speech" in videos which were in fact meant for the purpose of exposing incitement.

Downs said Google now ensures footage containing hate speech or other forms of anti-Semitism or racism aren't removed if they are included for "documentation or condemnation" of bigotry - an important distinction to avoid collateral damage against groups fighting to expose online hate. But while Google is working hard to remove online incitement, Downs also emphasized that ultimately, simply removing the videos was just one part of the fight against anti-Semitism and hate-speech. "We know that on our platform there are pieces of content which just go too far, and we take them down," she said. But more sophisticated anti-Semites have found ways of getting round the hate speech rules, by treading the grey line between racism and offensive - but permissible - material.

Moreover, removing hate-speech only deals with the tip of the iceberg, but doesn't address or combat the poisonous narratives which fuel the hate. "We're troubled by the hate speech we find on our platform, but we're even more troubled by the fact that it represents sentiments which still exist today," she said. To tackle the problem at its root, users have to get more involved in actively countering the narratives of hate, Downs insisted. "Counterspeech is the most effective strategy in doing the real hearts and minds work," she stated. Paraphrasing Prime Minister Binyamin Netanyahu, who spoke at the opening evening of the Forum on Tuesday night, Downs compared what she terms "counterspeech" to lighting candles in the dark. "It's not a matter of lighting a single candle - we need millions of candles" to dispel the darkness of racism, anti-Semitism and other forms of bigotry online.

Educational videos providing facts and dispelling the arguments of anti-Semites is one tactic often effectively used, but Downs noted that some of the most popular anti-hate videos were those using satire. "Satire is a common and effective way of countering hateful views," she said. To help mobilize users, Google has been conducting offline events, bringing successful YouTube video producers to coach activists on how to be most effective in getting their message across. It hopes those events could ultimately empower users to do what the multinational technology behemoth can't - neutralizing the narratives of hate at their source and shutting down the demand for such material. The Global Forum for Combating Antisemitism is held every other year, under the auspices of the Foreign Ministry and the Ministry for Diaspora Affairs. It allows experts on anti-Semitism from around the world meet and share ideas over three days.
© Arutz Sheva
Cyberhate, anti-Semitism discussed at Jerusalem forum
The biennial Global Forum for Combating Anti-Semitism issued statements recommending steps for governments and websites to reduce cyber hate, and for European governments to reduce anti-Semitism.

14/5/2015- "Given the pervasive, expansive and transnational nature of the internet and the viral nature of hate materials, counter-speech alone is not a sufficient response to cyber hate. The right to free expression does not require or obligate the internet industry to disseminate hate materials. They too are moral actors, free to pursue internet commerce in line with ethics, social responsibility, and a mutually agreed code of conduct," read a statement issued Thursday night in Jerusalem by the Forum. Among the recommendations to Internet providers: to adopt a clear industry standard for defining hate speech and anti-Semitism; adopt global terms of service prohibiting the posting of such materials; provide an effective complaint process and maintain a timely and professional response capacity; and ban Holocaust denial sites from the Web as a form of egregious hate speech.

Recommendations to governments include: establishing a national legal unit responsible for combating cyber hate; making stronger use of existing laws to prosecute cyber hate and online anti-Semitism, and enhancing the legal basis for prosecution where such laws are absent; and adopting stronger laws and penalties for the prohibition of Internet materials promoting terrorism and supporting recruitment to terrorist groups. The forum also addressed the upsurge of anti-Semitism in Europe. "European institutions and governments need to take strong proactive steps to address the current outbreak of anti-Semitism in order to assure the continued vibrancy of Jewish communal life in Europe," read a statement issued Thursday.

Among the recommendations for combating anti-Semitism: adopt a formal definition of anti-Semitism applicable throughout the European Union and its member states under law including reference to attacks on the legitimacy of the State of Israel and its right to exist, and Holocaust denial as forms of anti-Semitism; applying agreed standardized mechanisms for monitoring and recording incidents of anti-Semitism in all E.U. countries; taking urgent and sustained steps to assure the physical security of Jewish communities, their members and institutions; and directing education ministries to increase teacher training and adopt pedagogic curricula against anti-Semitism, and towards religious tolerance and Holocaust remembrance.

The three-day conference hosted a panel of prominent Muslim leaders and imams from Europe who came to speak out about anti-Semitism in Europe. The opening of the conference featured addresses by the mayor of Paris and the German justice minister.
© JTA News.
Israel Jails Palestinian Who Applauded Militant Attacks on Facebook
12/5/2015- An Israeli court on Tuesday sentenced a Palestinian for incitement and for supporting a terrorist organization based on Facebook posts that applauded militant attacks, his lawyer said. It was a rare case in which statements on social media were regarded as a crime. The defendant, Omar Shalabi, 45, a father of six from East Jerusalem, was sentenced to nine months in jail for 10 posts to his 5,000 friends and 755 followers that urged them to undertake "violent acts and acts of terrorism," said the Hebrew-language indictment. Legal rights groups said it was unusual for an Israeli court to accept speech on social media as a basis for conviction. But they said that in recent months the Israeli police had detained several Palestinians from East Jerusalem and Arab citizens of Israel for incitement over comments made on their social media networks.

Mr. Shalabi's posts included a photograph of a Palestinian man who was killed after he plowed his car into a group of pedestrians in Jerusalem, killing a baby. Four days after the attack, he wrote, "Hundreds of Jerusalem's men are rising from their graves, and from under the hands of deprivation to cheer the soul of the martyr," according to the indictment. Another post praised two cousins who had stormed into a Jerusalem synagogue in November, killing five men. Mr. Shalabi posted the photographs of the attackers and wrote: "Ask death to grant you life; glory is bestowed upon the martyrs." "These posts motivated other Facebook users who shared the inciting contents with their friends and followers, who in turn supported the posts by pressing the "like" button," the indictment said. "The mere use of this media, as the defendant has done, serves as a severe act, given the extensive circulation of the messages, as well as the ease with which these messages spread."

Mr. Shalabi's lawyer, Tariq Bargouth, said the basis for the conviction and punishment never established that Mr. Shalabi's posts had encouraged any specific militant attack. There have been a series of so-called lone-wolf attacks in Jerusalem, in which Palestinian men, without any political backing or leadership, attack Israeli civil-ians or security officers. Avner Pinchuk, a lawyer with the Association for Civil Rights in Israel, which follows freedom of speech cases, said it was the first time he had heard that "incitement to terror in social media concluded in jail." Majd Kayyal, the media coordinator for Adalah, an organization that pursues the legal rights of Palestinians in Israel, accused security services of a double standard, saying they had not cracked down on Israeli Jews for incitement to violence online. He said his organization had tracked officials from the police and ambulance services who had encouraged violence against Palestinians on their Facebook pages, without punish-ment.

Mr. Kayyal said he also feared government officials were using the word "incitement" too loosely, saying they had to "prove a relation between what was written, and an incident that happened in reality."
© The New York Times
USA: Study finds link between N-word Google searches, black mortality
11/5/2015- There is a connection between Google searches for the N-word and regional black mortality rates, according to a study by a university professor published in PLOS One last month. "We found that areas with a greater proportion of searches containing the N-word had not only a higher black mortality rate but also a greater gap in the black-white mortality rate," David Chae, the study's lead researcher and an epidemiology professor, wrote in an email. Researchers analyzed mortality rates from leading causes of death among blacks, including heart disease, cancer, stroke and diabetes, and adjusted for other relevant factors such as age, sex, the percent of the black population, levels of education and poverty. They also examined the gap between black and white mortality rates in each of the 196 areas assembled by the National Center for Health Statistics.

According to the study, the researchers found that each one standard deviation increase in area racism equaled about an 8.2 percent increase in the black mortality rate. Measuring racial attitudes can be tricky, Chae wrote. Past methods have included surveys, but he wrote that those can yield subjective results, as people are more likely to self-censor their more "socially unacceptable beliefs." "Racism is a public health issue," Chae wrote. "This study adds to evidence that racism is a social toxin that increases susceptibility to disease and generates racial disparities in mortality. It also points to the utility of using Internet-search-based measures to monitor racism at the area-level and assess its impact on health outcomes."

Rashawn Ray, a sociology professor at this university who teaches a class about modern perceptions of race, said Chae's study provides a link between the words people use and prejudicial attitudes and behaviors. "This study shows that words actually matter, and words have detrimental effects on the life outcomes of blacks," Ray said. "Because people who use racist words seem to also be likely to hold prejudiced attitudes and exhibit discriminatory behavior." Though this state doesn't indicate the same high level of racism like other areas in the country, , Chae's study showed that racism still exists here too, said Stephen Thomas, health services administration professor and this state's Center for Health Equity director.

The findings serve as evidence of racial discrimination across America, Thomas said. Racism persists in housing, employment and the criminal justice system, Chae wrote. But some forms of racism are more subtle — Internet searches might reflect the hidden instances of racism, Chae said. "In a democracy like ours, a country made up of people seeking freedom from around the world, you should not be able to predict my life expectancy by my zip code," Thomas said. "You should not be able to predict my quality of life based on a geographic map of people Googling the word 'n-----.'"

Thomas said he hopes Chae's work helps people understand how prevalent racism is in the U.S. "The consequences of that word impacts people's life and longevity," Thomas said. "What Dr. Chae's work shows to someone looking at that map is there are more Baltimore uprisings to come, more Fergusons to come unless we do something now to start ending racism in America."
© The Diamondback
USA: How YouTube and FB ruined this principal's chances of denying her racism
There are plenty of outright racists who proudly own their bigotry and hate — you can find them in any corner of the internet. And then there are those who seem to think they should be able to express their messed-up views, be taken at their word when they half-apologize or try to explain them away, and suffer no criticism or repercussions.

11/5/2015- For the latter group, the internet has made living their dream increasingly hard. Georgia high school principal Nancy Gordeuk is the latest example of that. Video of the commencement ceremony at TNT Academy, a small private school in Stone Mountain, Georgia, shows her mistakenly dismissing the crowd before the valedictorian's speech, and then saying, "Look who's leaving — all the black people!" as she tried to correct her error while a racially mixed group of attendees continued their exit from the venue. When the footage went viral, and she was criticized for being both racist and wrong, she promptly blamed her comments on Satan: "The devil was in this house," she told local news station CBS 46, "and he came out from my mouth."

If anyone was convinced that Gordeuk had actually been momentarily overtaken by evil forces, her son swiftly ruined that theory. He defended his mom in a Facebook post, writing "y'all ni**ers aren't talking about shit so if u got something to say come see me face to face," and "my moma not racist one bit she's done nothing but help kids so y'all need to get stories straight." His easy use of a racial slur certainly did not do the job of convincing anyone that Gordeuk's not racist.

Between YouTube and social media, explicit expressions of racism are becoming increasingly harder to get away with. Think of the Oklahoma frat boys expelled when a cellphone video captured them chanting, "There will never be a ni**er at SAE ... you can hang him from a tree, but he'll never sign with me; there will never be a ni**er at SAE"; the congressional staffer who stepped down after news outlets published Facebook posts in which he likened his black neighbors to zoo animals; and the Ferguson, Missouri, municipal court officials who were fired after a search of their email revealed "jokes" based on dehumanizing stereotypes about African Americans.

There's no question that it can satisfying to watch someone who's expressed bigotry be publicly humiliated in the same way that their words humiliated others — that's a huge part of why the recent commencement disaster has made national news. But here's what would be even more gratifying: if these people stopped feeling so confident that explicit racism was something they could get away with — or, even better, if they worked as frantically to rid themselves of their biases as they do at their futile efforts to excuse and explain them.
© Vox
Austria: Child abuse images deface Nazi Mauthausen camp website
Hackers have put child abuse images on the memorial website of the Mauthausen concentration camp in Austria, 70 years after the Nazis' WW2 defeat.

8/5/2015- The website was quickly deactivated by the company managing it, a message on it reads. The Austrian interior ministry is investigating the attack. Interior Minister Johanna Mikl-Leitner called it a "criminal, sick attack and deeply abhorrent". The Nazis killed more than 100,000 people at Mauthausen in 1938-1945. The camp - one of the most notorious and biggest in the Third Reich - was liberated by US troops in May 1945. On Sunday there will be commemorations of the liberation at Maut-hausen. The exact death toll is not known. Inmates, many of them Jews, were starved, tortured or gassed to death. Others died of exhaustion through hard labour. Many Soviet prisoners-of-war and Spanish Republicans were also among the victims. Many sub-camps were also set up near the main camp. Austrian officials suspect that far-right extremists may have carried out the attack, as such extremists have hacked several websites in recent months, Austria's Der Standard news website reports. The head of Austria's Mauthausen Committee - a group promoting human rights and democracy - condemned the hack. Willi Mernyi said it was "obnoxious and reveals the mindset of the hackers".
© BBC News
USA: Mother speaks out about Cyber-bullies
Cyber-bullying is a problem confronting countless young people.

8/5/2015- One parent knows this all too well. Her teenage daughter was the victim of cyber-bullies. What they did almost drove her 13-year-old daughter to commit suicide. The parent, a woman from Port St. Lucie whose first name is Jill, asked us not to use her last name. She told us her daughter was being bullied at school in person and on Instagram, where other students were posting photos of her with insulting, degrading comments. "I think it's terrible. It's basically a hate crime when you're sitting there making fun of someone and belittling them," Jill said. Her daughter goes to Oak Hammock K-8 School in Port St. Lucie. The Instagram account where the humiliating comments were posted was called "OakHammockHoes."

When she realized what was going on, Jill went to the school, but she says they referred her to the police. About two weeks later, her daughter was so tired of the abusive comments on Instagram and so depressed that she tried to commit suicide by drinking bleach. She ended up in the emergency room. "What would you say to the parents of the kids who were doing this to your daughter?" we asked. "They need help. There's something wrong with someone who feels like they have to make fun of someone else. It's not right," Jill explained.>

She has this advice for other parents, about how to protect their children from cyber-bulllying. "Get involved with what's going on at school. Every day that your child comes home from school ask them questions. Get involved with your child. Get involved. You don't know how bad it is until it happens," Jill said. Her daughter has been released from the hospital and still goes to the same school, because there are only a few weeks left in the current school year. She plans to enroll her in a different school in the fall. Cyber-bullying is a crime. So far no one has been arrested.
© CBS 12 News
Sexism and Racism in Video Games
8/5/2015- Pong, which first appeared in 1972, revolutionized entertainment in a way not seen since television was first introduced. The game consisted of two players each controlling a rectangular panel that would move up and down the screen trying to deflect a ball from entering their goal. It was considered the ultimate test of skill against your friend, or whoever else was next in line at the arcade. Over the course of a few decades, the video game industry exploded with popularity. It went from utilizing a gigantic box in a crowded public room to operating on a slightly less gigantic box in the comfort of your living room. The rectangles evolved into plumbers, plumbers to gorillas, and somewhere along the line we found ourselves stealing cars and robbing banks in 1080p.

It's been a long ride, and it doesn't seem to be slowing down, especially with the rise of Virtual Reality in the form of facebook's newly acquire Oculus Rift headset. However, as nice as new technology is, it seems that the more things change, the more they stay the same. Perhaps the most clear example of this is the lack of variety in terms of gender and race. It's an issue that is ever prevalent in the major video game blockbusters, and has been since video gaming began (save for an Italian plumber and his brother). Whether it's The Last of Us, the Call of Duty franchise, the Far Cry series, or the Metal Gear Solid series, they all of have one thing in common: A strong, white male lead role.

Now, that's not to say there are no Hispanic or Black characters out there. Plenty of games include characters of various races, although not necessarily in the lead role. Most recently, we've seen Telltale games' The Walking Dead host a dual lead role, Lee Everett, who wasn't white; and even a female character, Clementine. Both characters have helped the series win a slew of awards, including a multitude of different "Game of The Year" awards. Following the overwhelming success of the first season of The Walking Dead, they produced a second season that starred an eight-year-black girl, who proved singlehandedly that there need be no standard for a leading role in movies, video games, or books.

Race aside, the video game industry has seen the leading characters who were women and other support characters for that matter be produced and displayed in an excessively sexual way. With anything from skimpy clothing to large breasts and butts being commonplace for female characters. Some major examples are Bayonetta, Street Fighter, Dead or Alive, Metal Gear Solid, and the well-known Tomb Raider series. Within the past few years alone, however, we have seen a change in the way the race and sex come into play with various video game leads in the way Clementine from The Walking Dead, Sheva from Resident Evil 5, and Ellie from The Last of Us. It's been a slow climb towards the concept of equality in this particular entertainment medium. However, if the last couple blockbuster hits have indicated any-thing, it's that you do not need to look a certain way to be the action hero.
© The Kaleidoscope, news site of Kishwaukee College
Steam Greenlight highlights hate-crime game, 'Kill the F*ggot'
4/5/2015- In a new video, Jim Sterling highlights a game that is actually hate speech. Some people often claim a game is inappropriate or sends the wrong message, but a game called Kill The Faggot -- currently on Steam Greenlight -- has a pretty clear and concise message: LGBTQ+ individuals are different, weird and deserve to die. The description on Steam Greenlight doesn't mince any words on its intention to offend and appeal to the lowest common denominator within the community: "Hate gays ? Want to unleash your frustration with the "LGBT" community? Well now is your chance. Murder gays and transgenders, while avoiding killing straight people. Get as many points before time runs out!"
The game promises "mediocre 3D graphics, three levels of play, fully voiced lowbrow innuendos, and an "amazing soundtrack."

Kill the Faggot is the creation of Skaldic Games, which, according to its website, is a game development company from the Los Angeles area. Skaldic says that its game is part of another game called " The Shelter: A Survival Story." It is likely that by the time you read this story or shortly thereafter this game will be pulled from Steam Greenlight. For the time being, it can be found here (we've also archived it here for posterity). There's no doubt that Kill the Faggot violates Steam's submission rules for Greenlight in that it uses incendiary language and imagery meant to incite. Whatever Valve decides, we will continue to follow this story as it develops.
© Game Politics
UK: Students schooled in cyber safety
Students have come face to face with the potential perils of social media in a series of hard-hitting workshops designed to keep them safe.

4/5/2015- Cyber safety experts spent the day at Darlington School of Mathematics and Science (DSMS) highlighting the potentially negative physical, social and psychological conse-quences of using the internet. About 120 Year 8 students were introduced to Andrea Jennings and David Duckling, of Harbour Support Services, an organisation that works in Darlington providing outreach programmes for the victims and perpetrators of domestic violence. They also worked with Durham Police cohesion officer Chris O'Brien and town centre beat officer Alice Turner looking at the impact of hate crimes. Durham Police neighbourhood policing team officer Kathryn Davies and beat officer David Gibson delivered the third workshop addressing inappropriate use of social media including sexting and how easy it was to fall foul of the law.

Cyber safety is a particularly poignant issue in Darlington, following the death of teenager Ashleigh Hall, who was murdered in 2009 by a man she met online. DSMS assistant head teacher Emma Hickerson said: "As a resource the internet is as incredible as it is dangerous and it is vital our young people know how to use it appropriately. "They live in a cyber-world and the speed of technological development is breath-taking. We have to make sure they are fully equipped to maximise the incredible benefits of the internet but also stay safe from the many pitfalls." Mr Duckling explained that domestic violence could be physical, emotional, financial and sexual. It affected men, women and children and Harbour was there to support victims and work with perpetrators.

Students heard that hate crimes often turned prejudice and discrimination into persecution, hatred and destruction when society should be celebrating diversity. PCSO Gibson stressed the importance of young people keeping their online profiles private. "Older people often befriend younger people on the internet to exert control over them," he said. "Often in chat rooms people are not who they say they are and could be paedophiles so you need to be 100 per cent sure of who you are talking to. "The impact on young people's lives can be huge and it also affects their families and friends." He urged students to either click the CEOP button on their computer if they had concerns or approach an adult they could trust. He warned that inappropriate images, even when they were taken as a joke, were likely break the law and anyone who sent them could find themselves charged with distributing indecent images. Students were also shown poignant videos covering a variety of cyber safety issues and hate crime scenarios.
© The Northern Echo
White supremacists stole my identity to spew hatred on the Times of Israel
One day I awoke to a barrage of posts from strangers accusing me of racism for an article I didn't write. Then I learned how to use social media to my advantage
By Josh Bornstein

5/5/2015- In the early hours of Friday 10 April, as I slept in Melbourne, American author Naomi Wolf was posting on Facebook to condemn me as "deranged", "genocidal" and "psychotic". Wolf and I have never met or communicated before. Regrettably, she was not alone. In the course of that night, I was on the receiving end of a battery of threate-ning emails from strangers, accusing me of base and hateful racism. My Twitter feed was filled with similar messages from all over the world. That Friday morning, I awoke to find myself caught in the middle of a social media storm. Hours before Wolf wrote on Facebook and in another part of the world, the Times of Israel, a publication with which I was also not familiar, published an article on its website containing a graphically violent and racist diatribe against the Palestinian people and calling for their "extermination". The despicable article was attributed to me and was accompanied by my photograph. It was quickly disseminated in the hothouse that is Middle East politics and spread throughout the globe.

The barrage of threats that followed the article's publication came predominantly from Europe, the US and the Middle East. One threat emanating from Little Rock, Arkansas, excoriated me as a "worthless piece of shite" and advised that I "would be dead soon". Prior to receiving this missive, the sum of my knowledge about Little Rock was almost entirely derived from the autobiographical details of novelist Richard Ford and the Clintons. Those closer to home who know me are aware that I have never written a racist article in my life. On the contrary, I deplore racism and have been very vocal in support of strong laws against racial vilification and race hate. I have also criticised the Israeli government's conduct towards the Palestinian people, most recently during the 2014 Gaza conflict. I had become a victim of identity theft.

That morning, having well and truly woken up and then worked out what had happened to me, I posted on Twitter in forceful terms to explain that I was not the author of the racist bile. This was the cue for highly agitated editorial staff at the Times of Israel to make some urgent attempts to speak with me. They had already torn down the article and, conscious of our different time zones, were waiting for me to wake up. By the time we spoke, they had already prepared an article to explain the "hoax" that had been perpetra-ted on their publication and on me. They sought my permission to name me and to include a short statement from me. The published article also apologised both to readers of the Times of Israel and to me.

It transpired that some weeks earlier, a person or group using my identity had made an online application to blog on the Times of Israel website. The application was checked and appeared authentic. Whatever process was followed, I did not receive any contact from the Times of Israel to verify my identity and blogging application. In the following weeks, articles that I had written and had published in the Guardian and other media organisations were posted on the Times of Israel site. The articles addressed wealth inequality in Australia, the success of business lobbyists in shaping public policy, the inhumane treatment of asylum seekers and other matters of political economy. My articles are easily accessible on the websites of media organisations that publish them and are also displayed on my personal website. Although I periodically write for various media outlets, I am not a blogger. A lawyer and occasional writer, yes. A blogger, no.

The editors at the Times of Israel thought it curious that an "Australian blogger" was posting articles on its site dealing with domestic political issues in Australia. On the other hand, a senior editor there told me that her father was a Jewish "labour lawyer" in New York and I was part of a rich Jewish tradition. In the weeks during which my real writing was published on an Israeli media website, I remained blissfully unaware. Then, having established an apparently respectable identity as a blogger on the Times of Israel website, the perpetrator struck. The article opened with observations about Talmudic law before descending into a litany of repulsive race hate. The article was so rancid that some queried whether it was a failed attempt at satire.

Social media shaming can escalate and spread all over the world at eye-watering speed. In the maelstrom that engulfed me for a time, I felt like I was standing in an amphitheatre surrounded by a hostile and highly multicultural audience who were baying for my blood. And the crowd kept growing – minute by minute. Where, as in this case of identity theft, the shaming is entirely misconceived, there is an upside: it can be curtailed quickly, too. A number of people suspicious about the authenticity of the racist rant did some fact checking for themselves. Even before I emphatically communicated on Twitter that I had never written or blogged for the Times of Israel, they had advised the digital mob that a hoax had been perpetrated. My denials followed. The Times of Israel then published its article explaining the hoax and apologising. Other interventions occurred online and over time, the mob muted.

The storm was all but over within 36 hours. Unlike other victims of social media shaming, I did not lose my job. On the contrary, my work colleagues rallied around me. That said, there is another digital twist to this bizarre and disturbing experience. Before the offending article was torn down, an image of it was placed on another site. Despite vigorous attempts to have it removed from the internet, it still continues to be peddled online. As a result, I have received more threats. A genuine blogger, Daniel Sieradski, was promp-ted by my experience to do some online detective work about this episode. He discovered that a few weeks before the fake blog began to be published by the Times of Israel, a post appeared on a website foreshadowing what was to come: "Using a fake Jewish name, profile, and photo, I got myself a blog on The Times of Israel," the post read. "These people believe I'm really a Jew."

Sieradski's work led me to a site that appears to have been created by a neo-Nazi group based in the US. In one of their posts, the group denigrates me as a "subversive Jewish parasite", a "human rights activist", "open borders advocate" and "staunch supporter of hate speech laws". The same photograph of me that was published by the Times of Israel appears on this website; this time with a yellow Star of David emblazoned on my forehead. As unpleasant as it is to be targeted in this way, more than anything, the experience has profoundly reinforced the kindness of strangers. A human rights lawyer based in Sydney who saw Naomi Wolf's Facebook post about me intervened and prompted Wolf to retract her condemnation. It was replaced with "Progressive Australian Jewish Lawyer Josh Bornstein is a victim of a hoax that called for genocide." I would have preferred a full apology but once again, Wolf was not alone in not offering one.

Many other strangers, including Palestinian and other Arab activists for Palestinian statehood, acted quickly to defend me from further attacks. They told me of their concern for my welfare and their determination to disseminate the truth. One such activist for Palestinian rights sent me the following: "Josh, saw your situation and ensured to share the facts here in the UK among the various groups sharing that awful Times of Israel blog in your name." Could I have done anything different to avoid this attack? I suspect that like many others, significant aspects of my identity, including photographs, are there to be found on the internet. I am outspoken and I am Jewish. Am I going to change any of that? Not so long as my tuchus points south. While my public identity, writing and activism undoubtedly elevated the risk of identity theft, social media participation is a two edged sword. As journalist Sarah Seltzer observed:

"But imagine if Bornstein hadn't been active on Twitter, or easily findable online – and then imagine if the screed posted in his name had been just a tad more subtle and less obviously fishy. In such a case, the post might have stayed up for much longer and made a more lasting digital imprint under his name." White supremacists don't do nuance. For that too, I can be thankful.

A reply from Naomi Wolf
What happened to Josh Bornstein, who wrote a piece today about having had his identity stolen and used as the byline for a hatefilled diatribe, was awful. As soon as Bornstein's piece was posted on social media, in fact on the same day, I asked on Facebook if the piece was a hoax, and asked for citizen journalism confirmation of the piece. I wrote as soon as the hoax was confirmed, that the piece was not authentic and I wrote about how awful it was that someone stole Bornstein's identity. I noted that Bornstein spoke up against human rights abuses.

Bornstein never contacted me, but I would have been, and am now, very happy to offer an apology to him for my initial horrified response to a very racist piece. I would add this regret to the regrets I expressed at the time that a fellow writer's voice was hijacked. I think that since I asked right away if this blog post was a hoax, and questioned the veracity of the op ed from the outset, I did what was journalistically ethical and appropriate. But what happened to Bornstein was terrible and I am truly sorry to have added by my distress at the racist language in the blog post, to his understandable distress at the theft of his identity.
© The Guardian
Czech Rep: Report: Last year saw rise in anti-Semitic incidents, on internet by 20%
4/5/2015- The number of anti-Semitic attacks in the form of verbal attacks, harassment and threats rose in the Czech Republic in 2014, mainly on the Internet, while there were quite few physical attacks, the Prague Jewish Community says in its annual report and adds that most Czechs do not share anti-Semitic views. The Czech Republic ranks among the countries where anti-Semitism is not significantly present either in the majority society or among politicians, says the report the Jewish community released to CTK Monday. The number of physical attacks on Jewish targets, persons or property remains almost unchanged compared with the previous years, the report showed.

# In 2014, the Jewish community registered one physical attack on a person, the same number as in 2013.
# Five attacks on property were registered, which is two more than in 2013. Most of them were the defacing of graves at Jewish cemeteries.
# "The number of registered incidents such as verbal attacks, hate e-mails and threats addressed to people of Jewish origin has risen sharply, almost four times," the report says.
# The number of anti-Semitic attacks on the Internet rose by 20 percent against 2013. This trend has continued for four years now, according to the report.
# "In 2014, there was also an increase in the number of so called new anti-Semitism aimed against the State of Israel," the Jewish Community writes.

That is why manifestations of anti-Semitism were more intensive during the escalation of the conflict in the Middle East. Some groups view Czech Jews as envoys of Israel and blame them for Israel's political decisions, the report says. In 2014, the Jewish Community registered 28 cases of harassment and nine cases of threats, compared with six and three in the preceding year, respectively. The total number of these incidents was four times higher in 2014.

Like in 2013, anti-Semitism in 2014 was not a matter of right-wing extremists only, but it was also spread by leftist groups and individuals without any obvious links to extremist groups. "This may be because anti-Semitism targeting the State of Israel is a form of anti-Semitism that is more accepted in society," said Petra Koutska Schwarzova, from the Prague Jewish Community. Unlike abroad, anti-Semitism in the Czech Republic has not taken violent forms for the time being, the report says. Although the number of physical attacks is low in the country, a terrorist attack by radical individuals is the biggest threat to the local Jewish community, it says. "Examples of such attacks abroad show that security measures in the vicinity of sensitive places, such as Jewish buildings, must not be underestimated," Koutska Schwarzova said.
© The Prague Daily Monitor
UK: Ku Klux Klan racist jailed again for far right rants on Facebook
Darren Fletcher, 25, of Wednesfield, was previously jailed for KKK YouTube video

1/5/2015- A lout who dressed up in a Ku Klux Klan outfit and pretended to hang a life-size golly doll has been jailed over racist rants on Facebook. Darren Fletcher was locked up for eight months for breaking an order banning him from making race-hate remarks online. He previously served a year in prison for stirring up racial hatred by posting the KKK video on YouTube. But the 25-year-old flouted the terms of his criminal anti-social behaviour on his release by launching more racist tirades. He even posted that a newspaper needed "bombing" for its coverage of his original court case. Fletcher was sent back to prison for eight months at Wolverhampton Crown Court today. The forklift truck driver, who has Asperger's syndrome, had earlier admitted breaching the terms of the CRASBO at the city's magistrates court.

The sentence was welcomed by Det Chief Supt Sue Southern, head of the West Midlands Counter Terrorism Unit. She said: "Fletcher blatantly flouted the conditions the court imposed on him by posting racist and anti-Semitic comments. "We understand how offensive and distressing this type of behaviour can be and worked to bring him before the courts for a second time. "West Midlands Police takes all forms of extremism seriously and we urge anyone with any concerns to contact us on 101." Fletcher, of Kitchen Lane, Wednesfield, is also known as Christopher Phillips and Darren Clifft. He set up a Facebook page using the name The Whitest Knight and used it to express sympathy with a fellow far right supporter who was posting anti-semitic tweets about a Jewish MP.

Comments on the page included accusing the British Government of doing more to help Jewish and black people than "its native whites". Fletcher also declared that he "hated Britain with a passion" and made threats against Jews and black people. Nicholas Towers, defending, urged Judge John Warner to pass a non-custodial sentence. He said the postings breaching the order had been intended for an audience sympathetic to convicted extremist Garron Helm. "This wasn't someone on the streets shouting abuse," Mr Towers added. "It was supposed to be for a relatively limited audience." But the judge said Fletcher had "deliberately, defiantly and fragrantly disobeyed the order". He added that anything less than a custodial sentence would have been a "green light to carry on".
© The Birmingham Mail
Czech Rep: Brno university opens centre for cyber attack defence training
29/4/2015- Brno's Masaryk University (MU) has launched a training centre for experts to simulate serious cyber attacks and train defence against them, MU representatives told media Wednesday. The cybernetic polygon has cost 22 million crowns. Its closed laboratory enables to train the defence without endangering the infrastructure outside. It can be used by scientists, students, company specialists and employees of the National Security Office and other state security bodies. The laboratory has unique software that enables to simulate any network and situation, including an attack on a nuclear power plant or the electric grid operational system, for example. "Very important is the [centre's] safe separation from real networks. If we want to train defence, we also have to create offensive means, which would cause a big problem if they penetrated the real network," said Vaclav Racansky, head of the security section at the MU's Institute of Computer Science. In the past, MU experts assisted in preparing the Czech law on cyber security, which binds infrastructure operators to ensure its safety. Hackers cause hundreds of billions of dollars worth of damage a year. The Czech Republic, too, has experienced extensive cyber attacks. In 2013, for example, a four-day attack targeted news servers, mobile operators and banks.
© The Prague Daily Monitor
USA: Ignoring hate speech won't silence it (opinion)
By Jake Bennett, James Rund and George Dean.

26/4/2015- There have been a series of hate speech incidents over recent weeks in Tempe and Mesa, orchestrated by Neo-Nazi groups and hate preachers. Some of the incidents included anti-Black, anti-immigrant, anti-LGBT and anti-Muslim speech and intimidation. This behavior and these sentiments do not reflect the values of our community. We the undersigned have joined together to express our opposition to the presence and activities of hate groups in our community. We are deeply concerned about recent manifestations of hate. As community leaders, we have united to underscore our common value of working together to create a community of respect.

Our shared fundamental principles require us to speak out when we see hate around us. Ignoring the presence of hate speech, with its accompanying literature and social media does not make its vile message disappear. We will not sit idly by when hate raises its ugly head in our community. Not only are we united in denouncing hate, but we are united in supporting a community that is committed to the free exchange of ideas, the principles of inclusion and the celebration of diversity.
— Jake Bennett, ADL Arizona
— James Rund, ASU administration
—George Dean, Urban League
—And 22 other co-signers
© Arizona Central