news archives >>
Headlines July 2014
Headlines June 2014
Headlines May 2014
Headlines July 2014
Facebook Page Publishing Identities of French Jews to Encourage Attackers
A violent mob of more than a dozen men in France assaulted a Jew at his home in a Paris suburb after confirming that his photograph had been published by a French Facebook page identifying Jews to be targeted for physical intimidation, The Union of Jewish Students of France, the UEJF, said in a statement on Friday.

25/7/2014- The Facebook page, 'Jeunes Révolutionnaires Français', JRF, or 'Young French Revolutionaries', posted the names and photos of 32 Jews. The assault on one of those listed took place on Thursday night in Bobigny, Seine-Saint-Denis, a Paris suburb. The assailants were armed with iron bars. On the 'Secret Tel Aviv' Facebook page, Daniel Cohen called the group anti-Semitic, and exhorted Facebook users to report the JRF page to site administrators for removal. On Facebook, Cohen wrote, "An anti-Semitic page is publishing names and pictures of French Jews in order to target them physically! A few have already been attacked at their homes, one last night by 15 people on one Jewish guy. We need to remove this page!" The JRF captioned its page with the photos of the Jews to be targeted, "Smile, you're caught! JRF watches! # AntiLDJ," referring to the LDJ, the French initials of the Jewish Defense League, an organization created to teach Jews how to defend themselves from anti-Semitic attacks.

The title page of the group's Facebook presence features a large Palestinian flag and calls for members to attend a rally on Saturday in connection with the international Al Quds Day protests around the world where police are preparing for violence against Jews. The UEJF condemned the page and provided testimony from the assaulted Jew in Bobigny, according to France's Le Monde Juif, or The Jewish World on Friday. The UEJF said three men went to the victim's house and asked him, "Are you the guy in the photo on Facebook?" They then said they were there to "break the Jew" and do to him "the same as Ilan Halimi," a 23-year-old who was kidnapped and tortured for 24 days by a gang led by Youssouf Fofana, described by The Jewish Chronicle as, "the extraordinarily cruel, Paris-born fifth of seven children of immigrants from the Ivory Coast."

Halimi was found naked, handcuffed and bound to a tree near a railway station in February, 2006, and his body had been mutilated. Still alive, he died on the way to hospital. Halimi's murder was made into a movie by French Jewish film director Alexandre Arcady entitled, 24 jours: la vérité sur l'affaire Ilan Halimi, or "24 Days: The Truth About the Ilan Hamili Affair," inspired by a book with a similar title written by the victim's mother, Ruth. In Bobigny, after they confirmed him to be the Jew in the photo, the three men were joined by 15 more, armed with iron bars, who assaulted the victim, the UEJF said. When another resident in the building appeared, the men fled the scene. The UEJF said: "For several days, many Facebook pages have been created to encourage physical violence against young Jews. Photos were published, with the identities, phone numbers, and contact information. This young man was directly affected by such a Facebook page. It is unacceptable that the Jews are the target of Facebook calls to murder."

The UEJF said it will file a complaint against the administrators of the Facebook page for incitement to racial hatred and incitement to violence. In the French media, the LDJ has been blamed for calling for a strong reaction by Jews threatened with violence over the past two weeks since Israel began its Operation Protective Edge to stop Hamas's rocket fire from Gaza. But Roger Cukierman, president of the CRIF, the umbrella organization representing the Jewish community in France, told The Daily Beast on Friday that LDJ was not instigating further violence, and those accusations were beside the point. "I am shocked when I hear journalists saying if the De La Roquette synagogue was attacked, it is because of the Jews," Cukierman told The Daily Beast. "This is propaganda." "We had eight synagogues being attacked," he said. "I am worried about the fact that synagogues are being attacked and not worried about these self-defense groups."

UPDATE: Facebook has removed the Jeunes Révolutionnaires Français page, which was no longer hosted on the social media platform, as of late Friday evening. A reader of The Algemeiner reported the group to Facebook, which sent him a message to say that it has recognized JRF's "credible threat of violence" and removed its page. Facebook's message noted that JRF was informed that its page had been removed, but not told who made the complaint.
© The Algemeiner
UK: Far right group launches cyber-attack against housing association
Orbit Group has been bombarded with hundreds of emails accusing it of discriminating against white people, as part of an orchestrated campaign by a far right group.

24/7/2014- Radical nationalist group Britain First hit Orbit with more than 700 emails and social media posts. It is believed the emails, described as 'often offensive and sometimes threatening', were intended to crash Orbit's computer systems. The 38,000-home association was earlier this month embroiled in a row over advertisements that stated that priority would be given to people from Asian communities at the Apni Haweli sheltered housing scheme in Chatham, Kent. Britain First was set up in 2011 by ex-British National Party members. It campaigns against immigration and so-called 'Islamification' of the UK. Orbit chief executive Paul Tennant said the association would not be intimidated or back down to the activists. It increased security at its head office in Coventry to coincide with a Britain First national 'roadshow' that passed through the city last Friday. Mr Tennant said there were no reports of any disorder. It has also tightened security at Apni Haweli.

Mr Tennant, writing in Inside Housing this week, said: 'This type of prejudice has no place in a fair, modern society and we will not be intimidated by people like this. 'Orbit has not acted incorrectly or illegally… Orbit's mission is 'Building communities' and we are proud to provide homes for people of all backgrounds, like this particular scheme for a mixed group of older people.' Mr Tennant also criticised the intervention of then housing minister Kris Hopkins, who had said he was 'concerned that any housing policy based on race will undermine good community relations'. Britain First declined to comment. Last week members of Britain First's 'Kent battalion', dressed in black flat caps and bomber jackets, entered the Crayford Mosque in south London and demanded the removal of signs on the grounds they said were 'sexist' in an unrelated protest.
© Inside Housing
Malta: Officials could face jail over race groups
Public officers and civil servants could face up to five years in prison for creating or assuming leadership of racist groups once amendments are made to the Criminal Code, Justice Minister Owen Bonnici said.

20/7/2014- The amendments, which form part of a broad legislative review, will make it illegal for government officials and law enforcement officers, "under colour of their office", to create or assume leadership of a "group" which promotes racial hatred. Government sources said the move was prompted by inquiries which revealed that a number of officers and civil servants had publicly aired racist views through social media, raising concerns that these might abuse their position to promote a racist agenda. Dr Bonnici would not comment on what prompted the amendments saying only that the law would bring Malta in line with the rest of the international community. "These articles were introduced both as a national intuitive and in fulfilment of Malta's international obligations under United Nations conventions on human rights." The amendment falls short of highlighting membership within such groups as being a crime.

Human rights lawyer Neil Falzon, however, explained that such a move could impinge on individual freedoms. Welcoming the general direction of the amendment, Dr Falzon said he hoped the law would stop government officials from using their position to promote racism. "The problem here is that if authorities are being racist, then this not only pushes migrants away from the State but also sends out the message that the State is condoning this view," he said. Inciting racial hatred and violence is already a crime with a maximum prison sentence of 18 months. Trivialising or condoning racial violence, on the other hand, could land you in prison for up to two years. The Public Administration Act puts forward guidelines for state employees to avoid racially sensitive discussions and the National Commission for the Promotion of Equality provides annual training sessions for public officers.
Integra director Maria Pisani, however, expressed doubts whether the amendments were enough. "I have reservations as to how much effort is being made to combat the spread of racially discriminatory discourse. And, I hope that any reform will be top down as well as horizontal because this is a problem coming from all sides of government," she said. Last April, the Cyber Crimes Unit told this newspaper it was investigating a number of racially motivated crimes that were committed on social media. Unit Head Timothy Zammit had explained that threatening a person over social media, was just as much a crime as doing it face-to-face. "People seem to feel they can get away with crimes when done on social media. A crime in Malta is still a crime if it is done online. This is also true of racism," he said.
© The Times of Malta
Israelis and Palestinians battle on social media
With the invasion of Gaza, the eyes of the world, and social media forums in particular, are closely watching the conflict and Israeli Prime Minister Benjamin Netanyahu.

18/7/2014- For nearly two weeks Facebook, Twitter and nearly every other form of social media has been inundated with a constant barrage of brutal images illustrating realities on the ground in Gaza. The grim photos of bloodshed are now so immediate that people have become emotionally involved even if they've never been to Israel, the West Bank, or the Gaza Strip. Just this week, four Palestinian children were killed along the beachfront in central Gaza. Another three children were rushed onto the balcony of nearby al Deira hotel, where journalists tried to administer life-saving first aid to one of the young boys who had a shrapnel wound in the chest. Incidents like these leave many in the wider public reeling in disgust at what looks like the indiscriminate targeting of children. Against this backdrop and the climbing toll of child deaths among the civilian casualties in Gaza, Israel has moved to counter the online propaganda war that, so far, the Palestinians seem to be winning.

War online
Nestled in a quiet, leafy campus along the idyllic Mediterranean coastline is the nondescript computer lab at IDC Hertzliya. Inside this building, just north of Tel Aviv, is the command center for Israel's new media counter-offensive. A group of 400 Israeli students on the campus are pushing back against the outpouring of sympathy for Palestinians killed or wounded in Gaza by using the hashtag IsraelUnderFire. They are attempting to garner support for a war they see as unavoidable, defensive and provoked only by rocket fire from Hamas militants. The base for this online counteroffensive is known as the "Hasbara Room," or explanation room. The opposing Palestinian hashtag GazaUnderAttack lost credibility when images in some posts were later discovered by the BBC to contain images of older examples of violence in the Israeli-Palestinian conflict, or were from other parts of the Middle East such as Iraq or Syria.

The New York Times, however, also claims that tweeting images from the "Hasbara Room" have either been "misidentified, or even fabricated." "One widely shared image posted by the #IsraelUnderFire tag apparently shows a Muslim protester holding placards that read 'Stop Hamas Terrorism on Israel' and 'Free Gaza From Hamas' but appears to have been created digitally manipulating a news photograph of a November 2012 protest in Sarajevo," the paper wrote.

Chenli Pinchevskey, a 22-year-old student of government and diplomacy, has plunged herself into the campaign, working full-time and managing all the volunteers and staff for the Hasbara Room, which is run with university funding and donations. "Today the world is dominated by the media and what you see is what you know. We learned over the years that the world doesn't hear enough from Israel and doesn't know our side of the story, " she said. "Every story has two sides and we have our own story to tell. We came across so many lies, hate speech and propaganda, that we felt we just had to do something," said Pinchevskey.

'Hamas is doing this to all of us'
She believes that what the group is doing is not propaganda: "I think what we're doing is telling our story, the way we feel it everyday. I am telling the world what it's like to live in Israel, what it's like to not be able to leave the house out of fear that a siren will go off." When asked by DW if she felt sympathy for innocent Gazan people who had been killed or injured she replied: "I know that Gaza children are as afraid as my little brother and I want the world to know that Hamas is doing that to all of us, and it can and must be stopped," she said.

Student Union chairman Yarden Ben-Yousef and Lidon Bar David set up the Hasbara Room two years ago during Israel's last war with Gaza, when they were not called up for reserve duty in 2012 during Operation Pillar of Defense. They estimate that their message reached 21 million people around the world in 2012, and they've now set up the website Israelunderfire.com. The group is now making a case for Israel's offensive in Gaza by posting video clips, images, advertisements, posters, comments, and memes on Facebook and Twitter. On the website, blog posts are uploaded and written by a Hollywood screenwriter and a reservist in the Israel army. The videos argue for Israel's right to self-defense and liken militant rocket fire from Gaza to well-known terrorist attacks in the United States, such as on 9/11. Ali Abunimah, founder of Electronic Intifada - the Palestinian equivalent of the Israeli sites - told "The New York Times" that he was surprised at how open the students are in identifying themselves as partisans working in concert with their government to justify the use of force in Gaza.

Prime Minister's office
Israeli Prime Minister Benjamin Netanyahu has thown his support behind the people involved with Israel Under Fire, launching what he called a "diplomacy war room" of a similar nature to Hasbara - only this one is located in his office. Masa Israel Journey is "a joint effort to raise awareness of the conflict between Israel and Hamas in the Gaza Strip and to explain to the world that Israel embarked on a defensive operation under the banner Israel Under Fire." The government press office would not disclose how much government funding was going into the propaganda machine, but it is partially funded by the Jewish Agency for Israel. Whether it's working or not is another question - regardless, Twitter feeds are full of tweets from the prime minister and the Israeli Defense Force.

Masa Israel Journey is "a joint effort to raise awareness of the conflict between Israel and Hamas in the Gaza Strip and to explain to the world that Israel embarked on a defensive operation under the banner Israel Under Fire." The government press office would not disclose how much government funding was going into the propaganda machine, but it is partially funded by the Jewish Agency for Israel. Whether it's working or not is another question - regardless, Twitter feeds are full of tweets from the prime minister and the Israeli Defense Force.
© The Deutsche Welle.
Austria: Anti-semitic posts: Kurz appeals to prosecutor
Foreign Minister Sebastian Kurz (ÖVP) has appealed to the state prosecutor after receiving dozens of anti-semitic comments on his Facebook page last Wednesday following a post where he called for peace in the Middle East.

17/7/2014- "We will submit a statement of facts to the prosecutor's office to examine the hate postings," said Kurz, according to a report in the daily tabloid Österreich. Kurz's spokesman Gerald Fleischmann, confirmed to the APA press agency on Wednesday that the minister "does not want to see his site being used for such harassment." "Discussion yes, but no baiting," Fleischmann added. Using the applicable laws on incitement and discrimination, Kurz will submit a statement - which includes screenshots from his Facebook site - to the prosecutor, so the comments can be investigated. Over the past few days, Kurz has appealed to both sides of the Gaza conflict to stop the violence. His comments were subsequently posted on his Facebook page.
© The Local - Austria
Neo-Nazi website owner flees the US
15/7/2014- Béla Varga, owner of the extreme right-wing website kuruc.info, registered in the US, has fled to Canada after the FBI issued a warrant for his arrest. Varga, a resident of California, is a Canadian-Hungarian dual citizen. Varga is suspected of harassing and threatening to kill the lawyer who had obtained a subpoena to question him about the website. He was arrested in California in May but set free on $250,000 bail. When he failed to appear at two hearings in San Francisco, a warrant for his arrest was issued. Varga, his wife and two sons then fled to Canada.
© Politics Hungary
USA: Warrant issued for Healdsburg man with ties to far-right Hungarian website
12/7/2014- To his neighbors, Bela Varga seemed like a nice guy who kept to himself. The owner of a short-lived specialty spice shop in downtown Healdsburg, he played the keyboard and claimed to have learned about wine-making in his native Hungary. One resident on the quiet cul de sac where he lived called Varga, 51, "a man of mystery," especially after authorities showed up about a month ago to ask about him. "An FBI woman agent showed me a picture. She asked me if I was familiar with him," said neighbor John Manning. Although some of his neighbors were unaware of it, Manning had heard previously that Varga was associated with a far right Hungarian website known for its anti-Semitism and homophobia, which has drawn attention from the Hungarian government and even U.S. congressional representatives. "I'm shocked. He's always been so sweet and kind when I've talked to him," said one neighbor, who asked to remain anonymous. "It doesn't fit the limited interaction we've had with him," said Andrew Beard, his landlord of more than six years.

Last week, Varga also became a wanted man. A $300,000 bench warrant was issued for his arrest after he failed to show up twice in San Francisco court on criminal charges of stalking and harassing an attorney who obtained a subpoena to question him about his ties to the Hungarian website. Varga's family told neighbors he is in Canada, where he is a citizen. The Fitch Mountain Villas townhouse where he lived with his wife Judit Pesti and their sons, 18 and 20 years old, is now empty, scarred from an upstairs fire on June 16. The cause appeared to be electrical malfunction, according to the Healdsburg Fire Department. Human rights groups say the website that Varga allegedly registered, kuruc.info, regularly disputes the Holocaust and organizes hate campaigns against Hungary's lesbian, gay, bisexual, transgender and Roma communities. "At present, kuruc.info is the most active hate group operating in Hungary," said the Budapest-based Athena Institute. "Its main focus is the propaganda activities carried out on the group's Internet site that it labels as a 'news portal.'"

Although written in Hungarian, with content generated in that country, kuruc.info's domain name was registered by Varga, according to a lawsuit filed in U.S. District Court in San Francisco. The lawsuit filed by Action and Protection Foundation, a Hungarian human rights organization, is seeking to gain more information about Varga's ties to the website so that criminal and civil proceedings can proceed in Hungary, where anti-Semitic provocation is illegal. "Under federal law, you can conduct discovery in support of foreign cases," said Michael Sweet, the plaintiff's attorney. Last month, the human rights group obtained subpoenas issued by U.S. Magistrate Laurel Beeler to question Varga under oath about his links to kuruc.info, as well as a bank account in Sonoma County that he is said to have opened for the website. Varga didn't show up to contest the subpoenas. Instead he is now accused of making death threats and stalking attorney Sweet over a period of six days in late April.

After being arrested, Varga pleaded not guilty to the charges on May 8 and was released from custody in lieu of $250,000 bail. But he subsequently failed to appear twice in court and his bail was forfeited, according to Assistant San Francisco District Attorney Alex Bastian, resulting in the $300,000 bench warrant issued last week. Varga's defense attorney, Nafiz Ahmed of Redwood City, declined comment Friday. "I'm not going to be able to answer any questions about his case," he said. Sweet declined to discuss the alleged threats Varga made against him. But he said the district attorney's office is "taking it seriously." An FBI spokesman did not reply to inquiries about the agency's involvement with Varga. In the civil case naming Varga, Sweet also targeted Cloudflare, the San Francisco-based webhost used as a platform for the articles published by kuruc.info. The court also required the company to testify and provide documents about its connection with kuruc.info and Varga.

Asked if Cloudflare will comply with the subpoena, a spokeswoman said in an email Thursday that the company complies with all U.S. laws, regulations and court orders. "If we believe the subpoena to be valid, we provide written notice to the customer of the subpoena, giving the customer opportunity to challenge the subpoena," said company representative Daniella Vallurupali. She declined to say whether Cloudflare would continue to act as a webhost for the Hungarian website. "Cloudflare has millions of customers and will not comment on a customer without that customer's express permission," she said. Varga's connection to kuruc.info first came to light in September 2012 in a report on another Hungarian political website, according to Jweekly.com, a Bay Area Jewish website. Subsequently, Varga was quoted in Healdsburg Patch.com as acknowledging he registered the far right Hungarian website as a favor to friends in Hungary and also opened a bank account for them. "I helped them out in 2008, when the government closed them down and they couldn't open a bank account," he reportedly told Patch, along with acknowledging some kuruc.info writers "leaned toward Nazism," but he valued freedom of expression.

According to the lawsuit in federal court, kuruc.info published the home addresses and phone numbers of demonstrators outside the Budapest home of an accused Nazi collaborator who sent thousands of Hungarian Jews to their deaths in World War II. One newspaper article cited in the lawsuit said that kuruc.info offered a $340 bounty for every demonstrator outside the accused Nazi's house, "courtesy of our comrade Bela Varga who lives in America." The climate of anti-Semitism and intolerance in Hungary drew the scrutiny of American legislators two years ago, who expressed alarm about a diatribe from a member of Jobbik, a Hungarian political party, who called Israeli Jews "lice infested dirty murderers." In a letter from Rep. Joseph Crowley to Hungarian Prime Minister Orban Viktor, the New York congressman urged the Hungarian government to stand up to the hate speech "which denigrates, intimidates and scapegoats minorities in Hungary and has no place in any society." The letter was signed by 49 other members of Congress including Barbara Lee, D-Oakland.

In his letter of reply, the Hungarian prime minister said the anti-Semitic extremist forces are receiving their greatest support from the United States. "The focal point of Hungarian anti-Semitism is a news portal, which to avoid the measures of the Hungarian government, fled to the United States and has been conducting its disgraceful activities from there," Orban stated. "If this problem were to be resolved, then the Hungarian forces of anti-Semitism would be severely weakened." Around the time Vargas and his link to kuruc.info surfaced, his store, The Red Paprika, located across from the Healdsburg Plaza, moved a block north on Healdsburg Avenue. But it closed within months. The old Red Paprika location is now occupied by Gathered, a women's accessories and gift store. "There's some backlash on us. People come in asking do we know him, or know anything about his political viewpoints," said Cindy Holman, a store partner. She said one older Jewish woman, an Auschwitz concentration camp survivor, came to the store after it was no longer Red Paprika. The woman told Holman that she encountered Varga at a pharmacy and spoke to him in Hungarian telling him, "I know who you are."
© The Press Democrat
USA: The Data of Hate (opinion)
By Seth Stephens-Davidowitz

13/7/2014- VIKINGMAIDEN88 is 26 years old. She enjoys reading history and writing poetry. Her signature quote is from Shakespeare. She was impressed when the dialect quiz in The New York Times correctly identified where she was from: Tacoma and Spokane, Wash. "Completely spot on," she wrote, followed by a smiling green emoji. I gleaned all this from her profile and posts on Stormfront.org, America's most popular online hate site. I recently analyzed tens of thousands of the site's profiles, in which registered members can enter their location, birth date, interests and other information. Call it Big Hatred meets Big Data.

Stormfront was founded in 1995 by Don Black, a former Ku Klux Klan leader. Its most popular "social groups" are "Union of National Socialists" and "Fans and Supporters of Adolf Hitler." Over the past year, according to Quantcast, roughly 200,000 to 400,000 Americans visited the site every month. A recent Southern Poverty Law Center report linked nearly 100 murders in the past five years to registered Stormfront members. The white nationalist posters on Stormfront have issues with many different groups. They often write about crimes committed by African-Americans against whites; they complain about an "invasion" of Mexicans; and they love to mock gays and feminists. But their main problem appears to be with Jewish people, who are often described as super-powerful and clever — the driving force, generally speaking, behind the societal changes they do not like. They sometimes call the Holocaust the "Holohoax."

Stormfront members tend to be young, at least according to self-reported birth dates. The most common age at which people join the site is 19. And four times more 19-year-olds sign up than 40-year-olds. Internet and social network users lean young, but not nearly that young.
Graphic White, Bigoted and Young Who joins a hate forum? OPEN Graphic

Profiles do not have a field for gender. But I looked at all the posts and complete profiles of a random sample of American users, and it turns out that you can work out the gender of most of the membership: I estimate that about 30 percent of Stormfront members are female. The states with the most members per capita are Montana, Alaska and Idaho. These states tend to be overwhelmingly white. Does this mean that growing up with little diversity fosters hate? Probably not. Since those states have a higher proportion of non-Jewish white people, they have more potential members for a group that attacks Jews and nonwhites. The percentage of Stormfront's target audience that joins is actually higher in areas with more minorities. This is particularly true when you look at Stormfront's members who are 18 and younger and therefore do not themselves choose where they live. Among this age group, California, a state with one of the largest minority populations, has a membership rate 25 percent higher than the national average.

One of the most popular social groups on the site is "In Support of Anti-Semitism." The percentage of members who join this group is positively correlated with a state's Jewish population. New York, the state with the highest Jewish population, has above-average per capita membership in this group. In 2001, Dna88 joined Stormfront, describing himself as a "good looking, racially aware" 30-year-old Internet developer living in "Jew York City." In the next four months, he wrote more than 200 posts, like "Jewish Crimes Against Humanity" and "Jewish Blood Money," and directed people to a website, jewwatch.com, which claims to be a "scholarly library" on "Zionist criminality." Stormfront members complain about minorities' speaking different languages and committing crimes. But what I found most interesting were the complaints about competition in the dating market.

A man calling himself William Lyon Mackenzie King, after a former prime minister of Canada who once suggested that "Canada should remain a white man's country," wrote in 2003 that he struggled to "contain" his "rage" after seeing a white woman "carrying around her half black ugly mongrel niglet." In her profile, Whitepride26, a 41-year-old student in Los Angeles, says, "I dislike blacks, Latinos, and sometimes Asians, especially when men find them more attractive" than "a white female." Political developments certainly play a role. The day that saw the biggest single increase in membership in Stormfront's history, by far, was Nov. 5, 2008, the day after Barack Obama was elected president.

The top reported interest of Stormfront members is "reading." Most notably, Stormfront users are news and political junkies. One interesting data point here is the popularity of The New York Times among Stormfront users. According to the economists Matthew Gentzkow and Jesse M. Shapiro, when you compare Stormfront users to people who go to the Yahoo News site, it turns out that the Stormfront crowd is twice as likely to visit nytimes.com. Perhaps it was my own naïveté, but I would have imagined white nationalists' inhabiting a different universe from that of my friends and me. Instead, they have long threads praising "Breaking Bad" and discussing the comparative merits of online dating sites, like Plenty of Fish and OkCupid.

There was also no relationship between monthly membership registration and a state's unemployment rate. States disproportionately affected by the Great Recession saw no comparative increase in Google searches for Stormfront. Some of this research adds to recent literature in the field that is frankly shocking and should change the way we think about hate. In the 1930s, Arthur F. Raper reported a correlation between bad economic conditions and lynchings of blacks. This led many scholars to the intuitive conclusion that people turn to hate because their lives are going poorly.

But evidence is increasingly casting doubt on this idea. In 2001, the political scientists Donald P. Green, Laurence H. McFalls and Jennifer K. Smith used more data and found that there was actually no relationship between lynchings and economic hardship. Lynchings actually fell during the Great Depression. The economist Alan B. Krueger has shown that terrorists are not disproportionately poor. And the economists Roland G. Fryer Jr. and Steven D. Levitt found that Ku Klux Klan members were actually better educated than the typical American.

Return to VikingMaiden88. When you read her 189 posts since joining the site, she often seems like a perfectly nice and intelligent young woman. But she also has a lot of hatred. She praises a store for having "100% white employees." She says the media is promoting a "Jewish agenda." And she says she finds Asians "repulsive physically, socially, religiously, etc." Why do some people feel this way? And what is to be done about it? I have pored over data of an unprecedented breadth and depth, thanks to our new digital era. And I can honestly offer the following answer: I have no idea.
Seth Stephens-Davidowitz is a contributing opinion writer who recently received a Ph.D. in economics from Harvard.
© The New York Times
UK: Amnesty International website blocked for immigration detainees
The latest unannounced official HMIP report on Haslar immigration detention centre reveals that the centre staff had blocked the websites for Bail for Immigration Detainees(BID) and Amnesty International: Detainees had access to the internet, but some key websites were blocked. The officer on duty in the internet suite could unblock any site. When we visited, the officer agreed to unblock the Bail for Immigration Detainees' website but not Amnesty International's without more senior approval.

9/7/2014- BID is a small charity that informs immigration detainees of their legal rights and the immigration bail process and who co-ordinates free representation that many immigration barristers, myself included, provide on a rota basis. Amnesty International is somewhat better known and amongst other things provides country information essential for fighting asylum claims and gathers data about human rights abuses in detention.

I wonder what other websites were blocked? AVID have been working on this issue and I have reported on it previously. There seems to be a discretion to block websites at each detention centre. On a similar note, the inspection found that the number of detainees who had managed to see their lawyer had halved since 2009, falling from 51% to 26%, "welfare" staff wrongly prevented some detainees from attending legal surgeries and the Home Office broke procedure rules by withholding the documents for bail hearings.

So why would the profit making private companies responsible for immigration detention want to block access to websites that might inform detainees of their bail rights and allow them to report abuses, reduce access to lawyers, prevent detainees from preparing their own asylum cases properly, all thereby increasing the pool of immigration detainees? Answers on a postcard, please.
© Free Movement
UK: Internet filters blocking one in five most-popular websites
Jezebel and Guido Fawkes sites among those blocked by at least one mobile or fixed line service provider in UK, campaigners say

2/7/2014- Nearly one in five of the most visited sites on the internet are being blocked by the adult content filters installed on Britain's broadband and mobile networks. A Porsche car dealership, two feminist websites, a blog on the Syrian War and the Guido Fawkes political site are among the domains that have fallen foul of the recently installed filters. The Open Rights Group, which campaigns for digital rights, surveyed the 100,000 most popular sites as ranked by digital marketing research firm Alexa, and found that 19,000 of them were blocked by at least one fixed line or mobile internet service provider. The UK's four mobile networks have used filters for a number of years, with some imposing them on all pay-as-you-go subscribers.

Following a push by David Cameron, broadband companies including TalkTalk, BT, Virgin Media and Sky have caught up, introducing adult content blocks that offer parents the choice of screening out potentially harmful content. Every household will be asked whether they wish to install a broadband filter before the end of 2014. The filters screen out pornography, suicide and self-harm related content, weapons and violence, gambling, drugs, alcohol and tobacco, but users can also opt to block dating, music and film piracy, games and social networking.

"Filters can stop customers accessing your business, block political commentary or harm your education," said Jim Killock, executive director at Open Rights. "The government has told everybody that they have to take child safety extremely seriously and that filters are in some way an answer to that. People are being pushed into filtering lots of content that they simply don't need to and is not dangerous to children." Marielle Volz, an American who had just moved to the UK with her husband and young son, had no internet access at home and wanted to read an article about recovering from childbirth on her mobile phone. But the feature, "Stop acting like 'bouncing back' from labor is even possible", was published by Jezebel.com, a website owned by the respected digital publisher Gawker Media, and which is currently blocked by her mobile network, Three.

Volz said: "I was so excited to move to a country with sane maternity leave policies, only to find I couldn't even read an article about it!" Three imposes an adult content filter as default for all pay as you go customers. A spokesman for the network said the Jezebel block was under review and that customers could report any wrongly filtered material via its website. Philip Raby, who runs a Porsche brokerage based in Chichester, found his website had fallen foul of O2's filter. He sent emails and made calls, but was unsuccessful in having the ban lifted until he began tweeting about the problem. "We must have lost some business as a result," said Raby. "It doesn't look great telling people the site is not suitable for under 18s!"

A spokesman for O2 said: "The vast majority of sites are categorised correctly but with the millions of sites now connected to the web and the wide variety of content, mistakes can happen." Syrian War commentator Aboud Dandachi's blog has been screened out by EE, O2, Sky and Vodafone, according to Open Rights Group's research, although a spokesman for Vodafone said it was now visible on his filtered phone. Sherights.com, which focuses on sexual health, violence against women and lesbian and gay rights, relies like many sites on traffic to its pages to earn the advertising revenue that funds its content. It was blocked by TalkTalk in April, and the bar has since been lifted.

Sherights editor Maureen Shaw said: "The effect of filtering boils down to advertising revenue, which is based on site visitors. If people who would normally be interested in accessing our content are not able to view the site, it directly impacts our bottom line." The Guido Fawkes website is being blocked in households which have selected to screen out all social media, according to TalkTalk. The category covers Facebook and Twitter, but also blogs and chat forums, and www.order-order.com is classified as a blog. TalkTalk, whose filter is called HomeSafe, said customers could email Homesafe.classification@talktalkplc.com to report wrongly blocked sites. A spokeswoman said: "We welcome feedback to ensure we are continually improving the product."
© The Guardian
Britain First's Facebook page removed for hate speech... but back on in hour
Far-right group Britain First's Facebook page was taken down for publishing posts containing hate speech – but an hour later they were back online.

30/6/2014- The page's removal was allegedly requested by race equality campaigners Hope Not Hate. Administrators of the Britain First page have since posted their reaction, branding the group as 'trolling idiots'. The political group, who pride themselves on wearing bomber jackets and berets, plan on bringing their political 'road show' to Wigan on July 6. Wigan Councillor Michael McLaughlin told MM that support for the party has risen as the economy worsened and said: "I think it's a reaction to austerity and I think it's people who are despairing and can't see any future for themselves, but just resort in blame it on everybody else. "Fundamentally I am against it, but they've got the right to come. I understand that we're a free society and we've got to accommodate all views. "However,they think exposure will work in their favour but I actually think exposure will do the worst for them" Britain First have not disclosed the location of their appearance in Wigan in case 'anybody turns up' and insists that the meeting is a member-only event. A representative from Hope Not Hate confirmed to MM that the '500,000-strong Facebook page is down' but did not confirm that the page was censored at the group's request.




With Facebook 'likes' reaching nearly 500,000, Britain First's presence on social media dwarves all three main political parties on the social networking site. Labour currently command 177,594 likes with the Conservatives leading them on 226,536 and fellow coalition party the Liberal Democrats bottom of the pile with 97,906. Anti-EU party UKIP continue their rise on the social media site with 225,342 likes – but cannot compete with Britain First. The far-right party's Facebook page contains posts implying: backing to bring pro-firearm rights to the UK amongst an array of Islamaphobic memes and members holding banners outside councils reading 'no more mosques'.
© Mancunian Matters
New Dutch intelligence report on jihadis and social media
Radical Islamist groups in the Netherlands have become a decentralised and elusive "swarm" that may broaden their focus from the conflict in Syria to the wider Middle East, the Dutch intelligence service warned on Monday.

30/6/2014- Its report reflects widespread concern in Europe at the threat posed by European citizens - mainly from an Islamic immigrant milieu - leaving to fight in Middle East conflicts and returning battle-hardened and posing a security threat. Dutch authorities estimate that 120 Dutch citizens have so far left to fight in Syria's civil war, but said that a larger movement of radical Muslims in the Netherlands had several hundred adherents and thousands of sympathisers. The Dutch General Intelligence and Security Agency (AIVD) said in its latest assessment of the threat posed by underground jihadist groups that they were stronger and more self-confident.

The agency said the phenomenon was becoming ever harder to track as social media made it possible for increasingly "professionalised" radical movements to coordinate themselves without the need for a centralised authority. "The movement has taken on the character of a swarm," the agency said. "There is a less hierarchical structure than at the turn of the millennium, which makes it more flexible, effective and less vulnerable to 'attack' from outside." The Netherlands has banned recruiting for militant groups and is also weighing legal measures to prevent its nationals from joining foreign insurgencies.

An 18-year-old man was recently arrested in The Hague on suspicion of recruiting people to take part in the Syrian conflict, and some 30 people suspected of planning to do so have had their passport seized, the government's anti-terrorism coordinator said in a letter to parliament on Monday. European governments have struggled to stop their nationals, some just teenagers, from travelling to Syria where the conflict, which began as peaceful protests against President Bashar al-Assad and evolved into an armed rebellion now in its fourth year. More than 160,000 people have been killed. But the AIVD warned that radicals in the Netherlands might turn their attention towards fighting in other current or potential Middle East conflict zones.

"For now, Dutch jihadis are heavily focused on Syria, but that could change," its report said. "It could involve existing conflict zones likes Yemen and Iraq, but even potential new zones like Egypt - including Sinai, or Libya." Would-be fighters in Middle East conflicts are growing more skilled at evading the attention of authorities, buying return tickets to the region and posing as tourists, it said. "News from conflict zones in Syria is spread rapidly via chat, Facebook and email within hours or even in real time within a jihadi inner circle in the Netherlands," said the report. It added that the number of jihadist publications in Dutch had increased sharply over the past two years.

The French citizen suspected of shooting dead four people at the Jewish Museum in Brussels in May spent time fighting in Syria. Earlier this month, German intelligence said some 2,000 Europeans had gone to Syria to fight alongside Islamist rebels.
© Reuters
Headlines June 2014
Czech Republic: Online hate mainly attacks Roma
In five European states, leading personalities have joined an online campaign for an internet without hatred, labeling hateful posts they find during online discussion with the symbol #MASTURHATE. In connection with the transition of media outlets to an online format, the number of hateful contributions being posted there today is unequivocally rising.

26/6/2014- Online hate is not just annoying and insulting, it has a dangerous influence on children and youth in particular. "Hateful posts in the Czech and Slovak online environments are mostly about minorities, mainly the LGBT community and the Romani minority," says Patrik Banga, a journalist who administered online discussion forums for the iDNES.cz news server for many years before becoming an editor at public broadcaster Czech Television. "When Romani people are being discussed, the posts without at least some tinge of racism are in the minority. What's more, only a negligible percentage of the purely racist posts are ever reported to administrators, just a few out of the hundreds that exist," says Banga.

The editor points out that regional editions of various media play a specific role in the Czech environment. "Regionally-reported topics are written in a much more emphatic style," Banga says, "and my impression is that the editors of those publications lack detachment which means the discussion posts are similar." For this reason, the ROMEA NGO has launched the international campaign "I don't masturhate" in the Czech Republic, the aim of which is to contribute toward creating a friendly, tolerant online environment and elimating hate online. "Through this campaign we want to activate internet users to ridicule the hate they encounter and to reject it by tagging hateful commentaries with #MASTURHATE. Through this apt and simple label, they will help identify haters and sideline them during discussions," explains Zdeněk Ryšavý, director of ROMEA o.p.s.

"We are targeting this campaign mainly at young people, which is why we are now launching advertising for it through Facebook," Ryšavý says. Czech actors Bára Hrzánová and Václav Neužil have filmed video advertisements for the campaign that can be seen at www.idontmasturhate.com, and Jarmila Balážová, press spokesperson for the Czech Government Human Rights Minister, has also supported the campaign.

"As an educated journalist, I have worked with language my whole life and I know its enormous power and strength, how it can help target hatred against someone you want to label. What bothers me most of all online is that lists are being published there - of gays, Jewish people, left-wingers, Romani people, they'll be posting lists of bald people next, who knows - and those who conceal their identities online under the cover of anonymity think they can manipulate us this way. They think we're so stupid we can't figure out what's going on. That's why I would like to ask everyone who shares this opinion to use the #MASTURHATE name to identify online hate speech. You can also record a video for the campaign or even invent gestures like the footballers do. I think this will help us all a great deal and we might even have fun at the same time," Balážová says in a video for the campaign.

The campaign is also welcomed by PhDr. Štefan Matula, PhD. of the Research Institute of Child Psychology and Pathopsychology, who says the following: "Behind almost every act of online hatred is actual hatred, a deep, intensive emotion expressing bias, enmity, and resistance toward another person or group of people - even inanimate objects in our environment. This is linked to the need to harm others and cause them pain. On the other hand, usually when we hate someone, what we hate in them is something that is directly a part of us as well. The campaign that is beginning now is a big chance to provide the people who are compensating their hatred in this way with some feedback and understanding of the deeper connections here."

Lawyer and political scientist Štěpán Výborný, in his study called "Freedom of Speech versus Hate Speech Online" (Svoboda slova versus nenávistné projevy na internetu), the only Czech study on this topic, has written the following: "The internet has been used not only by members of radical subcultures who can propagate their ideas at significantly less of a cost to themselves through it, but also by persons who only feel hatred toward a certain minority, which in the Czech Republic is typically toward Romani people. The notion of impunity and total license (without realizing that this is still a social interaction) that is inextricably linked to anonymity has led to a massive dissemination of hateful statements wherever the internet facilitates it - in commentaries about news items, when communicating information through social networks (Facebook, YouTube), when sending mass e-mail messages, etc. Hatred has de facto become a regular component of the discussion of the issue of minorities here, despite the fact that most preachers of hatred would never utter such words during a public discussion because of shame or fear of social opprobrium."

"The word MASTURHATE was creating by changing one letter," explains Michal Moravec, one of the two authors of the original project entered into the Cannes Young Lions Competition 13 PR contest, "we were looking for words similar to hate and we discovered 'masturhate'. It completely fits what we are trying to say." Michal Hornický, a co-author of the project, says: "For me, a hater is a person who blindly comments on everything going on around him that doesn't correspond to his own convictions and values in a negative way that is not constructive."


©
Romea.
Facebook erases Czech hate page against Islam, other racist pages still running
23/6/2014- A xenophobic Facebook page called "We Don't Want Islam in the Czech Republic" ("Islám v České republice nechceme") has been blocked by the company after acquiring 65 000 fans. Administrators of the social networking site seem to have responded to several years' worth of Facebook users warning them about its hateful content. Other hateful, racist profiles, however, continue to run on Facebook. "We have done our best mainly to report individual posts - most of them were photos or offensive, xenophobic commentaries. We hoped that if Facebook had to remove most of that content, then over time the whole profile would be removed, and that's what has happened," Tereza Cajthamlová, who began to report the page together with her friends approximately a year ago, told news server Lidovky.cz.

"I am personally bothered by any kind of hate speech on Facebook, such as comments, graphics, or photographs aiming to deny someone their rights, whether because of their religion, their sexual orientation, or their skin color. That page was accumulating such materials. Recently I was most bothered by photographs of Muslims being posted there - people who had no idea someone had taken a picture of them on the street. The administrators of the page and the Islamophobes who visited it were writing rather tasteless comments beneath the photos," Cajthamlová said. The anti-Islam activists, however, immediately established a new page. It now has more than 2 000 fans.

Blogger Jan Cemper warns that the page may not have been removed from Facebook because of racial hatred, but could have been removed for posting unpermitted advertising. "Today I received some essential information, which is that the blocking of those pages may not have been due to their Islamophobia, much of which was on the edge of criminal liability, but may have been due to commercial sales taking place on those pages. In some cases, items from the workshop of the famous photographer of nudes Jiří Sláma were being promoted," Cemper writes on his blog.

Sláma has produced a t-shirt reading "This is my home... You've come to my country... You are the minority, so respect my culture and faith, my customs and laws!" ("Já jsem tady doma… Přišel jsi do mé země… Jsi zde menšinou, proto respektuj mou kulturu i víru, mé zvyky a zákony…!") and those who set up the "We Don't Want Islam in the Czech Republic" Facebook page got him to agree to give them CZK 40 for each each t-shirt sold through them. Cemper reports that they posted the following status update to the page: "Buy this shirt at www..., or the English version at www....! Use the code "IvČRN" when ordering and CZK 40 will go to resisting the Islamicization of our beautiful country."

It is against Facebook's terms to place an ad for a third party on a profile. The company has long been criticized for its lax approach to pages with hateful content. The removal of openly racist pages from Facebook can take weeks. This was recently acknowledged by lawyer Gabriella Csehová, who is the Strategic Director of Facebook for Central and Eastern Europe. "We are aware that not everything is completely optimal. It's extremely demanding to provide effective feedback, to communicate directly with you as to why we have made a certain decision. We have more than one billion users. We're addressing how to arrange all this technically, how to ensure that our responses will not just be automatic replies. We are systematically improving the system and in the near future you will see further developments in this area," Csehová said in an interview for the Czech news server Echo24.cz.

Facebook has three security teams - in Austin, Texas, in Hyderabad, India, and in Dublin, Ireland - who follow all its pages 24 hours a day. "Reports of hate speech are read by human beings because these are matters of context in which one and the same word can mean something completely different in another context. Naturally we also have technical ways to assist this," Csehová says. Recently several openly hateful pages against Romani people have been created in the Czech language on Facebook. Other users have reported them to the company, but nothing is being done about them. The same automatic reply is always sent to those who report such content: "We have audited the page you reported as containing hate speech or symbols and have determined that it does not violate our Community Principles". Facebook recommends reporting individual comments in such cases.

The editors of Romea.cz tested that procedure recently on a photo of Adolf Hitler accompanied by a text reading "There will be enough gas for all of you!!! Once we destroy the Romea company we will use the money they have stolen from the state and the taxpayers to buy it." Even that post was not evaluated as hate speech by the administrators of Facebook. Last Saturday the ROMEA orgnaization called on its own Facebook page for several hate-filled profiles to be reported, openly anti-Romani racist pages such as "Zbavme Beztrestně ČR cikánů" (Let's rid the Czech Republic of gypsies with impunity"), "Nechceme živit Romské obyvatelstvo" ("We don't want to feed the Romani population") or "Boogymen in Europe" (Bubáci V Evropě).
© Romea.
UK: Who is the number one target of hate speech on Twitter?
For the last year or so, a computer program called HateBot has been scouring Twitter, finding and logging "hate speech". The data it has collected from the UK is a potent reminder of the casual racism that still exists in our society.

18/6/2014- Wired.co.uk first covered the Hatebase project in April 2013. The project, which is a database of hate speech aimed at helping NGOs spot areas of growing conflict, now involves a bot that scrapes data from Twitter, HateBot, and a program for processing the information, HateBrain. We asked Hatebase to pull out information from its database about hate speech in the UK. What the data suggests is that the most common hate speech in the UK derive from insults used against the Traveller or Gypsy community.

A brief disclaimer: the rest of this post contains offensive words. While we have avoided using them gratuitously, for the purposes of clarity we have not censored any of them with asterisks.

"Gypo" and "pikey" were the first and second most common terms collected by Hatebase in the UK, with the two accounting for 15 percent of all hate speech. The numbers don't reflect whether the terms were tweeted specifically at members of the Traveller or Gypsy community, or used generally as an insult. Third was "nigger", followed by "yardie" and "cunt". The top ten terms, which include their variants, are below in full.
1 - Gypo: 11%
2 - Pikey: 4%
3 - Nigger: 4%
4 - Yardie: 4%
5 - Cunt: 3%
6 - Charver: 2%
7 - Teuchter: 2%
8 - Curry muncher: 2%
9 - Plastic paddy: 2%
10 - Fag: 2%

Some of the terms are more easily apparent as hate speech, an obvious example being "nigger", whereas it's arguable that the term "cunt" is more commonly used in the UK as a general insult rather than a term of gendered hate speech, which it obviously is. Others will only be recognisable to people from certain parts of the UK. "Charver" is primarily used in the north-east of England and was the focus of a 2005 BBC Inside Out episode, whereas "teuchter" is a Scottish insult that the Urban Dictionary describes as "basically the Scottish equivalent of an American hick". No doubt some of these terms will be the subject of controversy about how insulting they actually are, especially when compared with each other, but the aim of HateBrain isn't to make subjective calls about the offensive nature of insults.

"We capture any term which broadly categorises a specific group of people based on malignant, qualitative and/or subjective attributes -- particularly if those attributes pertain to ethnicity, nationality, religion, sexuality, disability or class," says Timothy Quinn, Director of Technology at the Sentinel Project, which runs the Hatebase project. The most common category of hate speech in the UK was that relating to ethnicity, followed by nationality and then class, which is broadly in line with Hatebase's global data.

The explicit purpose of the Hatebase project is to detect the use of hate speech in specific areas as a potential precursor to genocide (hate speech as a dehumanising tool in the run-up to mass slaughter is a well-evidenced phenomenon). For that reason, HateBrain only picks up geolocated tweets, which account for a tiny minority of the total number of tweets sent on Twitter. This inevitably narrows down the pool of data to people who either aren't aware that their tweets are geolocated or are comfortable with making their location public (that decision could be informed or uninformed). Either way, it's a small subset of Twitter's users, who are in turn a small subset of the total population.

Furthermore, HateBrain is designed to search for terms that have already been flagged or inputted on Hatebase.org. As a result, there's the possibility it will miss certain terms. Finally, it isn't a database of insults -- terms that don't denigrate specific groups of people because of their "ethnicity, nationality, religion, sexuality, disability or class" don't qualify. So the data is limited and on its own doesn't give a comprehensive picture of hate speech in UK -- its creators don't claim that it does. "Although we're capturing a whole lot of data, the value is for NGOs to do more targeted searches with other data points," says Quinn. The database is intended to be just one of many data sources NGOs can use to make decisions about where to allocate their resources, he adds: "[At the Sentinel Project] we've got to figure out where we can afford to put a team. We're making those decisions on data from the media, on Hatebase data and other data points."

The UK's data, he says, doesn't show an uptick in hate speech targeting a particular community. Though not downplaying the seriousness of any hate speech, he says it's broadly similar to what you see in Canada, where the project is based, and the US. The tool is aimed at preventing genocide and the UK is thankfully not at risk of that. But the presence of "gypo" and "pikey", terms that are used to suggest stealing or poverty and that denigrate Gypsy and Traveller communities, at the very top of the hate speech charts for the UK is at least a reminder of what has been called our last "socially acceptable form of racism".
© Wired UK
Britain Furst: the halal Ray-ban-wearing far right Facebook mockers
Britain Furst have been mocking the pretensions of BNP offshoot Britain First on Facebook - despite having their page reported by the far right group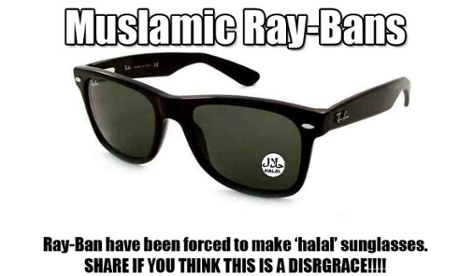 20/6/2014- You know that feeling when one of your friends shares something politically unsavoury on Facebook? It's a common problem, and when Geoff Stevens started seeing posts from the BNP offshoot Britain First turning up on his feed, he decided it was ripe for parody. Britain First has nearly half a million 'likes' on its Facebook page, with many presumably unaware that they are sharing material disseminated by an organisation set up by ex-BNP members with, as Channel 4 reports, an anti-Muslim agenda. Its posts range from tributes to the armed forces and the Royal Family, to complaints about mass immigration and calls to 'Ban the Burka'. But there are also surreal posts, such as this tribute to the 'Great British Lollipop Men And Women'. "When I saw Britain First, I genuinely thought it was a parody page of far right groups," says Stevens. "And then I realised it was serious. And I thought, why has no-one started a parody page?"

The resulting page, Britain Furst, has brought social media users' attention to, amongst other things, the dangers of Halal sunglasses and the need to bring back hanging. Though obviously satirical, Facebook removed the page's banner image after a complaint from Britain First. They replaced it with one starring grumpy cat, with the tagline: 'palatable racism for ignorant Englanders'. Some have reported the Britain First page for hate speech, Stevens noted the irony of a far right group attempting to block criticism, but has no wish to see it taken down. "I'd happily advocate what they're doing in terms of free speech, but everything else kind of scares me."
• The name of the Facebook page's author has been changed to protect his identity
© The Guardian
As FIFA attempts to curb racism at the World Cup, a look at hate speech laws worldwide
20/6/2014- Reports of racist and xenophobic slurs against players and fans have continued to emerge during the World Cup. Two fans were arrested last weekend after chanting racist remarks during the match featuring Argentina vs. Bosnia-Herzegovina. In an attempt to combat hate speech during the tournament, FIFA and Brazilian authorities initiated an anti-racism campaign using the hashtag #SayNoToRacism. Hate speech is taken seriously in Brazil, where racist or religiously intolerant speech or actions are prohibited by law and carry penalties including imprisonment. Brazil is not the only country with a law that penalizes hate speech. A new Pew Research analysis finds hate speech laws in 89 countries around the world (45%), according to 2012 data. In some countries, the laws protect only certain religious or social groups, while others have broader laws, covering words or actions that insult, denigrate or intimidate a person or group based on race, gender, religion, ethnicity or other traits.

Although these laws are on the books, in some countries they are not enforced. However, in countries where penalties are imposed for hate speech, they often include fines or short-term jail sentences. A spectator in Spain was arrested earlier this year on suspicion of throwing a banana at a Brazilian player, and in 2012, a man in the United Kingdom received a jail sentence for posting racist and offensive comments on Twitter after a player collapsed on the field. Laws against hate speech are most common in Europe, where 84% of countries (38 of 45) have such laws or policies (as of 2012). In 2008, the European Union passed a framework decision to combat hate speech and other expressions of racism and xenophobia – although member states have yet to consistently enforce the decision. In France, inciting racial or ethnic hatred is illegal, and noncitizens may be deported for such actions.

Some European countries have hate speech laws in place that include policies specifically targeting soccer and other sporting events. In the United Kingdom, for instance, the Football Offences Act (initially passed in 1991) prohibits racist chanting at football matches. In Spain, it is illegal to incite hatred because of race, religion, ethnicity, gender, nationality or sexual orientation, and athletic teams and stadiums can face sanctions for "actions that disparage religion if committed by professional athletic clubs, players or fans during sporting events," according to the U.S. State Department. Similar measures are in effect in nine of the 20 countries in the Middle East-North Africa region (45%) and more than a third of the countries in the Asia-Pacific region (38%, or 19 of 50). In Indonesia, for example, it is illegal to incite hatred toward individuals or community groups because of race, religion or ethnicity.

Hate speech laws were present in a quarter of countries in sub-Saharan Africa as of 2012 (12 of the 48 countries) and about three-in-ten countries in the Americas (31%, 11 of 35). In the United States, courts have traditionally struck down attempts to limit hate speech. Most recently, during a 2011 case involving one of the Westboro Baptist Church's anti-gay protests at a military funeral (Snyder v. Phelps), the U.S. Supreme Court reaffirmed the First Amendment's protection of free speech. Athletes occasionally encounter racist comments in the United States, often on Twitter.

This analysis is based on our ongoing research on global restrictions on religion. For more on our sources and procedures, see our most recent report on the topic.
© Pew Research Center
Nothern Ireland: PSNI officers warn Facebook users about illegal sectarian posts
PSNI officers in West Belfast have said they have taken down illegal posts from the social networking site with a view to prosecution.

4/6/2014- Officers in charge of the PSNI's West Belfast Facebook page have removed some sectarian and illegal posts over the past 24 hours with a view to prosecute the authors. In a status update this morning, the officers warned that sectarian posting and incitement is illegal. "We have seized some of these posts from yesterday with a view to prosecu-tion." They also asked other users to report unacceptable behaviour and posts by the "immature minority" via direct message or email. Otherwise we will have no option but to deactivate the wall posts. This is your page, but we cannot allow behaviour such as over the last 24 hours. The station said it was keen to continue to provide a forum for people in the community. The page has almost 6,500 followers.

The central PSNI press office said that it would continue to communicate with locals through Facebook as a "few irresponsible people will not spoil what we have for many others". "The West Belfast Facebook pages have the largest number of young followers out of all of the PSNI sites. This is fantastic in an area where young people in particular recognise a way that local officers can link in with the community faster than ever before keeping them informed with timely, relevant information," it said.

Most unfortunately it seems that a very small number of people have been posting inappropriate messages. The messages have since been removed and the content will be examined to assess if any legislation has been breached. It is important to remember posting inappropriate comments on social media networks may be against the law.
Earlier this year, two men were convicted and fined for posting anti-Catholic messages on Facebook.
© The Journal Ireland
France: Neo-Nazi Vikernes denies posting racist blogs
A Norwegian heavy metal musician accused of inciting racial hatred denied posting racist blogs as he went on trial Tuesday in France, claiming they were penned by someone posing to be him.

4/6/2014- Kristian Vikernes, 41, was arrested in July last year in France's central Correze region on suspicion of plotting terrorist attacks but was released after 48 hours due to lack of evidence. He was however charged with inciting racial hatred and defending war crimes on his blog. Police allegedly found racist and anti-Semitic material on his computer as well. "I did not write the things that appear in the summons," the Bergen-born musician told a Paris court. Vikernes said a possible misunderstanding could have arisen because he communicated through a Danish interpreter when he was briefly held in custody last year. The ten excerpts are taken from articles written between March and June 2013 and attack Muslims and Jews.

The rocker, who adopted the name of Varg ("wolf" in Norwegian), first made front-page news in August 1993 when he killed a fellow musician in Norway. Vikernes, who was also reportedly involved in arson attacks on churches, was sentenced to 21 years in prison. He was released after 16 and moved to Correze with his French wife soon after. Vikernes told the court that according to Norwegian secret police there were "at any given moment 350 people pretending to be Varg Vikernes on Facebook", adding that "anybody can very easily put up a blog" that appeared to be one of his.
© The Local - Norway
Austria: OSCE website 'hacked'
The Vienna-based Organisation for Security and Cooperation in Europe said Wednesday its website had been hacked, according to an AFP report.

4/6/2014- The OSCE said it did not know who was behind the attack, which consisted of thousands of simultaneous requests to load the website being launched from different locations. Computer security specialists call this a 'Distributed Denial of Service' (DDoS) attack. OSCE media freedom representative Dunja Mijatovic called the attack "unacceptable", and said there were "forces set in motion trying to limit freedom of expression." The organisation has emerged as a key player in attempts to resolve the crisis in Ukraine, where it has been the target of a number of kidnappings by separatists. It currently has nearly 300 civilian observers deployed in the country. It was formed in the 1970s as a forum for East-West dialogue during the Cold War. It now has 57 member states, including the United States, Canada, Russia, Mongolia and others throughout Europe. At the time of filing this story, the web site of the OSCE is still unavailable, presumably due to the DDoS attack.
© The Local - Austria
Headlines May 2014
How 10 years of social media has changed Islam
When social media was introduced to our civilisation a decade ago, none of us imagined how it would change the world. It has also profoundly changed Islam, writes Omar Shahid.

30/5/2014- Facebook, Twitter, YouTube and friends have helped foment revolutions, topple dictators, assist extremists and create trolls. Social media has changed the way we interact, think, form friendships and access information. Amid the revolution social media is causing, what is less discussed is the drastic impact it is having on Islam. Social media poses Islam with a series of serious challenges. Many ex-Muslims are using it to attack and express their grievances with the faith. "Social media is where religion has come to die. We [ex-Muslims] can't be censored and our voices are spreading across the world," says Saif Rahman, a former Muslim and author. A growing number of Islamophobes and devout atheists are also taking to Facebook and Twitter to attack Islam. Some, of course, have genuine concerns, while others seem only interested in publicity, generating book sales and capitalising on the Islamophobia industry created post 9/11. For Muslims already on shaky ground with their faith, this is causing confusion, agitation and doubt.

On the other hand, social media has allowed Muslims to share their faith and dispel stereotypes. One example is the Facebook page Hadith of the Day, dedicated to sayings of the Prophet Muhammad, which has well over 6 million "likes". As a result, many people who would otherwise have no exposure to Islam are flocking to a religion that is rapidly growing. Happy British Muslims a video parody of Pharrell's song "Happy" which went viral last month, was one recent example of how some Muslims are using YouTube to express their faith, culture and identity. But here's the crux of it all. Social media means Muslims now need to be on their toes. Islamic scholars, once free to say pretty much what they wanted, now need to watch every word they utter. Within seconds, something they say might be on Twitter, getting retweet after retweet as it's shared throughout cyberspace. Gone are the days when Muslim scholars could make unthinking remarks about homosexuality, or, indeed, any other contentious issue. Today, when scholars speak, they are quick to clarify what they mean, careful not to quote texts without context. Islam, if you hadn't realised, is being censored.

Last year, Mufti Ismail Menk, a popular Islamic preacher who has close to 900,000 followers on Facebook, was banned from speaking at British universities after a video surfaced of him expressing anti-gay views on YouTube. A similar ruckus erupted earlier on in 2013 when one prominent Muslim scholar got in trouble for comments he made about homosexuali-ty almost 20 years ago. The well-respected scholar was quick to denounce what he had said two decades back, but the damage had already been done. Both scholars were quick to distance themselves from accusations levelled at them, which likely mitigated the damage to their reputations. What we are now seeing are scholars, embarrassed by the hysteria they have created, quickly sending out messages that they are for peaceful coexistence, diversity and tolerance. This is normally the end of it, and those scholars become extra careful not to say anything of the sort again. In fact, their mistakes are not only lessons for their scholarly contemporaries, but are helping to change religious discourse.

If it takes social media to weed out all the distasteful religious rhetoric, so be it. Certain views within Muslim communities have been allowed to flourish for too long and it's about time they were put to bed. Social media has imparted some very important lessons to Muslim scholars recently. One of them being to hold their tongue or face a backlash – which not only affects them, but the Muslim community at large. Every time a scholar makes a stupid or gratuitously offensive remark, Islamophobia is kindled and your ordinary Muslim is left to deal with the consequences. While it's true that Muslims should be allowed to express their faith without fear, the more hateful views being eradicated is a mark of progress. What also added to this calming down of Muslim rhetoric was 9/11. Many Muslim scholars, knowing Islam was now under intense scrutiny, felt obliged to present their faith in a positive way. We only have to look at the brilliant Shaykh Hamza Yusuf, who, before 9/11, was much more militant in his approach. Now, especially with the pervasiveness of social media, he has toned down his rhetoric and is particularly careful about what he says.

But what does all this mean for the future of Islam?
Well, with views being increasingly censored, this will inevitably lead to more pluralistic, tolerant and respectful views – all integral to the Islamic tradition. The moving waves of social media has ebbed Islam along with it, giving Islamic authorities a lot to think about. It is changing the way Muslims think and the way others think of Muslims. In a recent piece for the Huffington Post, Steve Rose, a young British journalist, talks about how social media helped give him a greater insight into Islam. For the first time in Islam's histo-ry, Islamic knowledge has become extremely accessible. Some of the world's greatest Islamic scholars are on Twitter, Facebook and can be watched easily on YouTube. Many regularly update their Twitter with Islamic reminders, answer readers' questions and tweet links to reliable Islamic sources. The inevitable consequence of the flourishing of authentic Islamic knowledge is that the young generation of Muslims, in comparison to their parents who didn't have the same access to their religious tradition, will be better educated about their faith. Despite the constant negative headlines, the endless crusade against religion and the threat of social media, Islam is actually one of the great success stories of our time.

That's certainly something to like and share.
© Aquila Style
USA: Chicago eighth-graders suspended in anti-Semitic bullying online
Chicago Public Schools officials say they're investigating allegations of anti-Semitic bullying by Ogden International School eighth-grade students, suspending the ringleaders and hosting two forums for parents at the West Town school.

30/5/2014- But the mother of the 14-year-old boy who was told to get into an oven and put on striped pajamas, as concentration camp prisoners were made to do, still was upset Thursday, saying the district isn't doing enough to address the racism behind the bullying. "Call it its name. They were racist, they were being anti-Semitic to my son," said Lisa Wolf Clemente outside Ogden Thursday afternoon, hours after eighth-graders went on a field trip to the Holocaust museum in Skokie. Afterward, "not one person addressed the correlation between the Holocaust museum and my son," she said, adding that they missed the chance for a teachable moment. Clemente said her son told her months ago that several kids at the west campus of the school targeted him at lunch and in Spanish class, showing him pictures of ovens and telling him to get in. "I taught my son how to handle this situation himself," said Clemente, who has sought support from the Simon Wiesenthal Center and the Anti-Defamation League.

She informed Ogden's principal only two weeks ago that there was a problem, after her 8-year-old son was invited to join a team playing the Clash of Clans game; this particular team, started by 8th graders, was called "Jew Incinerator." The students had signed up for the online version of the game. Besides calling their team "Jew Incinerator," they had written: "Heil! Throw Jews into ovens for a cause," Clemente said. They also wrote: "We are a friendly group of racists with one goal — put all Jews into an army camp until disposed of." Screenshots of the game shot showed the students concluded with "Sieg! Heil! — a Nazi salutation. After the child's mother began calling parents of the others, one of the ringleaders wrote on the same site: "This COC clan is being reported for bein [sic] offensive at school. We need to shut it down or we can get in trouble."

The Sun-Times is not identifying the children because they are juveniles. Clemente said her older son doesn't feel safe at school, and her younger son has cried to her, too, saying, "I didn't tell anyone I was Jewish." CPS spokesman Joel Hood said several eighth graders identified as ringleaders and participants have been suspended for one to three days from school for bullying a classmate who is Jewish, and for their involvement in the online game. "Chicago Public Schools will never tolerate bullying or harassment by any student in any school," CEO Barbara Byrd-Bennett wrote in an emailed statement. "As a District we are committed to ensuring safe school environments in which every child feels secure, comfortable, and respected. The principal at Ogden International High School has worked in cooperation with the network and central office to foster a larger community dialog around cultural sensitivity and has taken the appropriate actions to ensure this is a teachable moment for our children."

The school principal held a forum for parents Thursday afternoon. The meeting was not open to the general public and reporters who tried to enter were turned away. Outside the meeting, grandmother Dolores Mills was among many parents confused by the robocalls and letters inviting them to the meeting without saying why it was being held. Mills and her daughter, Imani Beard, were shocked to see images from the video game. "They got all kinds here," Mills said repeating what others said of the international school. "Why are they going to pick on the Jews?" "It's a great school, I love this school, they bring kids from all over." Her grandson, a sophomore, had not heard about the problem though the sixth to twelfth graders share a building. Beard summed up the situation: "If this is an international school, it's ironic this is an issue."

Senior Alex Thompson-Beard had wondered why school officials suddenly began posting anti-bullying policies this week and handing out literature. "Because they're trying to cover something up?" Another meeting will be held Friday afternoon at the school's east campus. School principal Joshua D. VanderJagt accepted the Anti-Defamation league's offer to conduct an "anti-bias" program to teach about the dangers of hate and bullying at the school as soon as next week, said Lonnie Nasatir, head of the Chicago branch. "He wants to do this as quickly as possible," Nasatir said. "Let's hope this is an aberration."
© The Chicago Sun-Times
Spanish Jews take legal action against wave of anti-Semitic messages on Twitter
Jewish associations in Spain have filed an official complaint after nearly 18,000 anti-Semitic messages were posted on Facebook and Twitter in response to Israeli basketball team Maccabi Tel Aviv's victory over Real Madrid last weekend.

22/5/2014- Twelve Jewish groups in the autonomous region of Catalonia lodged the legal complaint over the messages, which flooded onto the Twitter network after Maccabi's narrow win in the Euroleague final on Sunday. Angry Spanish supporters created an expletive anti-Semitic hash tag in their messages after the match, which briefly became one of the most popular keywords on Twitter in Spain. Ruben Noboa of the Jewish group Israel in Catalonia said he launched the lawsuit after seeing references in some messages to death camps and the mass murder of Jews in the Holocaust. "When we saw reactions to Maccabi's victory such as 'Jews to the oven' or 'Jews to the showers', we decided to lodge this judicial complaint," Noboa told the news agency AFP. Eleven other Jewish associations have joined in his lawsuit, in which he presented copies of anti-Semitic tweets to state prosecutors, he said.

The associations singled out five people who were identified by their real names on Twitter, accusing them of "incitement to hatred and discrimination" — a crime punishable by up to three years' jail in Spain. The state attorney, who specializes in hate crimes and discrimination, will have to decide whether to proceed with the investigation. A recent report by the Anti-Defamation League, an international campaign against anti-Semitism, said Spain ranked third in Europe for prejudice against Jews, after Greece and France. Jews have been few in Spain since their large communities were mostly expelled by the country's Catholic rulers in the late 15th century. "Hardly anyone here knows any Jews, but the clichés and stereotypes persist and are also fed by Catholicism," said Noboa.

"I strongly believe in the freedom of expression, but there must be a limit," Jai Anguita of the Bet Shalom Jewish Community told Spanish newspaper 'El País'. "We could argue these comments are the result of high spirits after a defeat, that they are nearly jokes. But history has shown us where these jokes can lead."
© World Jewish Congress
Anti-Semitic tweets point to hate speech problem in Spain
21/5/2014- The Spanish government is considering cracking down on hate speech on social networks after thousands of anti-Semitic comments on Twitter following an Israel-Spain basketball game on Sunday. Jewish groups filed a legal complaint on Tuesday calling for official action against tweeters who made gas chamber and Holocaust comments after Maccabi Tel Aviv basketball team defeated Spain's Real Madrid in the Euro League final. State prosecutors are looking into the complaint against users of an obscene Twitter tag, which the Jewish groups say became a trending topic on Twitter in Spain after over 4,000 direct messages on the microblogging network, and thousands more retweets. The anti-Semitic posts are embarrassing for a country which recently approved a law allowing descendents of Sephardic Jews expelled from the country in 1492 to seek Spanish nationality.

On Sunday, the village of Castrillo Matajudios in northern Spain will on whether to change its name - which means Kill the Jews Fort - and purge a vestige of anti-semitism stemming from the days of the Inquisition. Justice and interior ministry officials met with a senior state prosecutor on Monday to discuss how Spanish law can cope with defamatory, racist or discriminatory speech on social networks, a source at the justice ministry said. "It's not about writing new laws. Within Spanish law this behavior is already penalized. It's to evaluate Twitter as a new variable within this law," said another source close to the talks. Both government sources spoke on condition they not be named, citing ministry rules.

Spain is grappling with a spate of incendiary tweeting, especially following the murder of Isabel Carrasco, a leader of the conservative People's Party (PP) and president of the county council of Leon in northern Spain. Four people have been charged with apologia - sympathizing with a criminal act - after sending tweets that police say celebrated Carrasco's death. She was shot dead May 12 while walking through the city of Leon. Under Spanish law, successful prosecutions could carry prison sentences of up to two years. They have also provoked debate on how far the law should be permitted to censor comments made on social networks after Interior Minister Jose Fernandez Diaz said they must purge undesirables from social media.

"There are comments on the internet which can be considered unfortunate, a symptom of bad manners or in bad taste, but that doesn't mean they should be met with a legal response," said Joaquim Bosch, spokesman for Judges for Democracy, an association of judges and magistrates. "We need to differentiate between stupid comments where people are letting off steam and real threats." In April, 17 people were arrested for comments on social media which either glorified illegal groups such as the violent Basque separatist group ETA or Jihadists, or insulted their victims. A source from Spain's Civil Guard - the national gendarmerie force - said those arrests were part of a police effort called Operation Spider but was unable to say whether charges had been brought.
© Reuters
French arrest 4 allegedly linked to neo-Nazi group
20/5/2014- French police have arrested four people in a sweep against a suspected neo-Nazi group behind a Web posting that threatened violence. Police spokesman Didier Gueriaud in the eastern city of Besancon said the arrests early Tuesday in the town of Morteau and the Saone-et-Loire region followed an online posting some 10 days ago linked to a self-described "terrorist group" claiming ties to the "Blood and Honor C18" movement. The C18 code refers to the word "Combat" and the first and eighth letters of the alphabet, "A'' and "H'' — Adolf Hitler's initials. Gueriaud said the Web site bore a photo of eight masked militants wielding automatic and other weapons and a message that vowed unspecified attacks. He said more arrests could follow. French authorities sporadically act against banned militant groups.
© The Associated Press
USA: Congress Wants Feds to Police Internet
20/5/2014-


Senator Edward John "Ed" Markey (D-Mass.) appears intent on undermining free speech on the flimsy, worn-out "hate crimes" pretense. His Hate Crime Reporting Act of 2014, or S. 2219, would empower the National Telecommunications and Information Administration (NTIA) to keep tabs on any Internet, radio and/or television content that allegedly advocates or encourages so-called "hate crimes." A number of critics, including even the Boston Herald's editorial board, see the bill as a danger to free speech. The House companion bill is
H.R. 3878 ans
its chief sponsor is Representative Hakeem Sekou Jeffries (D-N.Y.) He believes the bill will target "hateful activity on the Internet that occurs outside of the zone of First Amendment protection," whatever that means.
According to the Library of Congress, on April 8, S. 2219 was referred to
the Senate Committee on Commerce, Science, and Transportation
, of which Markey is a member. As of April 27 it had zero cosponsors. H.R. 3878 was introduced back in mid-January and now has 29 cosponsors. It was referred to the Committee on Energy and Commerce's Subcom-mittee on
Communications and Technology
.
Markey's official press release
announcing this legislation, dated April 16, noted: "The Hate Crime Reporting Act of 2014 would create an updated comprehensive report examining the role of the Internet and other telecommunications in encouraging hate crimes based on gender, race, religion, ethnicity, or sexual orientation and create recommendations to address such crimes."
Markey's release also stated: "Over 20 years have passed since I first directed the NTIA to review the role that telecommunications play in encouraging hate crimes. My legislation would require the agency to update this critical report for the 21st century." An April 24, 2014
editorial in the Boston Herald
labeled the initiative a "frankly chilling proposition" and warned that this legislation will encourage the NTIA to "begin scouring the Internet, TV and radio for speech it finds threatening." Quoting parts of the legislation, the Herald noted: "The spookily-named National Telecommunications and Information Administration . . . would be required to submit a report to Congress on the use of telecommunications 'to advocate and encourage violent acts and the commission of crimes of hate.' "
The NTIA would use its own judgment to determine what qualifies as forbidden speech. The NTIA would then recommend what the legislation calls "appropriate and necessary" steps for Congress to take. Civil liberties attorney Harvey A. Silvergate was
quoted as saying
: "This proposed legislation is worse than merely silly. It is dangerous. It is not up to Senator Markey, nor to the federal government, to define for a free people what [kind of] speech is . . . acceptable." Markey's bill is surfacing not long after "Duck Dynasty" star Phil Robertson won a free-speech battle regarding his candid religious remarks against homosexuality. Those remarks had been labeled "hate speech" by many on the political left.
From Markey's viewpoint, this legislation is more about Frazier Glenn Cross, Jr., the Federal Bureau of Investigation informant who opened fire outside a Jewish community center and retirement home near Kansas City, Kansas on April 13, 2014. Markey remarked: "We have recently seen in Kansas the deadly destruction and loss of life that hate speech can fuel in the United States." However, the late author George Orwell likely framed the matter best when he said, "Freedom of speech is the freedom to tell people what they don't want to hear." And plenty of state and federal laws are already on the books to punish people if ideas evolve into tangible crimes.
©
American Free Press
Facebook admits 'mistake' in suspending user for lesbian kiss
Amid a controversy after an Italian user was blocked for uploading a photo of a lesbian kiss, Facebook has admitted it made a "mistake".

21/5/2014- Carlotta Trevisan, a 28-year-old mother who is straight, but supports LGBT rights, was asked by Facebook to remove the image, which it said broke rules regarding "nudity and pornography". When she refused, she was told her account would be suspended for "violating the community's standards." The account was eventually reinstated. Face-book has now told Buzzfeed: "In an effort to quickly and efficiently process reports we receive, our community operations team reviews many reports every week, and as you might expect, occasionally, we make a mistake and block a piece of content we shouldn't have. "We can understand how people can be frustrated with this when, as in this case, a mistake happens." As well as the image being reported to Facebook, Trevisan received abusive comments such as that the image was "disgusting", and inappropriate because other users "have young children to protect." Once Ms Trevisan's profile was reinstated after the incident which took place on IDAHOT on Saturday, she set the image as her profile picture.
© Pink News
Italy: FB under fire for removing lesbian kiss posted to mark anti-homophobia day
An Italian woman whose Facebook account was blocked after she posted a photo of two women kissing, in what the social network said "violated the community's standards on nudity and pornography", told The Local she republished the photo in defence of her pursuit of gay rights.

19/5/2014- An Italian woman whose Facebook account was blocked after she posted a photo of two women kissing, in what the social network said "violated the community's standards on nudity and pornography", told The Local she republished the photo in defence of her pursuit of gay rights. Carlotta Trevisan, a 28-year-old mother of one from Turin, told The Local she was left speechless after the social network blocked her account for three days, but that the move made her and her friends, who have shared the image, more determined to fight discrimination against the lesbian, gay, bisexual and transsexual (LGBT) community. Trevisan posted a photo, featuring a lesbian couple, with rainbow flags painted on their cheeks, kissing, on her profile page last Thursday to mark International Day Against Homophobia, which took place on Saturday. She said the photo had been taken from the internet.

While many of her friends on the site responded positively, Trevisan said others took offence, leaving insults, then alerting the network's operators to the image. One user commented, "It's disgusting", while another said, "take it down, I have young children to protect." A few days earlier, Trevisan also posted a photo of two footballers from the Spanish club Sevilla, Ivan Rakitic and Daniel Carrico, who caused a stir when they shared a kiss during celebrations to mark their club's victory in the Europa League final. Trevisan received a message from Facebook late on Thursday afternoon, saying it had been made aware of the image, which "violated the community's standards on nudity and porno-graphy" and asked her to remove it. When she didn't, her profile was taken off the site that evening. The account was restored on Sunday evening, but Trevisan reposted the image.

"How can they say a kiss, which is something so loving, is nudity or porn?" asked Trevisan, who has taken part in several protests for gay rights. She added that her determination to rebel against the network has been spurred by Russia's clampdown on gay rights as well as Italy dragging its heels in adopting an anti-homophobic law. "This right is a fundamen-tal thing for the LGBT community and it's incredible that Italy doesn't yet have this law in place." In her fight for gay rights, she says she's also thinking about her six-year-old daughter. "I'm thinking of her future," she added. Italians don't take too kindly to public displays of affection among the gay community. Last week, it was reported that a lesbian couple are facing trial for an alleged beach kiss.
© The Local - Italy
Paul Potts: Facebook and Twitter should back anti-cyber bullying campaign with cash
Globe-trotting singer Paul Potts says social media giants such as Twitter and Facebook should give financial backing to campaigns to combat online bullying.

16/5/2014- And the 43-year-old ex Bridgend Carphone warehouse salesman, now a multi-millionaire since winning Britain's Got Talent in 2007 with his heartfelt rendition of Nessun Dorma, says the use of the word "trolling" to describe internet harassment should stop. Port Talbot based Potts, who suffered serious bullying in his school days, says he believes the term trolling "desensitises" the act of online bullying. In an interview in New Zealand where the singer has recently been touring he revealed he has had his own share of online abuse but has now stood his ground by becoming a staunch anti-bullying campaigner. He said: "The internet now is worse than it has ever been. And calling the bullying 'trolling' just desensitises it." Potts told a newspaper in New Zealand online companies like Facebook and Twitter should be giving money to anti-bullying charities and providing more support for victims of online abuse.

He explained: "It's not enough to block people, you should be able to ask for help and have real help provided, and that should be funded." Speaking about his experiences while growing up in Bristol where he was the subject of name calling and physical attacks, he said: "Bullying made me more susceptible to things. I didn't think I had any value." He said on the very day a child committed suicide after being bullied, British Prime Minister David Cameron was in Parliament calling the opposition "muppets". Potts said: "It seems innocent enough, but when you see the leader of your country name-calling, it endorses it. "If you're not part of the solution, you're part of the problem." Earlier this month, Robert Riley, 42, of Port Talbot, was jailed for posting sick messages online including one about the murder of Leeds schoolteacher Ann Maguire and this week a 17-year-old Swansea Valley girl was cautioned for posting "grossly offensive" messages after the sudden death of 15-year-old James Lock of Dunvant, Swansea.

A Twitter spokeswoman said the company did not wish to comment but she pointed out Twitter had a partnership with an extensive list of online safety organisations around the world including the NSPCC, StopBullying, Childnet, Amnesty International and the International Network Against Cyber Hate plus various suicide, self harming and depression prevention groups. A spokesman for Facebook said: "There is no place for harassment on Facebook, but unfortunately a small minority of malicious individuals exist online, just as they do offline. We have a real name policy and provide people with simple tools to block people or report content which they find threatening so that we can remove it quickly."

Susan Golaszewski, spokeswoman for BeatBullying said: "Social networking sites need to to take their users' safety seriously, which includes making reporting procedures much clearer and ensuring a swift response when abuse is recorded. "Sites must also improve signposting to support services for victims of cyberbullying. We'd urge any young person aged 11-17 being targeted by cyberbullies to come to beatbullying.org as soon as possible to get support." Pontypridd based Jonathan Bishop, editor of the book, Examining the Concepts, Issues and Implications of Internet Trolling, said: "Paul Potts is probably right over the use of the word troll or trolling. "A troll used to refer to someone who would place inflammatory comments on a forum or website to stir up arguments or controversy but it has grown to be far more sinister and there is now 'RIP trolling' which is obviously extremely upsetting. "An alternative term being used now is 'hater' popularised by singer Isabel Fay with her song Thankyou Hater."
© Wales Online
Twitter Is Platform of Choice for Anti-Semites as Hate Rises on Social Media
Study Finds 30% Rise — Facebook Gets Better Marks

14/5/2014- Twitter is the "weapon of choice" for bigots and racists, according to a new report on digital hate and intolerance released by the Simon Wiesenthal Center. The center surveyed hateful content on over 30,000 websites and found that online hatred rose more than 30% over the past year. The report also graded top social media platforms on their commitment to removing hateful posts and on whether the prevalence of these posts on their sites is increasing or decreasing. "If the world is going to effectively deal with the growing threat from lone wolf terrorists, the leading social media companies, including Facebook, Google, YouTube and Twitter must do more," said Rabbi Abraham Cooper, assistant dean of the Simon Wiesenthal Center. But Cooper reserved special criticism for Twitter, which received a D grade in the report. He said Twitter has shown little inclination to work with his center or to seriously address hateful speech and even terrorist activity. "There are terrorist groups that use Twitter to communicate," he said. "Twitter hasn't shown us they have an institutional grasp or commitment of the issue, and that needs to change."

Cooper pointed to the Twitter activity of Al-Shabaab, a Somali terrorist organization, which live-tweeted a horrific September 2013 terrorist attack at a mall in Nairobi, Kenya. Twitter did, however, shut down the Al-Shabaab's Twitter handle, but the group continually opened new handles – demonstrating one of the many obstacles to restricting hateful speech on the internet. Twitter rules on speech forbid "direct, specific threats of violence against others" but allow "potentially inflammatory content," so long as it does not violate any other terms of service. Nu Wexler, a spokesman for Twitter, declined to comment on the Wiesenthal Center's report. Facebook, which earned a B+ in the report, drew praise for its strict rules against offensive speech and aggressive enforcement efforts. But Cooper warned that extremists forced off of Facebook often migrate to lesser-known platforms, like vk.com, a social media platform favored by many Eastern Europeans, which earned an F grade.

Hateful comments posted online often lead to real world consequences, according to Cooper. "We are constantly seeing that lone wolves, bullies, terrorists and other extremists spew their hatred and formulate their plans first online and then carry out their mission offline," he said. "The recent Kansas City JCC Shooting by Frazier Glenn Miller, which first took root online, is an example of this subculture of hate formed online," he added, referring to the April 13 attack on Kansas City-area Jewish sites by Miller, a white supremacist and former Ku Klux Klan leader.

The Wiesenthal Center, which works to combat antisemitism and bigotry, has tracked hateful online speech for the past 20 years. Though its researchers found a a 30% rise in hateful comments since its 2013 report, Cooper noted that that number is based on a limited survey and is not meant to be an "ultimately definitive" read of all speech on the internet, which contains hundreds of millions of websites. The center's report was released May 1 by Cooper in conjunction with Manhattan District Attorney Cyrus Vance, Jr.
© The Forward
Islamophobia Thrives on the Internet (USA)
7/5/2014- A new report shows that Islamophobia is metastasizing on the Internet. After anti-Muslim sentiment crystallized in 2010 around the construction of an Islamic interfaith center in Manhattan, there's been a sharp increase in such feelings. "In recent years, we have seen hate groups and anti-Muslim activists use the Internet and social media platforms to spread hate," Madihha Ahussain, staff attorney at Muslim Advocates and lead author of the report, tells me. "For example, Pamela Geller, a well-known anti-Muslim proponent who has her own blog, had 19,000 supporters on Facebook last summer. Today, less than a year later, she has over 78,000 supporters." The report is entitled, "Click Here to End Hate: Anti-Muslim Bigotry Online & How to Take Action." It mentions several hate groups.

There's Act! for America, led by Brigitte Gabriel, who, the New York Times reports, "presents a portrait of Islam so thoroughly bent on destruction and domination that it is unrecognizable to those who study or practice the religion." Her outfit claims to have roughly 875 chapters and 279,000 members nationwide. Its Facebook page has almost 84,000 likes. The United States Defense League, dedicated to "exposing Shariah law," has nearly 23,000 likes for its page. A blog named Bare Naked Islam has a reported 51 million hits since 2008. The report does a good job of highlighting disturbing use of social media by elected representatives. "It's quite troubling to see the extent of hate online, particularly when it comes from public officials and public figures that are using their personal Facebook pages or social media accounts to encourage violence against American Muslims," Ahussain says. "It's clear that anti-Muslim bigotry online is alive and well on these various social media platforms."

The report cites the case of a Tennessee county commissioner, Barry West, who posted a Facebook picture of a man aiming his gun with one eye closed. The photo was captioned: "How to Wink at a Muslim." And there is the online spewing of hate by public commentators. After the April Fort Hood shooting, Patrick Dollard, a documentary filmmaker and past Breitbart News contributor, tweeted, "If there is even one more act of Muslim terrorism, it is then time for Americans to start slaughtering Muslims in the streets, all of them." In the immediate aftermath of the Boston bombings, Fox news contributor Erik Rush was more succinct: "Yes, they're evil. Let's kill them all." Ahussain and her colleagues recommend some things that can be done to fight such hate without violating free speech. "The report focuses on two methods of responding to hate online: using the tools that Internet companies have put in place to report content that violates their policies, and engaging in counterspeech," Ahussain says. "Many of the leading companies have policies specifically dedicated to hate speech on their platforms and they look to us, the users, to report the content."

"Also, counterspeech has been a powerful antidote to bigotry that can completely transform a hate-fueled conversation into something productive and positive," she adds. "We were inspired by the research surrounding counterspeech and how powerful it can be. In research that Twitter shared with us for the report, we saw that social media users often use ridicule and humor to drown out hate and we hope that this report will encourage others to do the same." As an example, the report cites the barrage of online hate received by the current Miss America Nina Davaluri (actually of Hindu background) when she won the contest last year. Some of the offenders actually apologized when challenged. Ahussain wants the White House to address such bigotry. "We recommend that the White House convene a national-level dialogue on hate against religious communities," she says, "and invite Internet companies to participate in discussions about how to address this issue."

Recent events have proven the report's relevance. "Buddha didn't create us, Mohammed didn't create us, it was the God of the Holy Scriptures," Alabama Chief Justice Roy Moore is reported to have said in remarks that leaked public in the past few days. "They didn't bring the Koran over on the pilgrim ship." And California GOP gubernatorial candidate Tim Donnelly recently reposted on his Twitter account an article accusing primary opponent Neel Kashkari (again, of Hindu ancestry) of assisting in the imposition of Shariah law when he was part of the Treasury Department in the Bush Administration.
© The Progressive
We're more computer literate but youngsters accept info too easily (Netherlands)
7/4/2014- The Dutch are among the most internet-aware people in Europe but there is a growing divide between people who really know what they are doing online and those who don't, the Volkskrant reports on Wednesday. In particular, the over-65s have made enormous advances in the way they use the internet over the past four years, according to new research from national statistics office CBS. Some 86% of the Dutch can send emails and 46% have experience with using internet phone services such as Skype. Three out of 10 share music and films using internet.

Skills
However, internet expert Henk van Ess told the Volkskrant that the research says nothing about how people actually use the internet and social media channels. Communication scientist Alexander van Deursen from the University of Twente said many people still find it hard to use search engines efficiently or evaluate the information they find with a criticial eye. These, he said, are much more important qualities to develop. 'Older users have learned not to accept everything they are told but young people often take information on board without question,' Van Deursen said. 'Our research showed that young people are often happy with the initial results of their search.' Last year, the Dutch academy for scientific research KNAW warned that Dutch school pupils would be 'digitally illiterate' unless changes were made in the way IT is taught at schools, the Volkskrant points out.
© The Dutch News
Annual report on Anti-Semitism in Czech Republic registers steep increase of Internet attacks
5/5/2014- A new study by Prague's Jewish community released on Monday registered a significant increase of attacks against Jews on the Internet for the second straight year. The annual report on anti-Semitism said the number of Internet attacks, including texts, photos and videos, jumped to 156 in 2013 from 82 in 2012. The report said the pro-Israeli stance of the Czech government was among the reasons for the attacks. Besides the Internet attacks, it said anti-Semitism in the Czech Republic remains at a relatively low level with one physical attack registered last year and three attacks on Jewish property. The anti-Semitic materials, the report said, include the incitement, support and justification for killing Jews, their demonization, denial of the Holocaust, and the de-legitimization of the state of Israel, among other things. The report concluded that the situation regarding anti-Semitism has been "quiet" in the Czech Republic compared with other European countries such as Hungary and France. Also Monday, police said they broke up a Czech branch of an alleged Russia-based neo-Nazi organization known as Wotan Jugend. In a statement, spokeswoman Andrea Zoulova said the local branch was established by a 21-year-old foreigner of unspecified origin, and a total of five people are under investigation in the case. They face up to five years in prison if tried and convicted of racism.
© The Associated Press
Wikipedia edit from government computer added Muslim insult (UK)
The charity that represents Wikipedia in the UK has condemned edits made from government computers after more incidents of vandalism emerged.

29/4/2014- The BBC has discovered that the phrase "all Muslims are terrorists" was added to a page about veils. Another edit deleted text in Cherie Blair's entry about the flat-buying scandal that made headlines in 2002. The Liverpool Echo last week revealed that insults had been added to the entry for the Hillsborough Disaster. Stevie Benton, from Wikimedia UK, told the BBC: "We find this kind of vandalism appalling." Wikimedia UK is the local arm of the global Wikimedia Foundation, the charity set up by the online encyclopaedia's founder Jimmy Wales to support the thousands of volunteers who edit and maintain Wikipedia. "Wikipedia is the encyclopaedia that anyone can edit," Mr Benton added. "This openness has led to an enormous reference work of great value. While vandalism does occasionally happen we are grateful to the many thousands of volunteers who write, edit and organise the content." In an email, the Cabinet Office reiterated its statement on the matter. "The amendments made to Wikipedia are sickening. The behaviour is in complete contravention of the Civil Service Code. It is entirely unacceptable." It added: "The Civil Service Code applies at all times, and we take breaches very seriously. We have already announced an investigation to examine offensive edits to Wikipedia, and will look at other concerns raised."

'Spells evil'
The BBC found more than a hundred instances of inappropriate editing, vandalism and deletion made by computers accessing Wikipedia through the two IP addresses known to be used by government machines. A change made to the entry for "veil" in October 2006 added: "It should be noted that the word Veil, when the letters rearraged [sic], spells evil. "Since the Veil is mostly worn by Muslims, and all Muslims are terrorists (with the argument for this being that all terrorists have been Muslim), this fact should be dually [sic] noted by all." The comment was removed by a Wikipedia volunteer six minutes later. Nasima Begum, a spokeswoman for the Muslim Council of Britain, told the BBC: "It is these types of attitudes that create an unnecessary climate of fear and hostility. "It is shocking and cause for great concern that inflammatory comments like these should be sent from someone within the government."

Removed paragraphs
As well as vandalism, large passages of text were deleted. In 2002, Cherie Blair made a public apology after it had emerged she had bought two flats, at a discounted price, with help from convicted fraudster Peter Foster. Paragraphs about the incident in Mrs Blair's Wikipedia entry were removed by a government PC in October 2005. Later, a different user would revert the changes, arguing that they were "relevant to the subject's reputation". The BBC was unable to reach Mrs Blair to discuss the matter. There is no indication that she had any knowledge of the changes.

Other edits made by government machines included:
+ In the entry for the London bombings, links to websites detailing popular conspiracy theories were added.
+ The article for former prime minister Tony Blair was deleted in its entirety and replaced with the words "he should be assassinated".
+ Homophobic insults were added to the entry for newspaper columnist Richard Littlejohn.
+ Celebrity chef Jamie Oliver, who has worked for the government on healthy eating initiatives, also had homophobic insults added to his page.

Mr Benton, from Wikimedia UK, praised the work of Wikipedia editors in correcting the changes. "Edits of this nature are removed very quickly by the volunteers who write and edit Wikipedia," he said. "Often in a matter of minutes." Edits made by government computers have come under close scrutiny following the Liverpool Echo's report showing how insulting remarks about Liverpool fans were added to the page detailing the Hillsborough Disaster. The changes were identified by analysing edits made by two IP addresses - 195.92.40.49 and 62.25.106.209 - known to be connected to the Government Secure Intranet (GSI). The GSI is used to allow government machines to connect to the internet securely.

Investigation
The Cabinet Office has admitted that, due to the nature of its computer network, it would be almost impossible to track down who is responsible for the offensive remarks. A spokesman said: "We are exhausting every option. Anyone with information should contact the Cabinet Office." Unlike most people's home internet connections, where an IP address can sometimes be used to pinpoint one particular computer, large organisations tend to mask individual machines for security reasons. It is also possible to "spoof" IP addresses to make the source of a connection look like it is coming from somewhere else. However, several of the offensive messages were made prior to the government IP addresses being disclosed in 2008.

Government machines were also used to vandalise, or "troll", on several pages, including:
+ In the entry about indie band The Libertines: "[T]he more astute critics correctly identify the band as scum", and added a remark about lead singer Pete Doherty's drug use.
+ Comments about footballer Wayne Rooney that said he was "currently knocking off 'queen chav' Coleen McGlochlin".
+ The deletion of the entire post for Irish politician Christopher Byrne, replacing it with simply "is a sexy beast".
+ Changing the entry for BBC presenter Peter Levy to list "Adolf Hitler" as an ex-partner.
+ Describing Arsenal manager Arsene Wenger as being "made of clay".

How edits were uncovered
Wikipedia allows any web user to make changes to its pages, but this leaves a trace through the user's internet protocol (IP) address Changes are monitored by Wikipedia, but internet trolls have been known to post insulting material, which is usually swiftly removed Liverpool Echo reporter Oliver Duggan discovered that insults posted on the website's Hillsborough Disaster page had been made using computers within the government's internal intranet He confirmed this after referring to a list of 34 IP addresses used by the government released by former minister Angela Eagle in 2008 The BBC analysed two of the addresses - 195.92.40.49 and 62.25.106.209 - to find the edits contained in this article.
© BBC News
Ben Garrison on Trolls (Australia, opinion)
"This page wasn't removed. We reviewed the page you reported for harassment. Since it did not violate our community standards, we did not remove it. Thanks for your report."
By Ben Garrison

28/4/2014- This is the message I received after reporting a hate page on Facebook. Near the top of the hate page was a statement that encouraged the extermination of all Jews. Along with that statement was a photo of my face and the name Ben Garrison. Trolls had stolen my artwork and photos from my blog, my cartoon site as well as my fine art site and had concocted an entire page devoted to spewing libelous hate. The troll entity called the page 'Ben Garrison Cartoons—the Official Site.' The trolls had stamped the name 'Ben Garrison' onto as many hateful images as possible throughout the page. How does one stop such blatant libel? Where do these trolls come from? Is it even possible to track them down? Why do they do such terrible things? Why me?

As I found out, it's not just me. Many others have suffered the same outrageous indignity. It appears that trolls are no longer content merely talk to each other on sordid sites such as '4chan' or 'Stormfront.' They want to go mainstream. Therefore, social media are a natural target for them. Do they really believe the vitriolic memes they are shoveling, or are they merely playing an elaborate prank? It doesn't matter. Their memes of hate must not go mainstream. Facebook must wake up and block the hate before it gets established. Hate speech is not free speech. Hate speech is blind, one-dimensional blackness. It is not reasoned debate. It loudly shouts for the murder of human beings and Facebook is providing them a megaphone for that purpose.

I first drew editorial cartoons for the San Angelo Standard-Times. The subject matter was local and state politics. I also drew a few for the San Antonio Express-News. I then worked nearly 20 years for the Seattle Post-Intelligencer as a designer and info graphic specialist. They already had two cartoonists at the Seattle P-I. One was the Pulitzer-prize winning star, David Horsey. The other was Steve Greenberg. Steve moved to California and continued to get his cartoons published. He was tenacious and I admired that. I now must conjure up the same tenaciousness.

When the big banks were bailed out in 2008, I was outraged. I had written both senators and my congressman and asked them to vote 'no' on the bailout bill. It passed anyway. I had read G. Edward's Griffin's landmark book, "The Creature from Jekyll Island," and I knew this was yet another step toward a corrupt system run by an oligarchy that is replacing our Constitutional government. I figured it was time to speak out against the growing police state and since I was an artist, editorial cartoons seemed the best way of doing something. It almost seemed like my patriotic duty. I had to help my country. My dad was a WWII veteran who fought against tyranny and fascism. Now it was my turn to do something about it. I drew anti-Federal Reserve and anti-banker bailout cartoons as well as pro-Constitution cartoons. I began posting them on my blog and various stock message boards. Some became viral. "The March of Tyranny" was seen around the world by millions. I drew it in only three hours. It is also the most trolled cartoon.


A gang of trolls suddenly made an appearance on my blog. At first, I didn't know what to make of it. They took advantage of the comment field and began posting pro-Nazi statements and criticized me for posting videos of musicians who happened to be Jewish. (I'm a classical music fan). I deleted the messages and then I was forced to shut down comments altogether. I had just been trolled. It was about this time that I started receiving hate mail. They pretended to be real people who were sickened by hacked-up cartoons. They assumed a piece of libelous art was mine simply because my name was pasted onto it. I figured out quickly this mail was probably from the trolls themselves—trying to elicit a reaction. Some of the troll mail was subtle. Some of it was not. I was called every foul name in the book. I learned never to reply to any troll mail whatsoever, but I did check out IP addresses. They came from all over the world, with a high concentration emanating from England, Denmark and Poland.
I decided to set up a specific web site for Ben Garrison cartoons and in 2010, www.grrrgraphics was born. I added a disclaimer that explained that my work was being altered by nefarious trolls and left it at that. I had read it's best to ignore the trolls. That was the way to go. Don't give the sadists what they craved the most—attention.
One day I received an email from Christopher Poole. I didn't know this person, but he wrote, "Why so racist, bro?" I searched the name and discovered he had started a site known as 4chan. On this site he allowed posters complete anonymity. They could post whatever they liked without consequence. As one might guess, the site is the lowest of low snake pits that eclipses even the basest instincts of humanity. They claim it's all for the 'lulz'—a variation of LOLs. The site was painfully unfunny—full of torment and sadism. 4chan had a thread about me where hundreds of trolls were posting all sorts of garbage and pasting the name Ben Garrison onto all kinds of hate—whether it matched my style or not. They were writing hate memes and attaching my name onto them. They even posted my obituary. I've looked at this thread only once. I wrote Christopher Poole a very polite email and requested that he remove the thread. I was ignored.
Many people know what 4chan is about and won't go there. If they do, they know nearly everything posted is a lie. The trouble is it is now a springboard used by trolls to launch campaigns on mainstream sites such as Facebook. The troll campaigns included memorial pages on which they would post images of recently deceased children. They would alter those images into unspeakable things in order to torment grieving parents. Oisin Sweeny, an Irish author and expert on the troll phenomenon, detailed this abhorrent behavior in his book "Hackers on Steroids." It is known as "RIP" trolling. Oisin was so outraged that he began tracking down the offenders and attempted to bring them to justice. The trolls pretended to be powerful, omnipotent figures on the web, but in reality they were young, socially inept misfits who derived sick satisfaction from their repulsive behavior. They even looked like trolls.
Trolls can't stand people who take a stand. They detest people who speak out against injustice in the world. They attack independent bloggers with a fury. They especially enjoy targeting feminist bloggers, whom they try to destroy. They try to portray me as a white supremacist simply because I wear a cowboy hat, live in Montana and I draw pro-liberty cartoons. I have been trolled since 2009. The trolls are not going away in part due to Facebook's lackadaisical attitude toward trolling. My libertarian cartoons continue to be altered. I have not had time to draw many lately. No matter—they paste the name Ben Garrison onto any piece of troll trash and spread it out far and wide. It's their mission and they've devoted countless troll hours to the task.
Thanks to Facebook, the troll entity now has a forum to reach the mainstream. If their memes of hate become commonplace, it might also become acceptable–and that can lead to acts of violence, which also might become acceptable. We must not let this happen. The Holocaust did occur. It was a well-documented event. It's a terrible FACT of history. Those who say it didn't happen are encouraging conditions for it to happen again. It must not. For a while, I didn't even know Facebook trolls were posting libelous hate pages using the Ben Garrison name until two people from the Online Hate Prevention Institute contacted me. They spent their time and resources to assist me. They used their connections to help get the offending page removed, and I'm very grateful for their help.
I've found I'm not alone in the battle against trolls. It is a daily, on-going occurrence on social media that affects many lives. It's time for people to speak out against the hate. Report the pages. Complain to Facebook. Take action. Good people can come together and outnumber the trolls! It's time for Facebook to utilize their vast resources and take more effective action. It's time to end the hate.
Ben Garrison is the Online Hate Prevention Institute's Cartoonist in Residence. His cartoon website is
http://grrrgraphics.com
.
©
The Online Hate Prevention Institute
Swedish lawyers track and charge net trolls
A Swedish team of pro bono lawyers who are fed up with net bullying want online trolls to take responsibility for their behaviour. The law firm has helped victims claim money from their aggressors.

29/4/2014- Stockholm University civil law professor Mårten Schultz quite accidentally sums up his latest venture brashly on his Twitter account. "In your rearview twitter-mirror is the motherf***ing law" Translation: You could pay, literally, for what you say online. . "When people use freedom of speech to hurt other people, they have a responsibility," Schultz told The Local about the new volunteer Law and Internet Institute (Institutet för Juridik & Internet - IJI), which takes aim specifically at slander, violations, and threats made online. Some internet users have not relented, but their victims are now fighting back. As Swedish media personality Robert Aschberg hunts down online haters on the new television programme Troll Hunters (Trolljägarna), Schultz and his partners are using Sweden's civil law code to hit up the tormentors for cash. They're sending the bullies damage claims on behalf of people in Sweden who have been targeted by offensive and threatening statements.

But where does the online hatred come from?
"If I scream 'Whore!' in your face, I realize it might come back to bite me in the rear, but psychologists talk about dehumanizing the person on the other side of the cable, you don't see the person," Schultz says. Last year, net haters bombarded a young Swedish woman with comments after she complained about a Tupac Shakur T-shirt on sale at H&M. "How do you think the woman who was raped feels when she sees his face in your stores, on your clothes," Julia wrote on the Swedish clothing giant's Facebook page. Shakur was accused of rape in the early 1990s. He was convicted of sexual abuse in 1993.

The avalanche of abuse that followed shocked Julia. She was called disgusting and encouraged to commit suicide. Another wrote that they hoped Julia would be raped. "Internet can stoke a mob mentality," Schultz says in reference to Julia's treatment online. "You unite against a common enemy and egg each other one. It's a rabble." Julia reported her online abusers to the police, who soon closed down the investigation. They said that it was difficult to investigate because H&M had erased the worst of the comments from its page by the time the local police officers looked into the case.

Schultz and his partners decided they would help Julia instead. They managed to find the name and addresses of several commenters. Citing civil rather than criminal law, the team simply sent five online bullies a 5,000-kronor ($765) damages claim for violating Julia's person (kränkningsersättning) and/or aggravated harassment (allvarligt ofredande). One person has transferred the money. "And all honour to him," Schultz said. "It wasn't honourable to write what he wrote, but it is honourable to confess to what he did, to take responsibility, and to pay up."
© The Local - Sweden
Police on cyber-trail of Swedish neo-Nazi fugitive
Swedish police have been able to track the internet activities of a Swedish neo-Nazi wanted in connection with a knife attack after a feminist rally in Malmö on March 8th.

27/4/2014- Despite the fact that the man is the subject of an international arrest warrant, he remains active on Facebook and has been interviewed by a far-right website. The man has used the interview to claim his innocence. The cyber-trail however leaves the police no closer to tracing the physical whereabouts of the 30-year-old who has been described as an active member of the neo-Nazi group the Swedes' Party (Svenskarnas parti). Police had already detained him in absentia on suspicion of attempted murder and they think he may have fled the country altogether. "He could be anywhere where he can move with his passport," said Kenneth Strand at Malmö police to the local Sydsvenskan newspaper. There are three other suspects in the case which prompted widespread condemnation from Malmö residents in general and supporters of the local Malmö FF top flight football team in particular. The local activist Showan Shattak, 25, well-known for his work against homophobia in football culture, was injured so severely that doctors put him into sedation. A "Kämpa Showan" (Fight, Showan!) graphic has spread like wildfire in social media to show support for his recovery. A further five people were injured in the attack which took place close to Malmö's multi-cultural melting pot Möllevången, all of whom have since recovered their full health.
© The Local - Sweden